Chat Transcript: Notre Dame early enrollees to watch, roster comparisons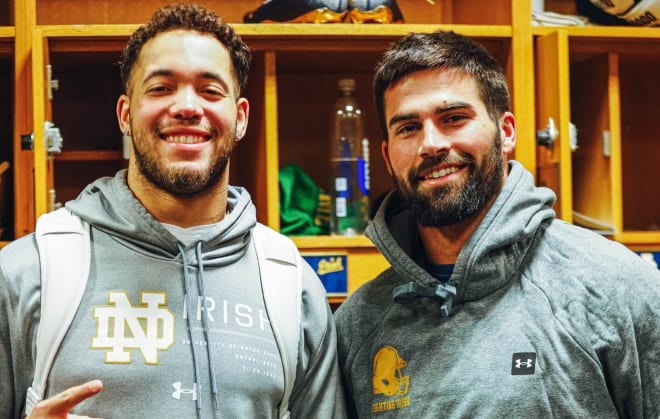 Eric Hansen: Welcome to Notre Dame Football Live Chat after a journalistic bye week.
Speaking of byes. The 2023 Notre Dame football schedule was released in its final version today, complete with two byes.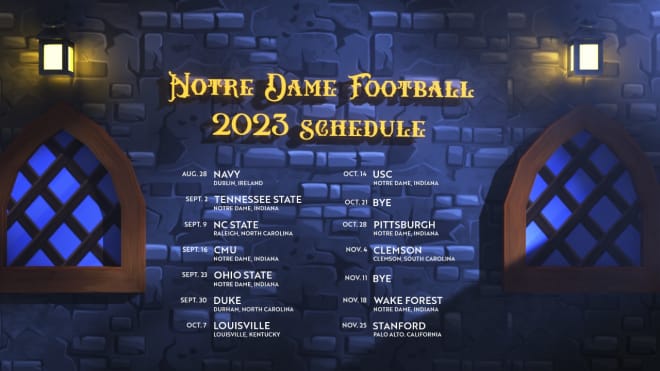 Some quick programming notes:
► Our Inside ND Sports Podcast presented by Dead Soxy records on Thursday this week. So be sure to look for it on our homepage or on your preferred podcast platform including: Apple Podcasts, Spotify, Google Podcasts, Stitcher, SoundCloud, Podbean and Pocket Casts. If you missed last week's, you'll want to catch former Notre Dame two-time defensive coordinator Rick Minter, now an analyst at Michigan, discussing the lessons a first-year head coach learns, how to oversee an offense as a defensive coach, when critical changes can be made in the offseason, the importance of staff continuity, his role as a defensive analyst, the proposal to allow analysts to be on-field coaches in practices, how offense is crucial to win a national championship and more.
► Tyler James and I were back with our YouTube show, Monday Night Live, on Monday, Jan. 16. In that episode, we answer the question: Is Notre Dame's 2023 roster better than the 2022 version? We also break down the latest in recruiting and size up the 12 freshman early enrollees. When you can't catch us live, you can watch anytime during the week, as the show keeps its shelf life going through the entire week.
As far as this week's chat goes ... please remember to include you name and hometown along with your question(s). Here come the rules ...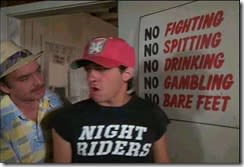 Eric Hansen: Off we go ...
Tom from Sister Lakes: Hi Eric. I can't help but think that the recent developments in the transfer portal helped ND close the talent gap with Ohio State, especially given that ND got Hartman and OSU lost Stroud. A nice bonus was getting that DE from OSU. I have no idea how OSU did in the portal regarding gains/losses. That said, I know this is waaaaay too early and you will qualify your answer (rightfully so) by saying you haven't seen spring practice, fall camp and fall practice, but do you believe ND has a good chance of beating OSU in the stadium next September?
Eric Hansen: Hi Tom. Ohio State was not very active in the portal, and didn't need to be. Notably, defensive back Ja'Had Carter was added — a significant addition — as well as former Oregon State QB Tristan Gebbia for depth. The Buckeyes lost six players to the portal, including DE Jovantae Jean-Baptiste, who landed at Notre Dame. Ohio State's biggest challenges will be replacing its two starting offense tackles and center, and perhaps there might be some concerns with its secondary, even with the addition of Carter. ND should have the advantage at QB in that game and most of the games it plays, which is new for the Irish and one of the reasons the Irish could project as a playoff contender in 2023 The Buckeyes still have more overall talent, but if the Irish wide receiver corps develops and the defensive line surprises this spring and into the fall, then you can talk confidently about perhaps the gap closing.
Jim from Oakwood, Ohio: Hi Eric. I've really enjoyed the volume and content of the articles from you, Tyler and Kyle. Just outstanding — my thanks to you and your team. My question goes back to a comment that I believe you made over the course of several past chats: That an experienced "offensive analyst" should be hired to work with coach Tommy Rees. With the current talent and all of the newcomers — especially the experienced QB, Sam Hartman — it seems to this lay person that such an analyst would be a necessary addition to enhance the player development of the QB position and the other offensive skill players. Is that potential hire still likely ... and your thoughts? Be well.
Eric Hansen: Jim, thank you for the kind words. It looked like the NCAA was going to let analysts actually coach in practice, beginning in the 2023 season. And with no cap on the number of analysts a team can have, it's a rule that would have favored the bigger-budget Power 5 teams, including Notre Dame. But then the NCAA Division I Council opted not to vote on the proposal, and instead kicked it back to the Football Oversight Committee for further evaluation with no timetable for reconsideration. Even with the analysts unable to work with the players directly in practice, having an experienced offensive mind for offensive coordinator Tommy Rees to be able to bounce ideas off of, I believe, would be of great value. More importantly, both Rees and Marcus Freeman say they're on board if they can find the right fit. Perhaps former tight ends coach John McNulty comes back? I think this is a concept that might benefit other positions as well — and especially if the NCAA moves forward with its original idea of letting analysts coach in practices.
Tom from Kennesaw, Ga.: Eric, which of the early admission freshmen do you think will have the best opportunity to gain the most from being on campus for Balis Camp and then spring practice?? Which players are not quite ready for D1 competition that could really improve by coming to campus now? Thanks. Just like recruiting, there is no time off for ND Football fans. Go Irish!!
Eric Hansen: Hi Tom. We talked about this on our Monday Night Live Show this week. ... Just to reset things, here's how the freshman enrollment breaks down: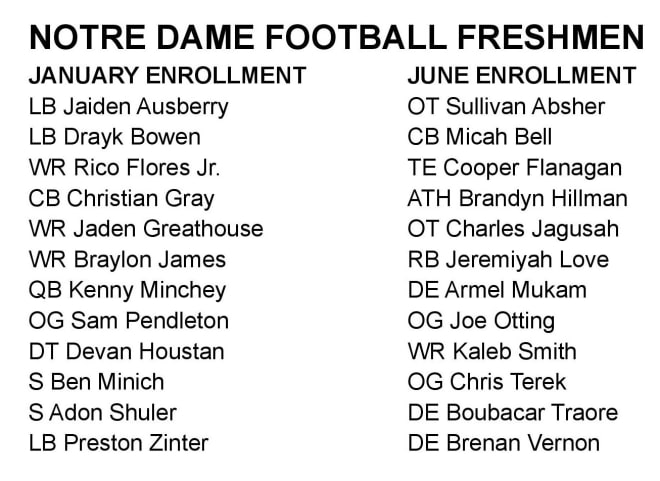 Eric Hansen: So, of the 12 early enrollees, the wide receivers and safeties are going to get long looks in spring practice. I think you can add CB Christian Gray and LB Drayk Bowen to that group. Don't count out the June group. Eight of Notre Dame's nine freshman All-Americans since ND adopted early enrollment in the 2006 offseason have been June enrollees -- including Ben Morrison this past year. But with transfer QB Sam Hartman learning the offense and needing time to build chemistry with the receiving corps, Jaden Greathouse, Rico Flores Jr. and Braylon James are going to benefit greatly from being at ND early (grad transfer WR Kaleb Smith, too).
Until we can figure out nicknames for them, we're going to call Kaleb Smith the transfer Kaleb Smith Sr., and the Kaleb arriving in June as a freshman Kaleb Smith Jr.
Irish Mike from Altoona, Pa.: Hi Eric! As always, thank you for the chats! Two questions. First, is the risk of losing Tyler Buchner worth bringing in Sam Hartman for one season? Second, if Buchner were to transfer, would ND bring in another QB transfer in 2024, due to the fact none of the current quarterbacks would have any experience?
Eric Hansen: Hi Irish Mike. I get the first part of your two-parter pretty regularly now, and my answer remains yes. And if Tyler Buchner stays, the answer would be hell yes, because I think Buchner being around Sam Hartman will make him better in the long run. As far as 2024, that would definitely be a strong consideration.
Tom from Grand Rapids, Mich.: Eric, I hope the new year finds you well, and allowing you to recharge your batteries before Spring Ball starts. With the additions and defections to this team 1) will a REAL vertical passing game come back into the equation, as the threat of a pass over 30 yards wasn't there most of the year. The ability to keep safeties honest will make the running game more lethal. 2). Is the defensive backfield now the strength of the defense ... if not, who is, and are the pieces available for the other units to raise their play? 3). Are Styles, Liufau and Correll in jeopardy of losing their starting positions (though WR is interchangeable). Or any others you could think of? Go IRISH ☘️
Eric Hansen: Hi Tom, and thanks. Tyler James this week really did a good job of breaking down the answer to your first question in detail. But the short answer is yes. 2. I'd say the cornerbacks will be a decided strength, provided the nickel position by TaRiq Bracy gets adequately filled. But I love the depth and talent at that position. There are some questions at safety, but Xavier Watts' late-season surge and DJ Brown's return give me optimism about that group. 3. Of the three players you mentioned, I'd say Zeke Correll is the safest.
Chris in San Diego: Peeking ahead to spring practice, do you anticipate more media access to these practices than last year?
Eric Hansen: Hey Chris. I wish! Not sure yet, but last year it was kind of a tradeoff -- way more player/coach interview access and less actually watching of competitive practice periods. I am grateful for the increased interview opportunities, but I am not optimistic we'll get to many full practices. Just stretching and some non-competitive drills.
Dave from DC: Hey Eric, in 2021, Kahanu Kia enrolled at Notre Dame. I believe he played one season before deciding on taking a two-year mission. Have you heard anything about his status and whether or not he intends to return to Notre Dame?
Eric Hansen: Hey Dave. I have connecting with Kahanu Kia on my pre-spring to-do list. The vyper end should be back from his Mission about this time next year. He is not bound to return to ND, by rule, but that is my expectation from the last time I spoke with the family. ND offered his younger brother, Ko'o Kia — a 2025 linebacker from Punahou School in Honolulu — a scholarship last night.
John from Palmyra, Pa.: Has Rocco Spindler been approached about playing nose guard? With the lack of size up the middle and the supposed direction the defensive front is headed in recruiting, it would seem a very practical move and a direct line to the field for Rocco. No?
Eric Hansen: Hi John. I wouldn't expect that to happen, nor would I expect the junior-to-be offensive guard to be receptive to that even if it were presented to him. The Irish do have some size there in Aidan Keanaaina (6-3, 323), a rotational player. Gabe Rubio (6-5, 295) has the potential to add weight as well. If the Irish were going to add a body there, they'll do it from the portal after spring practice. They could use experience, not a project. As far as Rocco Spindler goes, he'll be in the thick of the competition to fill one of the two vacant offensive guard spots.
Roger from Peoria: With the recent Transfer Portal acquisitions and the signed 2023 Class the potential numbers are well beyond the 85-man scholarship limit that will be the max later this year. I understand this "over subscription" has occurred at ND in the past. But when crunch time arrives, the numbers have always been equal to or less than the 85 max. What is the penalty, if any, for a school that has more than 85 at crunch time? Thanks to you Eric, as always, and GO IRISH!!
Eric Hansen: Hi Roger. There is no penalty — as in a luxury tax, like Major League Baseball. You have to get to 85 by the date of the first classes of fall semester. No exceptions.
Mike from Gilbert, Ariz.: Eric, Do you or will you have an opportunity to talk with Hartman? Assuming he wins the QB job, do you think he will have the Louisville game circled on his calendar based on his performance in that game last year? Can ND drop the FCS school, as it is embarrassing to have that game on the schedule? They can add Georgia that week, who plays UT Martin. What happened to playing the best of the best? Tennessee State? Who? Come on, man. Hope you are doing well. Cheers!
Eric Hansen: Hi Mike. Yes, I/we will have the chance to talk with Sam Hartman. I believe the first opportunity to do so will be next month. Since I've never spoken to Sam, I'm not sure how he processed the multiple-turnover game against Louisville. But when USC, Ohio State and Clemson are also on your schedule and your team has playoff aspirations, my sense is a 24-year-old QB would be pretty locked in EVERY week. As far as playing Tennessee State in week two, it's not a universal concept that it qualifies as an embarrassment, but there are plenty who would agree with your assessment. I did a pretty thorough analysis of the situation last April, when the game was first announced. I'd recommend taking a look at that for in-depth pros and cons.
Shaun from Boston: Will both Tyler Buchner, and Steve Angeli be on the roster when the Irish take the field in Ireland? Thank you.
Eric Hansen: With Sam Hartman having just one year to play at ND, I'm not sure why Steve Angeli would think about leaving. I could understand if Tyler Buchner wanted to consider that, but my expectation is that he will stay.
John from Scottsdale, Ariz.: Eric, love the chats and hope you enjoyed the bye week. Will your chat schedule have two bye weeks, like the Irish? Or will you be incorporating many more than two? Now the serious question: Do you think ND will continue to only utilize the portal for grad transfers due to the difficulty of getting undergrad credits to transfer over or will a compromise be reached so players like CJ Williams and Anthony Lucas, who were recruited by ND and are transferring after one semester, become an option?
Eric Hansen: Haha. Love it. John, I'll probably do these every other week or every third week until we get to March, based on news flow and interest. ... I think ND will pursue undergrad transfers, and they were pursuing both CJ Williams and Anthony Lucas. Those players just decided they wanted to go elsewhere. In most cases, grad transfers make the most sense for more than just the ease of admissions. You're going to be plugging holes or adding depth with the transfer portal, not building a team with it. But if you can get an ELITE underclassman, who's an academic fit, ND will go for it.
Arnie from Hinsdale, Ill.: Are athletes allowed to have NIL agents or does the NCAA require high schoolers to negotiate multi-million dollar deals without the support of financial experts?
Eric Hansen: Hi Arnie. College athletes are allowed to have NIL agents. High school kids are too in some states. ND women's basketball signee Hannah Hidalgo, a senior from New Jersey, already as NIL representation.
Tony from Lake Mary, Fla.: Hey Eric, really trying to understand what happened to Lorenzo Styles this past season. Would be interested if you have had a chance to really dive deeper on if his struggles, a combo with rapport with Drew Pyne, was he just deep in his head, etc.? Did he not show up in practice? Was it bad rapport with coach Stuckey? Also, the podcast on Hartman, the Wake Forest beat writer did not make him seem like he was going to really be the savior a lot of outlets are assuming and that he is way too cavalier with the ball. Did you get a similar take?
Eric Hansen: Hi Tony. I want to do that story too, but I want Lorenzo Styles' voice in it. So, I'll wait to do it at that time when he's available. My sense is that when he first started having trouble with drops, it kind of took on a life of its own. He's a talented, hard-working wide receiver with a lot of career ahead of him. It's a fixable problem. It's a big spring for him, because now there is more competition, both in quantity and quality. As far as the podcast with Conor O'Neill, I'm not sure he was downplaying Sam Hartman's potential with ND as much as he was pointing out what needs to be his area of improvement/focus if he's going to continue to be an ascending player. My personal biggest concern/reservation is how he handles the increased scrutiny/demands of being the face of the Notre Dame football program. Not saying he won't handle it well, but it will be an adjustment. I think Conor's point was ND is getting a very good QB, but the Irish are not getting Tom Brady.
Bob from Loganville, Ga.: Eric, Have you heard of any discussions or revisions on how replay and/or possible challenges might change? Although far worse in basketball, we typically have seen multiple angles of a play and the obvious call before the ref gets to the sideline to review. This is annoying and time consuming for fans. Seems they need to give authority to someone in the booth to stop play, review these obvious calls and relay it to the ref on the field. If in some instances the play needs adjustments to the clock, yardage etc., or needs more review than the obvious, allow the ref to then take a look under the hood. It's never made sense to me that the booth can stop the game, have the ref go to the hood to look at the play but don't have the authority to review the play, make the decision and relay that to the ref on the field.
Eric Hansen: Bob, I think I am misunderstanding your question. Here's who is on the booth: The NCAA Football Instant Replay System will have three officials in the booth: 1) The Instant Replay Official, who will make all decisions regarding replay; 2) The Communicator, who will assist the Instant Replay Official with such duties as obtaining the video replays and in communication; and 3) The Technician, who will be responsible for setting up and maintaining the operating condition of the equipment throughout the game.
The booth official CAN stop the games and HE makes the decision, not the official on the field. So if you have a follow-up, please submit it.
Pogo from Madison: Eric, love the chats and read the articles as soon as they come out. If you had to compare the arrival of Hartman to any other single recruit (not just transfer) since you have been covering, would you anticipate it could make the top 10 in impact? Personally, I feel it is one of the most seismic events that has happened to Notre Dame football since I graduated in '96, along with Manti Te'o signing. I'm sure I'm missing many others, but hoped you could provide better perspective.
Eric Hansen: Thanks, Pogo. I didn't love my answer I gave live, so I'm amending it a bit in the transcript. First, whenever these questions come my way, it's really more about perception when the player first signs/commits than it is about what his production will eventually look like. So from a perception standpoint, this is bigger than say, Quenton Nelson, who turned out to be such a phenomenal college player AND a cornerstone in Brian Kelly's coaching reboot. ... So let me add another layer as to why you'll get less than a clear-cut answer. I have been in South Bend since 1988 and with ND football as my primary coverage responsibility since 1997, so that's a long timeline. The other facet of the question that's difficult is Sam Hartman can impact ND for one year if he does anything less than help win a playoff game. If he does that, it moves his impact to another level. But Manti Te'o, for instance, impacted for multiple years -- even influencing Jaylon Smith to come to ND. Hartman, though, is a missing piece. At the most impactful position on the field. So, yes I would put him in the top 10 given all those factors. Where in the top 10, I can better answer AFTER the season.
Tanker from Dulce, N.M.: Hey Eric, thanks for continuing the chats in the offseason. The hard work is much appreciated by fans like me. My question is about Kaleb Smith Sr. (ha). I haven't seen any tape on him and only really know that he is a big-bodied receiver. Are you able to provide any color to what he brings to the WR room and what kind of player he is in terms of production, talent, and potential? You da man!
Eric Hansen: Hi Tanker. You da man, too! When ND first offered him a scholarship, I assumed he was a depth piece. After watching some of his tape, Kaleb Smith (Sr.) is growing on me. He's got decent speed to go along with his size. I honestly think he'll compete for a starting spot. I will be surprised if he does not. His production at Virginia Tech in 2022 (team-leading 37 catches for 674 yards, 3 TDs) was mitigated severely by how awful Tech's offense was across the board. At the very least, I like the concept of a veteran helping guide all those young receivers.
Bob from Loganville, Ga.: Thanks Eric, Maybe by watching on TV I have interpreted this incorrectly. By watching, it looks like the ref has to go to the sideline every time play has been stopped for review. In many cases watching the replays on TV we know the correct call before the ref reaches the sideline (slowing down the play of the game). Based off your answer the ref is going to the sidelines for communication with the booth not to review the play. Thanks for the clarification. I appreciate your knowledge!
Eric Hansen: It is confusing. Why is the guy under the hood when he's not making the decision? I can see why some people would have that impression.
John from Elkhorn, Neb.: Hi Eric. Recently heard that Tommy Zbikowski was being interviewed for a coaching position at Western Michigan. Any knowledge of his potential hire? Thanks! Always enjoy your comments.
Eric Hansen: Hi John. We had Tommy Zbikowski on our podcast a few weeks back. He was a quality control coach for Western Michigan this past season, focusing primarily on special teams. Now that people are aware he has dipped his toes into coaching, there is quite a bit of interest in him this offseason. I'll keep you all posted once his next step comes to fruition.
Len from the Jersey Shore: Hello Eric, Late to the queue. First and most importantly I wanted to to let you know how much I have enjoyed your, Tyler's and Kyle's updates and thoughts over the last few weeks. I can't recall anything you missed. Personally, I think even in positions that are in question (as has been covered) there is enough talent if developed and coordinated exceptionally well to have an incredible playoff year. Especially offensively. Question: Which coach is least likely to obtain the player development needed for this team to soar as I expect the team will? And what needs to happen for that position group to soar as needed?
Eric Hansen: OK Len, thanks for the compliment. I'm going to combine your question with this one, because the answers are going to sync up.
Bob from Manchester, Tenn.: Eric, it looks like there's some fan negativity around Al Washington right now: Got fired from Ohio State, recruited very well but has to show he can develop players, and so on. Do you have personal concerns about how well Washington is doing? And what are your expectations for him this coming year?
Eric Hansen: I've been consistent in my assessment of Al Washington in that I think he has something to prove both on the field and on the recruiting trail this spring/summer. That's not a prediction that he won't excel at either place, but I think there wasn't enough overt progress in either area during his first season at ND. If he can reel in 2024 five-star DT Justin Scott on Jan. 31, there's a huge step in the right direction on the recruiting trail. If Rylie Mills becomes dominant, if Jordan Botelho rounds into an every-down player, if we see Tyson Ford and Aiden Gobaira and Josh Burnham make significant strides in the spring, then there'll be plenty of momentum to change the player development perception/narrative.
Ced walker from Saginaw, Mich. — same hometown as former Notre Dame basketball player Tory Jackson: The biggest surprise this spring practice will be Tyson Ford helping out on the inside. This kid will be special this season. God bless the golden standard, rally. we are ND. Go Irish. Love thee Notre Dame, our Mother, pray for us.
Eric Hansen: Ced, I'm going to hold you to that prediction. And I think it's one that NEEDS to happen.
Marie from Atlanta: Hi Eric. I hope you're having a great week. Now that the early enrollees are here, who are you the most excited to see and do you think any of them will push for legitimate playing time in the 2023 season? What specific things do you need to see happen in the spring for you to consider Notre Dame a legitimate playoff contender for next year? As always, thanks for the great insights and for hosting the chat.
Eric Hansen: I'll start with the back end of your multi-part question, Marie. Nice to hear from you and I still owe you an email. ... Here's kind of a checklist. 1) Sam Hartman is what we expect him to be. 2) The defensive line is the (pleasant) surprise position group of the spring. 3) The linebacker situation sorts out with the best players on the field. And if Jaylen Sneed is good enough to start, that's an added bonus. 4) The wide receiver corps reflects its talent more than its relative inexperience. 5) No bad surprises at safety or nickel. ... Your first question, the EEs I'm most excited to see play -- all three receivers, CB Christian Gray and QB Kenny Minchey ... and LB Drayk Bowen playing baseball.
Bob from Oxnard, Calif.: Which ND receivers (current or incoming freshmen) have enough long speed and ball-tracking skills to threaten defenses deep?
Eric Hansen: If I were a defensive coordinator in 2023, the one who would concern me the most in that regard is Tobias Merriweather. I think that will be apparent this spring and this fall. If Lorenzo Styles gets himself right mentally, he'd also be near the top of that list. Of the freshman, I think Braylon James has the best speed, but he's also the most raw of the three.
Bruce from Centralia, Ill.: Hello Eric. I hope all is well. On NIL, can you say a little about how ND's approach differs from some of its competitors? In the long run, does ND need the NCAA and/or the conference to put more NIL ground rules or risk being at a competitive disadvantage, because there are things ND isn't comfortable doing? Thanks, as always.
Eric Hansen: Hi Bruce. We tend to use NIL and illegal-but-unenforceable acquisition fees as interchangeable, and they're not. And that's where ND is different from some of the schools it competes with for elite recruits. ND will tout its NIL OPPORTUNITIES. Some of its competition will guarantee players upfront money to sign. It's becoming more and more apparent that the only way to really implement NIL in its intended form is an act of Congress, which would also solve all the different state laws. But when?
David from Jackson Mich.: Who would you predict fills the two starting guard spots on the O-line next year?
Eric Hansen: My guess is Billy Schrauth and Andrew Kristofic, but Rocco Spindler and others are right in the thick of that competition.
Dave from Houston: How about Kaleb the Elder and Kaleb the Younger? Nice medieval flavor.
Eric Hansen: As long as it fits in a headline, I'm game.
Mike McFadden from Williamsport, Pa.: Hi Eric. I believe I have a legitimate concern over the football coaches' attire during the now internationally televised games, specifically Tommy Rees. Here is the biggest game of the 2022 year, a very young first-time head coach going after his very first major bowl win, live TV Nielsen ratings at over 6.5M, which is sixth out of 43 games and here is our offensive coordinator wearing a long-sleeve PLAIN WHITE T-shirt with two initials on the collar — not "ND" but rather advertising a large clothing company called "UA". Coach Rees spent four years playing QB for Notre Dame, held the most important (assistant) coach (position) as QB, and finally head OC, and he does not wear or display the ND logo he is actually coaching? Tommy did the same thing when meeting the players for his announcement to the players last year. My question is, with the high salary coaches receive, don't their contract require purchase and wearing of such during public appearances?
Eric Hansen: Mike, you're asking me for fashion advice? The guy who picks out a tie based on the fact there's not a spaghetti sauce stain on it? This is WAY out of my comfort zone and purview. If Tommy Rees is up in the booth, he's probably not as cognizant of his gameday outfit as he would be if he were on the sideline. And the team meeting was kind of an impromptu thing. Not sure he was thinking about the cameras. I get it that people notice and judge. It's the same reason if you want to be perceived as unbiased as a journalist, you stay away from team logos in your own wardrobe. If it makes you feel any better, I do feel comfortable second-guessing Tommy Rees' play-calling.
Jeff from Phoenix: Good morning, Eric! If you had a chance to ask one question to Marcus Freeman about the 2022 season, what would it be? What would you think of something like … "What changed for you and the program on Oct. 15, based on the result of the Stanford loss?" There have been a lot of comments about culture changes that saved the season, but I haven't heard a lot of specifics straight from the best sources (you and MF). Hmmmm. … Apologies if I led the witness…. Thanks!
Eric Hansen: Jeff, I am going to disappoint you, I have a feeling. If there was a question I wanted to ask about 2022, I asked it. And Marcus Freeman was incredibly candid with his answers. I must not have done a good job of conveying the answers re post-Stanford, but it was asked and answered. Maybe you're looking for something a little more behind the scenes. I wish there was a magic moment to share, like they all tried a gluten-free diet at the same time and that turned the season around. For me, my curiosity is what's next at this point. And I have a whole bunch of topics already percolating that I'd like to ask Marcus about ... next month when we get access again.
Tom from Kennesaw, Ga.: Hi Eric, thanks for continuing with your world-famous Chats!!! Do you know if the ND football office has put Hartman in contact with Jack Coan for any questions or anything that Coan might be able to help Sam with his transition to ND. Not so much in the locker room but just adjusting to campus and SB?? Also, is ND still recruiting the grad DE from Wake? Do you expect any commitments anytime soon from the recent Junior Day?? Thanks, and good luck surviving another SB winter. Go Irish!!
Eric Hansen: I do not know that, but will ask when we talk to Sam next month. My guess is Sam Hartman talked to Jack Coan before he committed to ND, The DE from Wake to whom you're referring is Rondell Bothroyd, and he's headed to Oklahoma. .. BTW winter, other than a few days around Christmas, has been OK so far. Knock wood. ... And finally, yes I do expect multiple commitments from the group that just visited on Junior Day — eventually. ND did a great job of strengthening its position with all of those guys.
Eric Hansen: That's going to do it for this week. Thanks for all the great questions. We'll take a bye next week, but we'll be back in February.