{{ timeAgo('2023-03-10 14:25:53 -0600') }}
football
Edit
Chat Transcript: Spring QB dynamics, more portal additions for ND?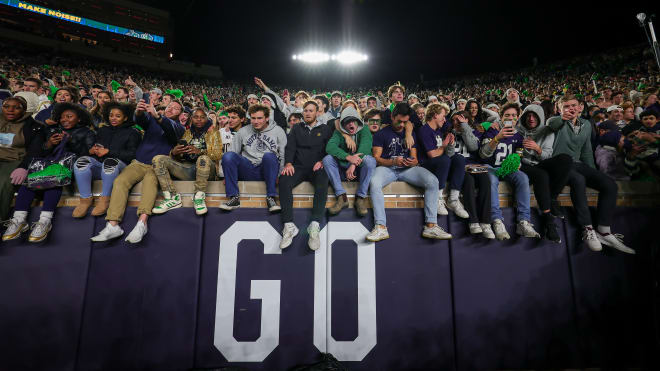 Eric Hansen: Welcome to this special Friday edition of Notre Dame Football Live Chat. A quick reminder, if you haven't checked out last night's Football Never Sleeps edition on YouTube, it'll be worth your time.
A friendly reminder to please include your NAME and HOMETOWN along with your question(s). Here are the rules: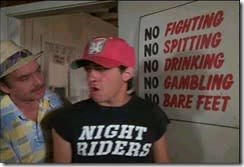 OK, let's dive right into the questions.
Jeremy from Goshen: Hello Eric, I hope you are enjoying the snowy skies of of South Bend today... Isn't it fun living in Indiana this time of year? Do you think the QB competition is going to truly be wide open? If it's close, and the coaches feel like they could get a similar level of production, should ( or will) they go with experience (Hartman) or more diverse physical tools (Buchner)? With a new OC and new QB coach, do you know what their preferences are? Also, if Buchner sees that after spring ball that the competition is basically over and he lost. What odds would you give him to transferring?
Eric Hansen: HI Jeremy, I guess this is what we sign up for weather-wise. Ugh. New QBs coach Gino Guidugli said Tuesday, in meeting with the media, that they'll treat the Sam Hartman/Tyler Buchner QB reps division as a true competition. And I think Marcus Freeman feels it's important to do that for several reasons. It's important for Hartman's new teammates to see him earn the No. 1 status. It's also important that Buchner feels he has a chance to prove himself. Now as far as the outcome, barring injury, it's going to be more like a pro wrestling match, where the winner is already known. Buchner must feel like he's being developed and not essentially redshirted, so he needs No. 1 reps too.
I think the best-case scenario is Sam Hartman turns out to be everything he's advertised to be and Buchner is better off for having spent a year for him. Because he gained an injury redshirt year in 2022, he'd still potentially have two years to be the starter beginning in 2024.
Robb, Colorado: Hey Eric, Thoughts on Jayden Thomas getting a move to TE at some point in the spring. Lots of youth and injuries at that position and he seems like he could really blossom as a receiving type who is also willing to block.
Eric Hansen: Hi Rob. I think they can occasionally do tight end things with Jayden Thomas without actually moving him to the position. The way he blocks, some of his route-running are a lot like a flex tight end or can be. I'm assuming you are asking about a permanent move and not just a spring temporary situation? I wouldn't sell short the tight end talent and you want to give those inexperienced guys as many reps as you can. So with Mitchell Evans, Holden Staes and Davis Sherwood, you should have enough healthy bodies. Maybe Kevin Bauman and Eli Raridon would be cleared for some non-contact stuff. If Thomas weren't so high on the depth chart, maybe at 215 pounds, I'd consider it, but he may be a starter in 2023, and I want him doing the things in spring he'll be doing in the fall with a new coordinator pushing the buttons.
Frank from Royse City, Texas: Do you think the new OL and QB will attempt to bring in some Grad Transfers?
Eric Hansen: Hi Frank, let me look at this more broadly. Do I think Notre Dame might take a look at the late-spring inventory in the transfer portal. The late-spring window to enter the portal is May 1-15. That's going to depend on several factors: 1. Injuries to the current roster. 2. Overperforming or underperforming position groups. 3. That the number of outgoing transfers syncs up. Assuming no new major injuries and the position groups perform about as expected, I think the two areas that would warrant the most consideration for a portal addition are interior defensive line and safety. Offensive line only if the young talent disappoints or there's an injury. Quarterback no. There are already five of them.
Len from the Jersey Shore: Hi Eric, Thanks for hosting. I have read all or most of everything that you and Tyler have written concerning Tommy Rees including answers to our questions in all formats. I have recently taken with reading Alabama articles on Rees which has only reemphasized the positives and the negatives. In Tuscaloosa they are contending that a lot of the negatives in the passing game have been a lack of talent/performance at the QB position and WR position with the emphasis on talent. Then I read elsewhere that in the last two NFL drafts (2022 & 2023) ND has had or expected to have only 5 players drafted. This backs up that talent opinion of the Bama press. Coach Freeman came into ND knowing he needed to update the roster. A simple question. How well has he done considering recruiting and transfer portal in obtaining that talent ? Will he get the talent needed that with a few good bounces and a talented QB ND can get that Championship? Would you venture a percentage that in 5 years that ND wins a NAtty?
Eric Hansen: Hey Len and thanks for reading our content. I think the success quotient of Tommy Rees is more layered than simply the talent differential, but that's certainly part of it. The skeptical ND fan would point out Rees was around long enough to recruit every QB on the roster and be a part of recruiting the skill talent around those QBs. But to your questions directly, Notre Dame has put together three top 10 classes in a row for the first time since 2006-08. Two of those classes has Marcus Freeman's fingerprints on them. The consistently underrecruiting/underdeveloped positions during the Brian Kelly Era -- QBs and WRs -- both were addressed successfully in this cycle.
Marcus being able to recruit at an elite level and retain talent isn't the unknown. It's how much of that is eroded by NIL and Notre Dame's tinier pool of transfer portal prospects. If those two factors become close to neutral in the overall recruiting picture, then I like ND's chances of getting to the playoff and at least winning some games at that level. As far as a natty in the next five years, I'll give it an optimistic 20 percent.
Tim from Atlanta: During the "Football Never Sleeps" discussion, you mentioned Coach Guidugli's no-nonsense "businesslike" demeanor and approach. Do you see this diverging from Tommy Rees' approach to coaching the QBs? Beyond these impressions, what does Coach GG bring to the QB room that may have been lacking a bit with Rees? It seems that the Irish are very much interested in learning and continuing Rees's offense, so am curious what these new coaches on offense may change rather than repeat. Thanks!
Eric Hansen: Hi Tim, and thanks for tuning in to Football Never Sleeps. We've all seen Tommy Rees at times show a demanding side to his QB coaching, but I think overall he's more warm and fuzzy than Gino Guidugli. I think with Gino you'll get a consistent temperament but maybe a little more distant. He's pragmatic, though and he did a great job of developing Desmond Ridder at UC. I think maybe the biggest difference is Gino doesn't have to coordinate the offense, just contribute to it in meetings. There may be positives to that. You're right about continuing a lot of the concepts with the Rees offense. Initially, continuity is a huge importance, but as Gerad Parker and the others assess the strengths of this year's rosters, then you start to add some wrinkles that enhance those new strengths. A much better approach than tearing down and starting from scratch.
Don in PHX: Eric, Hope you are well. Things seem to be calming down just in time for Spring workouts. Let's hope injuries are few and minor. I'm interested in seeing the defense. Seems to me Golden's crew was a mixed bag; good keeping teams out of the red zone but bad once there. What do you need to see this spring to think this was a one year anomaly?
Eric Hansen: Hi Don. Thanks, doing great here. The one thing that gets lost in the bad red zone defense ranking in 2022, is how infrequently teams actually got to the red zone. Great defenses need to be able to do both, but that part of what Al Golden accomplished probably didn't get enough play. The Irish were 21st in total defense nationally and 33rd in yards per play allowed. What I need to see this spring in terms of both red zone improvement and overall improvement is 1) Creating more turnovers. 2) Being a consistently strong run-stopping group. 3) Finding answers to create a pass rush. So, you could argue the defensive line is involved in all three questions and answers, and you'd be right. HUGE spring for D-line coach Al Washington and his position group.
Jim, Oakwood, OH: Hi Eric, Last December you were waiting to contact Drew Pyne, for an exit interview (along the lines of what the Athletic did with Jarrett Patterson), until after he selected a school for his transfer. Has that ship sailed ... is DP refusing all interviews and choosing to remain silent on the topic of his exit? Thanks and Go Irish. Be well.
Eric Hansen: Hey Jim. That's a good point, I did express an interest in doing that and pushed it to the back burner when ND got involved with Sam Hartman. Spring might be a good time to revive that idea.
Dave from DC: Hey Eric, thanks again for doing the live chat. Aside from Cam Hart and Thomas Harper, who had offseason surgeries, are there any other player injuries of note heading into spring practices?
Eric Hansen: Dave, the next time we have Marcus Freeman in front of us, I'll make sure to get a full inventory. Very good question. Off the top of my head, we know freshman safety Adon Shuler is out after having shoulder surgery recently, I need to check on the progress of TEs Kevin Bauman and Eli Raridon, RB Jadarian Price, and LB Will Schweitzer. Freshman WRs Jaden Greathouse and Rico Flores Jr. both had some cleanup procedures after their high school seasons. Greathouse said the other night he's 100% and Flores said he's close.
martin orlando: we need to replace right and left guard... will rocco spindler fill one position? when he was recruited he was highly touted...
Eric Hansen: Rocco Spindler will be a junior this spring and will compete for a starting job. I think his odds of being successful got a boost with Joe Rudolph coming in, just based on being a fresh set of eyes and what Rudolph is looking for at those positions. I would not have predicted Spindler as a starter under Harry Hiestand in 2023. I think it's wide open now.
Marie from Atlanta: Hi Eric, I hope you're having a great week. Thanks for doing a special Friday edition of the chat. I know everyone was very disappointed when HH retired and when Brian Mason left. Obviously, they are going to be very difficult to replace. Are there any specific areas where Rudolph and Biagi could possibly provide an upgrade? Also, your thoughts in general on the Biagi hire. I know he's well respected however, some of the statistics don't look that great. As always, thanks for hosting the chat and providing great insight.
Eric Hansen: In talking to Marcus Freeman, his philosophy is to look at each coaching departure as an opportunity to upgrade. Now reality may not always match that, but I like that approach. Now, improving on what Brian Mason and Harry Hiestand did seems daunting, but there is certainly room for improvement in the return game -- particularly kickoff returns -- on special teams. And Marty Biagi being a former kicker/punter himself in college is an unusual asset for a special teams coach. For Joe Rudolph being committed to building upon Hiestand's foundation and not trying to remodel it is a huge plus. I also think he's a less reluctant recruiter, although Harry was outstanding at evaluating talent and his rep kind of recruited itself.
Noting the time stamp on your question, you were just ahead of me publishing a piece of Biagi that addresses your concerns (and a lot of other people's) regarding the metrics of Biagi's recent special teams units. Here it is.
Bruce, Centralia, IL: Hello Eric, Former Massachusetts Governor Charlie Baker has taken over for Mark Emmert at the NCAA, and NIL reform seems to be his top priority. A few questions for you: (1) are you optimistic he can get something done, including getting an antitrust exemption from Congress if he needs one; (2) what would Jack Swarbrick want the shape of NIL to look like if he was sitting in Baker's seat; and (3) to what extent, if any, does NIL create an obstacle, whether large or small, to ND's closing the gap with Alabama/Georgia/Ohio State? Thanks as always!
Eric Hansen: Hi Bruce. There's been a lot of positive feedback to Charlie Baker taking over for Mark Emmert, who quite frankly, made it easy for anyone to look like an upgrade. Having said that, I think Baker has the ideas, organization and the pulse to present a plan to Congress that would actually work. But does he have the clout? Can he create a sense of urgency? I would think Jack Swarbrick would like NIL to universally look like it does at ND now ... where athletes truly benefit from their name, image, likeness and work for it. The MISUSE of NIL creates an obstacle at this point along those lines for ND, not that Georgia needs NIL to beat out ND for say a D-lineman in the south, but because ND lost players at the top of its class due to other schools because of alleged acquisition fees. Will it be lather, rinse, repeat in the 2024 cycle? Maybe. We need to let it play out a little more.
Brad Brown: Notre Dame is a high-prestige school. I feel we get good recruits. You need all area's for success. I feel ND is letting the fans down. Why don't ND just pay for good offensive coordinator?
Eric Hansen: Brad, I think you're following a curdled narrative. If it is to be believed that salary was an issue and Gerad Parker was a purely cost-saving move, then wouldn't it have been likely they'd go cheap on the offensive line and special teams opening too? Which they did not.
Irish Mike, Altoona, PA: Hi Eric, as always thank you for the chats! Bryan Driskell recently penned an article for SI that mentioned that Marcus Freeman has doubled down on his hiring of assistants that share his "vision" for Notre Dame football. This seems to be a common observation in other articles I've read. My question is, what is his vision for ND? I can't seem to find a definition as to what exactly Marcus' vision is.
Eric Hansen: Hi Irish Mike. I appreciate your question, but doesn't it make sense to ask the person you say left that important information out of his article? Without referencing anyone else's work, I think Marcus Freeman's vision is evolving. He has a much clearer grasp of what he wants the offense to look like, for example, than he did a year ago. He wants to build off the offensive line's strength. Run first, but that doesn't mean ignore the pass. It means being good at both. He wants an offense that incorporates NFL concepts, that the success on the college level will translate to NFL skills. That's opposed to the Wake Forest slow-mesh offense that wouldn't translate. But having it translate, in theory, you attract and RETAIN better talent.
On defense, he wants to be defensive-line driven. This is a big year to test whether that's actually happening or moving in that direction. He wants to prioritize special teams, and use his best players on them, because he believes they can win and lose games. He believes in being the lead recruiter for EVERY prospect and having a relationship with them. With so much turnover among assistants at ND (and beyond), that's a valuable stance. He believes in fit in recruiting, but exhausting every avenue to determine fit -- not just a first glance.
He leans into how challenging the Notre Dame experience can be, instead of sugar-coating it. He explains how that will benefit players later in life. The vision is more expansive than this, but, hopefully, I gave you the major bullet points.
Mike from Rockville, MD: Hi, Eric! Love these chats! I've always wanted to ask this--a guy like Gerard Parker, who was coaching TEs and has some experience as OC. Do guys like him have a folder on their laptop or a binder on their desk that has "their offense" (plays, language, etc.)? And they're just waiting for the opportunity to install it at a new school? I would think you would need an overall philosophy or core group of plays that you start from.
Eric Hansen: Mike. I love the chats too and appreciate you saying so. I also love exclamation points! It makes me believe you are taking the no-bare-feet rule seriously. This is a cool question, but hard to answer. I'm not sure Gerad Parker and aspiring offensive coordinators like him would have a full playbook ready to go as much as they would have play concepts saved, philosophical tenets committed to, even sometimes as much detail as nutrition, recovery, etc. Parker, by Marcus Freeman's accounts, blew people away in his interview because he was prepared. He could go up to a whiteboard and answer questions as well as demonstrate his philosophies. So yes, if you aspire to be a coordinator, you need to have a plan but not necessarily a finished playbook.
Michael from Atlanta: Thanks for the chats. Given what you've learned about ND's hiring process, hypothetically how would you position your client (say an assistant coach) as an agent to maximize the amount of money your client can earn? Likewise, what does or has ND done to avoid a repeat of the recent public circus?
Eric Hansen: Hi Michael and thank you. The first part of your question I am not equipped to answer intelligently. it's out of my purview. But I think you're just trying to walk me into the second question, which I think I can answer with more confidence. First, the nature of Utah offensive coordinator Andy Ludwig's contract is very unusual for an assistant. Even then, Notre Dame needed to know exactly what those figures were before he got on a plane to South Bend. If the numbers were really just miscommunicated and never an issue beyond that, then Notre Dame needed to correct Pete Thamel's tweet -- misinterpreted or not -- promptly, not days later. The subsequent coaching searches have gone much smoother.
Aaron, Washington D.C.: Hi Eric, great to have the chat back this week. I think it's been a great move for Coach Freeman to bring in position coaches that have experience as OCs to support and collaborate with Coach Parker. That said, how do they avoid the possibility of too many voices, confusion, and possible ineffectiveness (if I recall, the Corwin Brown - John Tenuta situation didn't go very well)? One more coaching related question -- while it seems the new STC has some definite strengths, it appears that he also had some areas where his units were statistically mediocre (I believe in the return game). How will Coach Freeman challenge/help him to meet the high standard established last season by Notre Dame's ST units?
Eric Hansen: Aaron, thank you and thanks for jumping in with a question. The potential for too many voices or competing voices is a legitimate concern. In more recent examples, OL coach Jeff Quinn and Chip Long weren't singing Kumbaya at the end of meetings. I'm not sure Mike Sanford was comfortable with the range of authority Mike Denbrock had. I think the difference here is Gerad Parker had a hand in bringing Gino Guidugli and Joe Rudolph in. What's more he's INVITING collaboration and has said as much publicly. As long as everyone understands the dynamics, I like the way this is set up.
Chris in Albuquerque: Hey Eric. Hope all is well with you and this board today! Give us some potential good news coming up with spring ball starting in regard to recruiting. Thank you sir!
Eric Hansen: Hi Chris. Lots of recruits scheduling visits between the weekend of March 25 and Blue-Gold weekend (April 22). Twenty-eight by my count going into today of prospects (not yet offered) and targets (offered) combined. I believe it's clicked past 30 today. When tracking possible commitments, visits are a lot more telling than words.
Denny from Beaverton Ore.: Hi Eric; I was wondering if the opportunity ever came up to ask the question you posed last chat to a question of mine. How did the process go moving on from Ludwig to Parker and what was the role or influence of both Marcus and Jack Swarbrick in that process? I look forward to your chats and appreciate your insights into Notre Dame football.
Eric Hansen: Hi Denny and thank you. Marcus Freeman's version of this -- and he's been authentic since I've met him -- is that it was unanimous to move on from Ludwig, whether it was truly a desire to stay at Utah or protracted indecision. Per Freeman, Parker's interview was so impressive, there really wasn't a need to continue the search at that point. The fact that Freeman got to interview and offer who he wanted at O-line coach -- two very highly paid coaches in Matt Luke and Joe Rudolph -- makes Marcus' accounting of the OC situation more plausible than if there had been hiccups in that search too.
Jeremy from Goshen: As Spring ball approaches, what players who haven't gotten to play much for ND are you keeping an eye on? Do you have any breakout predictions?
Eric Hansen: WR Tobias Merriweather, OG Billy Schrauth, RB Jadarian Price (if healthy), QB Kenny Minchey (not because he's going to play a lot but because he intrigues me), DE Jordan Botelho, LB Jaylen Sneed, DT Tyson Ford, S Ben Minich, CBs Christian Gray and Chance Tucker. My breakout predictions are Merriweather and Sneed.
Tom from Sister Lakes MI: Hi Eric, Here's a different question for your chat. I've been intrigued for some time now by another regular chatter. And that's Marie from Atlanta. She always asks very good questions and knows her football. I believe many of us would be interested in her background without giving away identity. Is she a ND alum? Did she grow up watching ND football with her dad and brothers? How did she gain all that knowledge? I hope this doesn't come off chauvinistic but truly in admiration.
Eric Hansen: Hi Tom. I reached out to Marie to get her permission to go down this road, and I believe she'll be OK with it. But I haven't heard back, so let's wait until next week. We've gotten to know each other through emails, and what I can share is that she saves lives for a living and is very impressive away from her football knowledge.
Tom from Sister Lakes MI: Hi Eric, my son is a Wisconsin grad and big Badger fan. He said Joe Rudolph was successful in his early years there but not so much the last few years. Would you please address this perception? What do you know about the end of his stint at UW?
Eric Hansen: Hey Tom, you get a bonus question right away since I couldn't fully answer your other one. I believe it ties into the misevaluation of quarterback Graham Mertz and then continuing to stick with it, including over Jack Coan, who transferred then to ND. I think the problems of having a QB play at such a consistently low level hurt all other aspects of the offense and ultimately cost head coach Paul Chryst his job. Maybe that's a little oversimplified, but it's what I believe (from a distance) created that perception. Mertz is now at Florida, so maybe a change of scenery will help/
John from AZ: I think there is agreement this is a big spring for the Defensive line. What position group on the offensive side do you think needs to take a big step forward this spring?
Eric Hansen: Wide receiver and quarterback.
Matt from Rockville Centre, NY. Is the quality of young talent on this team higher enough than in previous years that it's reasonable to expect a large number of players to make the leap to the bigtime?
Eric Hansen: A leap to the NFL? Eventually, yes.
Eric Hansen: OK. That's going to do it for this week. Thanks for all the great questions. Remember once spring practice starts, we'll do this weekly. Still pondering whether to do one next week. If you're interested, let me know on Twitter (@EHansenND).