{{ timeAgo('2023-03-09 13:53:40 -0600') }}
football
Edit
Marty Biagi picked to succeed Brian Mason as ND special teams coordinator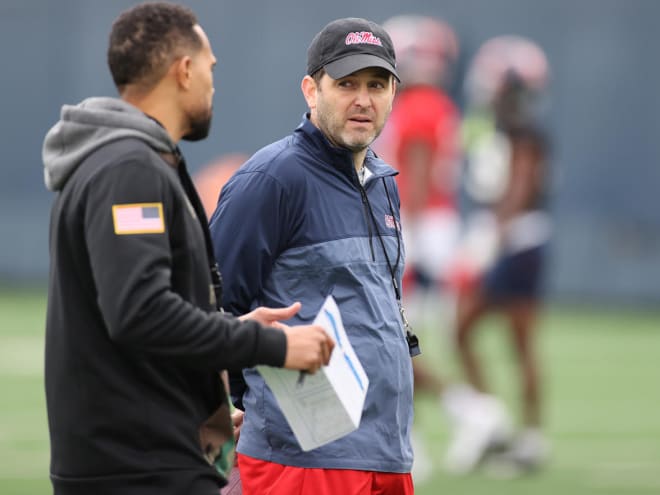 Marcus Freeman made Brian Mason his first special teams coordinator 14 months ago in large part based on numbers.
Consistent. Impressive. Sometimes even overwhelming numbers.
The Notre Dame second-year head football coach, it would appear, chose Mason's successor Thursday in spite of them.
At least his most recent batches.
Marty Biagi, expected to be officially named special teams coordinator — per a source — once he gets through Notre Dame's typically slow-moving HR gauntlet, interviewed in person earlier this week. There, he apparently showed enough relevance in his past connection to ND, in the potential former North Texas head coach Seth Littrell still gushes about, and in his shimmering résumé highlights to end the already brief coaching search decisively.
Mason just left for the special teams coordinator job with the Indianapolis Colts on Saturday, though his candidacy had been percolating for a while.
Biagi, 37, most recently comes from a one-year stint at Ole Miss, which followed a two-year run at Purdue (2020-21). The metrics from those three seasons don't sync up with the rest of his coaching history, nor the sparkling reputation he has in the coaching business for his creativity.
The Rebels, who have already reportedly found their fourth special teams coach in four years under head coach Lane Kiffin, ranked 99th in the FEI special teams metrics for 2022. Notre Dame under Mason leaped from 44th to sixth.
Mason's predecessor, Brian Polian, followed head coach Brian Kelly out of ND to LSU, and the Tigers ranked 125th in 2022 — an outlier to Polian's long-term track record, to be fair, but enough to get him reassigned at LSU for 2023.
Meanwhile, in Biagi's two seasons at Purdue, the Boilermakers ranked 103rd in 2021, slightly up from 114 in an abbreviated 2020.
But Biagi brings two finalist mentions for Football Scoop's Special Teams Coach of the Year from his stints at North Texas (2017-19) and at FCS school Southern (2012-14) and a year of experience as a special teams analyst at Notre Dame in 2016.
What Notre Dame brings that could bring out the best in Biagi is an existing special teams culture with strong player buy-in, and a head coach who prioritizes special teams and backs that up by providing the run of the roster.
How much difference can that make?
Listen to Mike Anello, one of ND's all-time great special-teamers, who helped the Irish lead the nation in kickoff coverage in 2008.
"If you look at some of the best teams, they struggle on special teams, because no one wants to play them," Anello said in an interview after he had moved on into the business world. "And people don't appreciate those yards can change games and change momentum. But we did.
"A lot of guys just go through the motions on special teams, even on game day. Whereas you look at our guys, everyone was going down hitting, trying to make plays and carrying out their responsibility. We had a swagger."
So did the 2022 Irish special teams, who notably led the nation in blocked punts with seven.
Biagi has that kind of success in his past. At North Texas, his teams blocked nine punts and four kicks, scored six special teams touchdowns by six different players and had 10 players recognized with All-Conference USA accolades during his three-year run, including three different kickers.
He also concocted a fake fair catch/punt return in 2018 that went for 90 yards and a TD against Arkansas and has racked up more than a million views on YouTube. That came in a 44-17 North Texas victory, its first over an SEC team in more than four decades.
If there's a parallel hiring Freeman can point to in which recent stats prior to the coaching move were downright deceptive, it was former Irish offensive line coach Harry Hiestand — twice.
Kelly after the 2011 season pulled him from a flailing offensive rebuild at Tennessee and plugged him into a 2012 Irish team that played for the national championship in part because of Hiestand's transformation of ND's offensive line. Then in January of 2021, Freeman hired Hiestand, who had been fired from his previous stop with the Chicago Bears.
Even Freeman himself got caught in a negative numbers game during his time as an assistant coach at Purdue, but Cincinnati's Luke Fickell saw enough promise to hire Freeman in 2017 as his defensive coordinator.
One more significant asset Biagi brings is that he's a rarity in having lived the special teams experience as a college player. He was a punter and kicker for Marshall after a standout high school career in Shelbyville, Ky.
"It was awesome to see a guy who understood the kicking aspect of special teams," Littrell told GoldandBlack.com back in 2020. "Sometimes, the kickers, punters and snappers are the guys we do the poorest job coaching with their technique and all. Marty understood that. He knows how to coach it. He played it himself.
"The X's and O's stuff took care of itself. He's really good at that. The most important thing is the kids bought into it. They were excited to go to meetings every day. He kept it refreshing and fun. I thought we were really solid on special teams."