Three stats to explain how Marcus Freeman's first recruiting class fared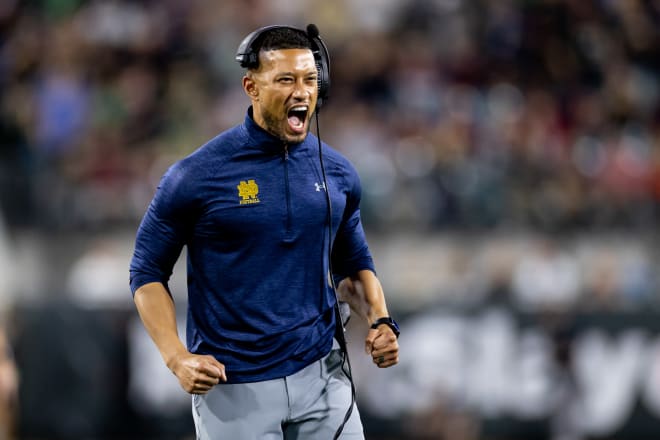 National Signing Day has come and gone — both of them actually. The one in December, when most players sign, and the old February signing day.
Marcus Freeman finalized his first recruiting class as Irish head coach with an uneventful ending. So did most programs around the country this Wednesday.
The majority of key 2023 class prospects finalized their pledge during the December early signing period. Some players — 12 in Notre Dame's case — are already enrolled in classes and participating in winter workouts at their respective schools.
Freeman signed 24 scholarship players — all during the early signing period — in his first full recruiting cycle as head coach. Meanwhile, adjustments in the Rivals250 player pecking order and movement along the Rivals team rankings shifted Notre Dame's standing in this recruiting cycle.
Here are the three team stats from Freeman's first recruiting class.
Notre Dame finishes 10th in the 2023 team rankings
Despite holding the No. 1 spot in the Rivals team rankings for most of the summer, ND ended up 10th after signing day with 2,505 points.
The losses of five-star defensive end Keon Keeley, eventual five-star safety Peyton Bowen and ranking drops of eight key recruits resulted in its tumble down the rankings.
Defensive lineman Brenan Vernon, offensive lineman Charles Jagusah, cornerback Christian Gray and wide receivers Braylon James, Rico Flores and Jaden Greathouse dropped an average of 37 spots since their Aug. 10 rankings. Cornerback Micah Bell and offensive lineman Sam Pendleton completely fell out of the Rivals250.
Keeley eventually signed with Alabama and aided the Crimson Tide in claiming the 2023 recruiting crown. The Tide had 3,367 points and added five five-star recruits during the 2023 cycle. Georgia, Texas, Ohio State and former Irish head coach Brian Kelly and LSU rounded out the top five.
Miami (Fla.), Oregon and Clemson also finished in front of the Irish in the overall team rankings.
JOIN THE CONVERSATION ON THE INSIDER LOUNGE MESSAGE BOARD
Bowen helped Oklahoma capture the sixth-best class and tied with Georgia and Texas for the second-most five-star recruits with three.
With Notre Dame coming away 10th, Freeman's class tied for seventh among Notre Dame recruiting classes since the Rivals250 era began in 2006. The other Irish class to finish 10th was Kelly's first full class in 2011. Former head Charlie Weis' first full-cycle class finished eighth in the 2006 Rivals team rankings.
There was some good news: ND's 2,505-point total only trails its 2013 (2,893) and 2008 (2,744) classes.
Notre Dame notches only three Rivals100 recruits, 11 in the Rivals250
LInebacker Drayk Bowen, Vernon and Gray were the only three players to finish within the top 100.
That is just half of what the Irish had during the Aug. 10 rankings update. Running back Jeremiyah Love and Greathouse were once considered top 100 prospects, while Rivals also ranked Peyton Bowen within the Rivals100.
Notre Dame has signed three or fewer Rivals100 prospects nine times and in four of the last five seasons. Kelly and Weis' first classes each had six.
In the 2023 cycle, Georgia had the most with 13 Rivals100 recruits, and 10 teams were also ahead of the Irish: Alabama, Texas, Oklahoma, USC, Ohio State, Miami (Fla.), Texas A&M, Clemson, LSU and Oregon
The Rivals250 was more favorable. The Irish had 11 prospects ranked within the top 250, which was sixth. Alabama topped all teams with 22, followed by Georgia, LSU, Ohio State and Texas.
Notre Dame's count of 11 was tied for fifth among Irish classes since 2006. Kelly and Weis' first full-cycle classes each had 11.
Irish conclude the cycle seventh in average star-rating
Though Notre Dame didn't fare well in the player rankings aspect, it was better in its average-star rating.
ND's average was seventh at 3.79, behind Alabama (4.11), Ohio State, Florida, Georgia, Miami and LSU. However, it stacked up better among Notre Dame's classes over the last 17 years.
Like its 2,505 points, the 3.79-star rating only trails the 2008 (3.96) and 2013 (3.92) classes at Notre Dame.
The Irish inked the most four-star recruits (19) in program history in the Rivals250 era. That mark came in second in the Rivals team rankings behind only Alabama, which had 21.
ND did not sign a five-star for the seventh time since 2006 and the second consecutive recruiting cycle.