Three-star ATH Teddy Rezac commits to Notre Dame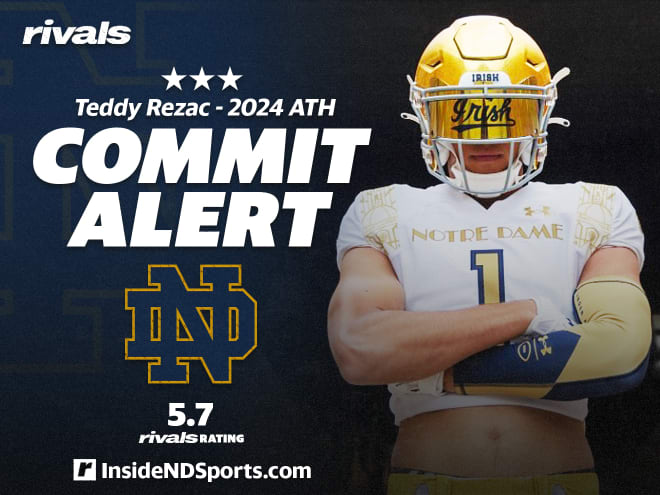 Once upon a time, an offer from Nebraska would have been a game changer for Teddy Rezac.
The three-star athlete from Omaha (Neb.) Westside grew up going to Nebraska games with his family's season tickets. But when the Cornhuskers extended an offer to the junior safety/outside linebacker/wide receiver on Thursday, it was too late.
Rezac, who was offered by Notre Dame last week and visited campus on Sunday and Monday, announced Friday his verbal commitment to the Irish. Notre Dame's insistence on making him a priority in the last 10 days worked in its favor.
"It's really cool actually," Rezac told Rivals national analyst Clint Cosgrove. It's like a dream school for me kind of from the jump based off of the level of football and the education that they have. It's just a really surreal feeling right now."
SUBSCRIBE TO INSIDE ND SPORTS TO STAY IN THE KNOW ON NOTRE DAME ATHLETICS
JOIN THE CONVERSATION ON THE INSIDER LOUNGE MESSAGE BOARD
Notre Dame defensive coordinator Al Golden put the Irish in the mix when he visited Westside on Tuesday of last week for an evaluation. When the Irish followed back up that Thursday with an offer from director of recruiting Chad Bowden, Rezac wasted no time in scheduling a visit.
While on his visit to Notre Dame, the 6-foot-3, 193-pound Rezac learned the Irish project him as a rover linebacker initially with the chance to grow into either of the other two inside linebacker positions.
"The thing that you love about those players," said Rivals national recruiting analyst Clint Cosgrove, "is they're skill players at heart, but especially a kid like him, they have the athleticism of a skill player, but then they have the frame of a linebacker and the physicality of linebacker. The way today's game is going, those players are so incredibly valuable. There's just so many things you can do with them."
With Golden continuing his recruiting trail travels, graduate assistant linebackers coach Max Bullough met with Rezac to talk about the intricacies of playing linebacker and even walking him through block destruction drills.
"That was the first meeting I've ever been to where I was sweating in it, because he had me up and doing stuff," Rezac said. "… It was intense. It was fun."
Rezac also spent time with head coach Marcus Freeman, recruiting analyst Dre Brown and Bowden. He became commitment No. 15 n Notre Dame's current 2024 recruiting class by giving his word to a coaching staff that showed its faith in him.
When Notre Dame offered Rezac, he only had one other Power Five offer at the time from Boston College. As a junior last season, Rezac started the year playing outside linebacker but moved back to safety after three-star recruit Caleb Benning went down with an injury. The misfortune for Benning allowed Rezac to show his versatility. He finished the season with 62 tackles (47 solo), four tackles for loss, two interceptions, one sack and one forced fumble.
USE PROMO CODE RIVALSGARCIA FOR A 30-DAY FREE TRIAL. PROMO AVAILABLE THROUGH SUNDAY. CLICK HERE TO SIGN UP.
Rezac, who also caught 32 passes for 414 yards and four touchdowns last season, demonstrated his speed last week with a 40-yard dash that was hand timed in the range of 4.48-4.52 seconds. He started to gain more attention from the same team as Benning and four-star outside linebacker Christian Jones, a 2025 recruit.
"I've been hearing [from others] a little bit," Rezac said earlier this week. "I'll say Virginia, Nebraska, Stanford, Oklahoma. Those types of schools along with being followed by a couple more. It was cool to see the waves that the Notre Dame offer brought."
After receiving a Notre Dame offer, Rivals gave Rezac a 5.7 rating, the highest level for a three-star prospect.
"There's just so much upside here," Cosgrove said. "The more I watch him, the more I like him. He has a chance to be a phenomenal player at Notre Dame and really beyond because his upside is just scratching the surface. That says a lot because he is a technician already. The kid is just a flat-out ballplayer."
Rezac became the first linebacker in Notre Dame's second-ranked 2024 class. The Irish jumped ahead of Ohio State (13 commits) to trail only Michigan (16 commits) in the Rivals team rankings.
Notre Dame's top remaining linebacker targets include four-star recruits Kyngstonn Viliamu-Asa and Bodie Kahoun and three-star recruit Chris Cole. All three have scheduled official visits to Notre Dame in June.
The Irish signed three linebackers in the 2023 class: four-star recruits Drayk Bowen and Jaiden Ausberry and three-star recruit Preston Zinter.