The tragic story of Bo Rein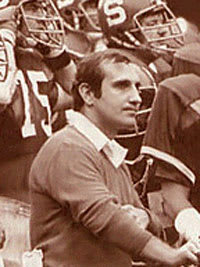 By all accounts, Robert Edward "Bo" Rein was a star. He was a star shortstop/left fielder at Ohio State where he helped lead the Buckeyes to the College World Series championship game in 1965 (a loss to Arizona State) and 1966 (a victory over Oklahoma State). He was drafted by the Cleveland Indiana and eventually advanced to the Triple-A level.
Rein led the Buckeyes' football team in receptions in 1964-65 and in rushing in 1966. He was drafted by the Baltimore Colts.
Rein quickly became a rising star in the college football coaching profession under Lou Holtz at William & Mary and North Carolina State. When Holtz took the head-coaching job at Arkansas, Rein was named the Wolfpack's head coach at the age of 30. In four seasons at North Carolina State, he compiled a 27-18-1 record, winning the Atlantic Coast Conference in 1979.
Louisiana State, looking for a replacement for head coach Charlie McClendon, tabbed the 34-year-old Rein on Nov. 30, 1979.
On Jan. 11, 1980, Rein and pilot Lou Benscotter were completing a recruiting trip when they departed Shreveport, La., in a Cessna Conquest bound for Baton Rouge. It was a scheduled 40-minute flight. But Benscotter, in an attempt to avoid an impending storm, veered east. The air traffic controller lost contact with Benscotter and the plane rose thousands of feet higher than it was designed to withstand.
The United States National Guard eventually caught up with the Cessna over North Carolina, some one thousand miles off course. The pilots of the military aircraft could not see anyone in the Cessna cockpit. It was speculated that Rein and Benscotter undid their restraints and lost consciousness due to depressurization in the cabin.
The Cessna eventually ran out of gas and crashed in the Atlantic Ocean. Debris of the crash was spotted, but neither the plane nor the bodies of Rein and Benscotter were ever recovered.
Rein was dead at the age of 34. Less than six months earlier, another star—New York Yankees catcher Thurman Munson—had died in a plane crash in Canton, Ohio.
Jerry Stovall was chosen to succeed Rein. Stovall went 7-4 in 1980, but the Tigers dipped to 3-7-1 in '81 and 4-7 in '83 (wrapped around an 8-3-1 campaign in '82), and was replaced by Bill Arnsparger for the 1984 season.
How would LSU football have been altered by the hiring of rising star Bo Rein?