TE Tommy Tremble Commits To Notre Dame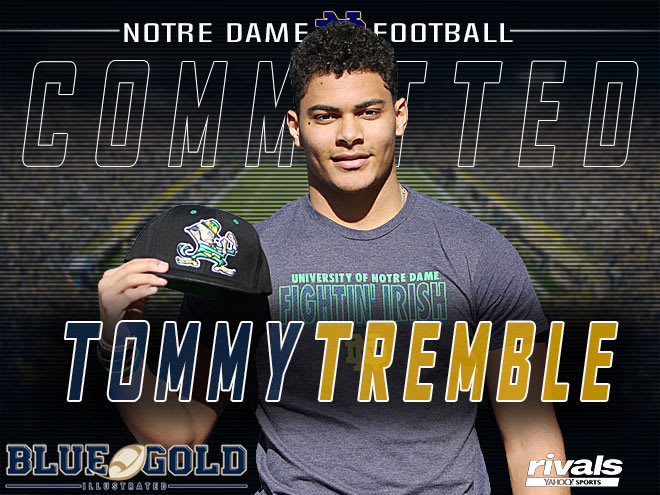 After landing Rivals250 member George Takacs of Naples (Fla.) Gulf Coast this summer, the Irish staff continued to pursue one tight end and one tight end only to complement Takacs. The staff's effort has paid off and now the Irish have their man.
Norcross (Ga.) Wesleyan tight end Tommy Tremble, the nation's No. 18 tight end, announced a commitment to Notre Dame this morning over Georgia, Michigan and UCLA.
"They're one of the schools that have been with me forever," Tremble told Blue & Gold Illustrated. "They've always been good to me. Coach Chip Long, Coach Brian Kelly and everyone have been great to me especially during the hard time when I had the injury.
"They've been keeping it 100 with me the entire time. With their education and football, there isn't anything like it. You can't get anything like it. You just can't choose anything else."
Tremble said he was "pretty sure" about being Irish after his official visit in October, but decided to take a few more visits just to see. Those visits to Michigan (Nov. 25) and UCLA (Dec. 9) made the process more difficult for Tremble, but in the end Notre Dame presented the best opportunity.
"It got really hard because I really liked Michigan and I really liked UCLA," Tremble stated. "It just came back to that same thing — what are you going to do after all this? How's this going to work out? Notre Dame is the best option out of everything."
Kelly, Long and running backs coach Autry Denson performed an in-home visit last night with the three-star prospect, and that's where they learned of Tremble's decision. The relationship Tremble had with the staff played a big role, but how Long and Kelly picked up on a personality trait and adjusted their recruiting efforts because of it caught Tremble's attention.
"Coach Long knows I hate to text and I hate to talk, but he texts me once or twice week asking how I'm going … and good conversations … I loved that," Tremble explained. "That's my favorite type of communication. Same thing with Coach Kelly.
"They used to text me a bunch, but they noticed about my personality and I don't need all that kind of attention. They just recognized that in my personality which I really appreciated."
Tremble's athleticism at the tight end position is a big part of why the staff continued to push hard throughout the entire process.
"There's not many tight ends in the country that can do the kind of things that I can do," Tremble said of Long's message about what he can do in the Irish offense. "He said with that in this type of offensive scheme it could be explosive.
"I'm going to be the hardest working at the entire college at anything. At everything too, not just football. I'm just going to make it work."
Notre Dame's class now boasts four playmakers at wide receiver and tight end, and Tremble is ready to get to work with the group.
"I'm really excited," Tremble stated. "I know some of the boys. Houston Griffith actually stayed at my house like two years ago. He came with one of my IMG friends. It's sort of funny to think about that we're now both going to the same college. I've talked to a few of the commits like Kevin Austin, Paul Moala … we hung out on our official. I really like the guys. I can't wait."
Tremble, as of Wednesday night, said he was undecided about whether or not to sign during the early period. He mentioned he planned to sign in February like his sister, who is at Marshall for track, did last year but is unsure.
Landing Tremble gives Notre Dame 20 total commitments in the 2018 class and their second payer from Georgia along with Rivals100 safety Derrik Allen of Marietta (Ga.) Lassiter.
Tremble ranks second on BGI football analyst Bryan Driskell's big board of offered Irish tight end targets.