TE Commit Kevin Bauman Recaps "Special" Notre Dame Official Visit
Red Bank (N.J.) Catholic tight end Kevin Bauman was at Notre Dame Oct. 11-13, and it was his first time back in South Bend since the spring. Bauman, the nation's No. 4 tight end in the 2020 class, got to take his long awaited official visit.
"It was awesome. Every time I go back, it gets better and better," Bauman said. "Obviously with this being an official, it was a little bit more special than other visits. My whole family was there and I got to spend a lot of time with the team and other commits. I got to shown some of my family around that hadn't seen it all. It was definitely a great weekend.
"We had an awesome dinner Friday night with the rest of the official visitors, our family, some of the coaches, and our player hosts. It was just awesome -- food on top of food. We spent time with the coaches and their families. It's all just so natural, being around everyone. It just feels like home."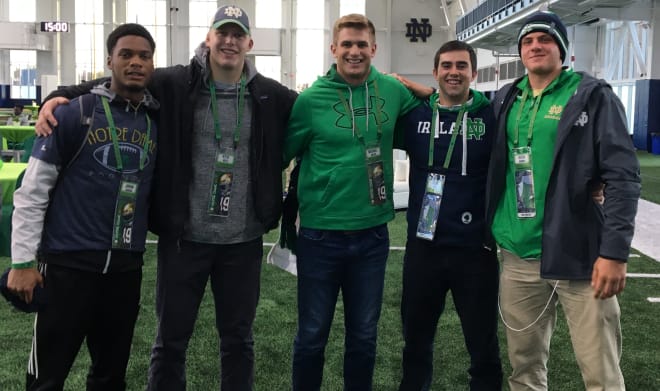 "We've been talking about my official for a while, really since they offered me," noted Bauman. "It was something I've been looking forward to. They were pumped to get us on campus and we'll get things rolling next summer."

Bauman's player host for the official visit was Andrew Kristofic, a freshman offensive lineman from Pennsylvania.
"He was awesome," said Bauman. "He's a really good guy. He was fun to be around. It was awesome to spend time with him, and he showed me the ins and outs of some things."
Rivals ranks Bauman as the No. 127 prospect in the nation and No. 2 prospect in New Jersey in the 2020 class.