Stanford's Christian McCaffrey A Game-Time Decision For Saturday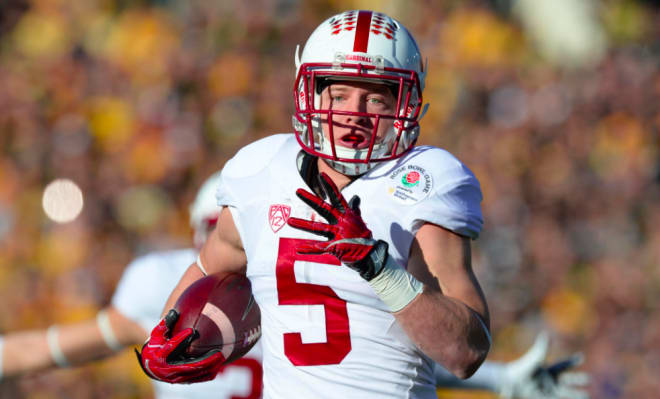 Stanford's star junior running back Christian McCaffrey is questionable for Saturday's prime-time matchup against Notre Dame.
Cardinal head coach David Shaw updated the status of his top player during his Tuesday press conference in Palo Alto, Calif. Shaw said McCaffrey — who finished second in the Heisman Trophy voting last season — is "banged up" and that no decision will be made until Friday or Saturday.
The 6-0, 201-pound McCaffrey suffered an undisclosed injury in the second half of Stanford's loss to Washington State last week. He finished with just 35 yards on eight carries, his second straight week with less than 100 rushing yards.
"We'll see how the week goes," said Shaw, who noted that McCaffrey has already made improvement health-wise since Saturday.
McCaffrey has 520 yards and three touchdowns on 99 carries this season. He also has 18 catches for 154 yards and a score.
The Stanford offensive line has not given McCaffrey much room to run this year, nor protected senior quarterback Ryan Burns. It has already allowed 16 sacks in five games, which ranks 104th in the country.
"I'm not pinning this on the offensive line. We have been inconsistent one through 11," Shaw said. "They have a hand in it, but we all have a hand in it."
Shaw also updated the status of Stanford cornerbacks Quenton Meeks and Alijah Holder. Meeks is "close" while Holder is "doubtful" according to the coach. Both were injured in the 44-6 loss at Washington Sept. 30.