SIGNED: WR Micah Jones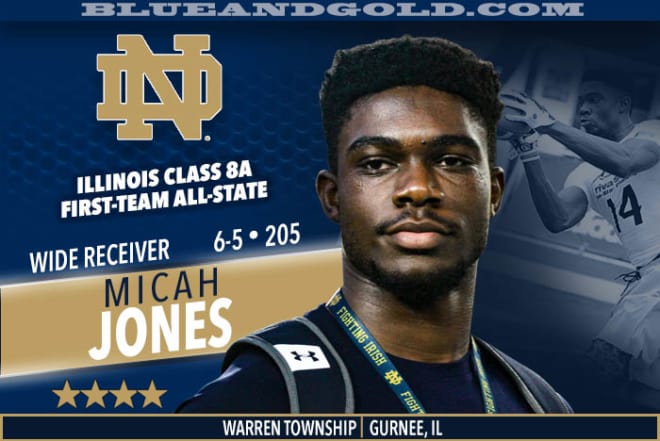 Gurnee (Ill.) Warren Township wide receiver Micah Jones submitted his National Letter of Intent to Notre Dame on Wednesday.
RANKINGS
Rivals: 4-star (No. 2 player in Illinois, and No. 36 wide receiver and No. 179 overall prospect nationally)
BGI Grade: 4.0-star
Upside Grade: 4.5-star
Jones is ranked by Rivals as the No. 179 overall player in the country. He has held steady in the rankings over the last year. He has traveled all over the country competing in whatever camp he could, and that willingness to compete — and his success at the events — has helped solidify his rankings.
MEASURABLES
Jones checked in at 6-4½ and 202 pounds at the Nike Football The Opening Regional in Chicago on April 2, 2017. He ran a 4.88 in the 40-yard dash and a 4.47 in the pro shuttle, leaped 31.6 inches and posted a 37-foot power ball toss at the event.
STATISTICS
SENIOR SEASON: Hauled in 53 catches for 710 yards (15.5 per grab) and 12 touchdowns.
JUNIOR SEASON: Notched 22 receptions for 232 yards (10.5 per catch) and two touchdowns.
HONORS
SENIOR SEASON (2017)
Chicago Tribune News-Sun 2017 Football Player of the Year
Illinois 8A All-State Team (Illinois Coaches Association)
Chicago Tribune News-Sun 2017 All-Area Football Team
News-Gazette All-State Football Team
All-Area Team (Lake County Daily Herald)
First-team All-North Suburban Conference (Illinois Coaches Association)
JUNIOR SEASON (2016)
Lake County All-Area Honorable Mention (Lake County Daily Herald)
RECRUITMENT
POWER FIVE OFFERS: Notre Dame, Michigan State, Nebraska, Ole Miss, Mississippi State, Indiana, Illinois, Iowa, Iowa State, Vanderbilt, Syracuse, Northwestern and Minnesota.
Jones dominated at Notre Dame's 2016 Irish Invasion camp, a performance that led to him receiving an offer shortly after. Despite interest from a number of Big Ten and SEC schools, he narrowed his focus over the winter and Notre Dame became the clear choice.
He announced his decision to commit to Notre Dame on Feb. 17, 2017, and never wavered on that pledge. He visited Notre Dame several times during the 2017 season, but took his official was in December for the Echoes Awards banquet.
NOTABLE
· Born Nov. 11, 1999.
· Treasurer for the Local Chapter of the Sigma Beta Club (Youth Auxiliary Group of Phi Beta Sigma Fraternity).
· Sigma Beta state chapter presented Jones with a Community Leader Award, the Athletics Award and named him an Outstanding Leader.
· Recognized by the Warren Township School Board with a Special Recognition Award for being selected All-State and School Leadership.
2018 PROJECTION
Jones has the size and ball skills to compete for playing time very early in his career. Notre Dame's receiving corps struggled for much of the 2017 season, which means there are opportunities for freshmen and other young receivers to make a push up the depth chart. He is an early enrollee, which will give him a chance to get a head start.
BGI ANALYSIS
"I have always liked the game that Jones brings to the table, but there were always some questions surrounding his game. Those questions, for me, mainly revolved around liking his skills but not liking the fact he produced very little as a sophomore and junior while playing in a run-dominant offense. His coaches finally decided to make him a bigger part of the offense as a senior, and he responded with a season that earned him Player of the Year honors in his region from The Chicago Tribune.
"Jones had 53 catches for 710 yards and 12 touchdowns, numbers that surpassed his entire high school career up to that point. With Jones getting the ball more, he was able to put his skill set on even greater display. He has elite size, and he showed as a senior that he really knows how to use it to his advantage. His ball skills are truly outstanding, and he does a great job high-pointing the football and competing for the ball when it is in the air.
"He is a good athlete for his size. He isn't a burner, but at 6-5 with incredibly long arms he doesn't have to be. He knows how to get open, he positions himself well and he is a player that knows his strengths and his limitations. He can make plays all over the field, but jump balls down the field and work in the red zone is his forte." — BGI Football Analyst Bryan Driskell