SIGNED: RB Jahmir Smith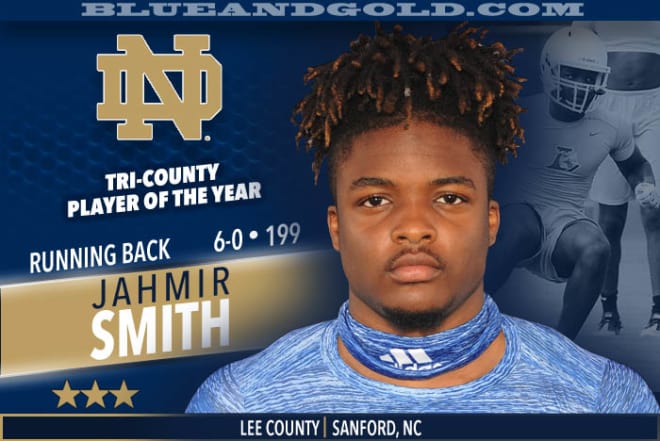 Sanford (N.C.) Lee County running back Jahmir Smith has submitted his National Letter of Intent to Notre Dame on Wednesday.
RANKINGS
Rivals: 3.0-star (No. 16 prospect in North Carolina and No. 20 running back nationally)
BGI GRADE: 3.5-star
UPSIDE GRADE: 4.0-star
MEASURABLES
Per his Hudl page, Smith holds a 28-inch vertical, 300-pound bench, 545-pound squat, 500-pound deadlift and 285-pound power clean.
STATISTICS
SENIOR SEASON: Rushed for 1,728 yards and 27 touchdowns while leading Lee County to a 12-1 record.
JUNIOR SEASON: Amassed 2,130 rushing yards and 40 touchdowns on 317 carries (6.7 yards per carry) leading Lee County to a 12-2 record. Led the state in rushing touchdowns. Rushed for at least 100 yards in 12 games and had at least four touchdowns five times.
HONORS
SENIOR SEASON (2017)
Offensive Player of the Year in the Tri-County 6 Conference.
Selected for 2017 Shrine Bowl (North Carolina all-stars vs. South Carolina all-stars), but did not participate
JUNIOR SEASON (2016)
First-Team All-Metro Running Back (The Raleigh News & Observer)
RECRUITMENT
POWER FIVE OFFERS: Notre Dame, California, Duke, Georgia Tech, Minnesota, Mississippi State, Nebraska, North Carolina, North Carolina State, Northwestern, Purdue, USC, Vanderbilt, Virginia and Wisconsin.
Smith made a quiet trip to Notre Dame July 18 and committed July 25 over a host of offers. Running backs coach Autry Denson primarily recruited Smith. The three-star tailback shut things down completely after committing over the summer and took his official visit to South Bend for the USC game Oct. 21.
NOTABLE
• Received an offer from all eight Ivy League programs.
• Was the Marshall for the Sanford Parade this year.
• Carries a 4.43 GPA and scored a 25 on the ACT.
• Will be an early enrollee at Notre Dame.
• He is the first North Carolina running back to sign with Notre Dame under Brian Kelly.
2018 PROJECTION
Smith is a physical runner that should benefit from enrolling early at Notre Dame. The Irish depth chart is deep, but the top three running backs all missed time due to injuries. Should that happen again, he has the physicality and instincts to push his way up the depth chart.
BGI ANALYSIS
"Smith was just one point away from earning a 4.0 star grade after showing a much improved skill set as a senior. That's saying a lot considering he rushed for more than 1,800 yards and 40 touchdowns as a junior. Smith added 1,728 yards and 27 touchdowns on the ground as a senior, despite sitting out several second halves with Lee County holding big leads.
"The big knock on Smith is that he lacks the breakaway speed desired at the position, but he makes up for in a lot of ways. He is the kind of player that you watch him pound the ball, but you don't come away from the game blown away by his skills. Then you look at the stat sheet and see that he's grinded out a lot of tough yards and put the offense on his broad shoulders.
"Smith improved his stock as a senior by showing a much improved athletic skill set. He has always impressed with his vision and feel for the game, and he's always been light on his feet for a bigger back. During his senior campaign, he showed vastly improved agility, quickness and second-level anticipation skills. He was able to get downhill much quicker, and it made him a much improved runner and a perfect fit for the Notre Dame offense." — BGI football analyst Bryan Driskell