SIGNED: QB Phil Jurkovec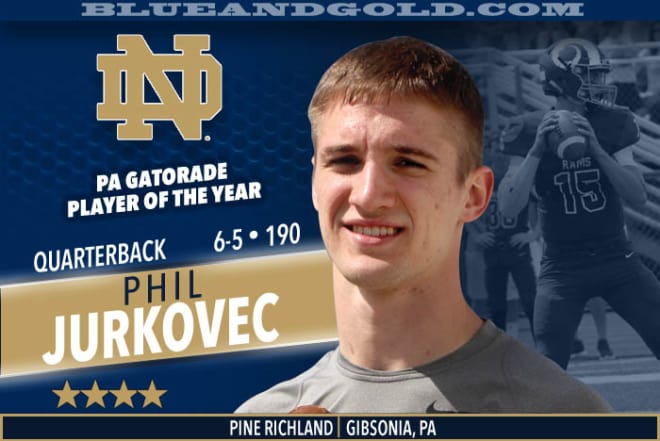 Gibsonia (Pa.) Pine-Richland quarterback Phil Jurkovec submitted his National Letter of Intent to Notre Dame on Wednesday.
RANKINGS
Rivals: 4-star (No. 2 recruit in Pennsylvania, and No. 4 dual-threat quarterback and No. 55 overall player nationally)
BGI Grade: 5.0-star
Upside Grade: 5.0-star
Jurkovec is the fifth Rivals250 quarterback to sign with Notre Dame under Brian Kelly joining Andrew Hendrix (2010), Gunner Kiel (2012), Malik Zaire (2013) and Brandon Wimbush (2015).
MEASURABLES
At The Opening Cleveland Regional, Jurkovec posted a 4.86 40-yard dash, 4.50 pro-shuttle team, 37-foot power ball toss and 35.7-inch vertical.
STATISTICS
SENIOR SEASON: Completed 243 of 334 passes (72.8 percent) for 3,969 yards with 39 touchdowns and six interceptions. Als0 rushed for 1,211 yards and 24 touchdowns on 132 carries (9.2 yards per attempt).
JUNIOR SEASON: Connected on 104 of 167 throws for 1,673 yards with 12 touchdowns and two interceptions in just six games before suffering a thumb injury. Added 481 yards and eight touchdowns on 82 carries (5.9 yards per rush).
SOPHOMORE SEASON: Completed 176 of 264 passes (66.7 percent) for 2,560 yards with 20 touchdowns and four interceptions. Also carried the ball 130 times for 1,250 yards (9.6 yards per attempt) and 11 touchdowns.
HONORS
SENIOR SEASON (2017)
Finalist for U.S. Army Player of the Year
American Family Insurance ALL-USA Offense Second Team (USA Today High School Sports)
U.S. Army All-American
Tom Lemming's Senior All-America team selection
Pennsylvania Gatorade Player of the Year
Pennsylvania Football Writers Class 6A Player of the Year
Pennsylvania Football Writers Class 6A All-State team
JUNIOR SEASON (2016)
Pennsylvania Football Writers Class 6A All-State team
SOPHOMORE SEASON (2015)
Pennsylvania Football Writers Class 4A All-State team
American Family Insurance ALL-USA Pennsylvania first-team defense (USA Today High School Sports)
RECRUITMENT
POWER FIVE OFFERS: Alabama, Clemson, Michigan State, Mississippi State, North Carolina, Ohio State, Penn State, Pittsburgh, Tennessee, UCLA, Virginia Tech, West Virginia and Wisconsin.
Ohio State and Penn State both made Jurkovec their top priority at quarterback for the 2018 class, but Notre Dame landed him on May 16, 2016. He was originally recruited by former offensive coordinator and quarterbacks coach Mike Sanford before he left for Western Kentucky. Current offensive coordinator Chip Long took over and continued to seal the deal for Jurkovec and the Irish.
The Rivals100 quarterback visited South Bend several times since his commitment, including multiple games in 2016 and 2017 and his official Oct. 21 for the USC game. He never wavered from his commitment.
Jurkovec was the first player to commit to Notre Dame's 2018 class.
NOTABLE
• Born Nov. 3, 1999.
• First Pennsylvania quarterback to sign with Notre Dame since Zach Frazer in 2006.
• Set a single-season state record with 5,180 yards of total offense.
• Second quarterback in WPIAL history to throw for 3,000 yards and rush for 1,000 yards in a single-season.
• Finished his career third all time in Pennsylvania history with 11,144 total yards despite missing half of his junior season with a wrist injury.
• Helped lead Pine-Richland to its first state title in football.
• Jurkovec's older brother Tom is a redshirt freshman linebacker at Duquesne.
• Helped lead Pine-Richland to a Class 6A state championship game appearance in basketball as a junior.
• Works as a Pine-Richland Peer Buddy helping mentally and physically challenged peers.
2018 PROJECTION
In a perfect world, Notre Dame quarterback Brandon Wimbush will make the necessary improvements this offseason to not only lock down the starting position but also take his game to the level he is capable of playing.
Should Wimbush's November struggles carry into next fall it would not be the least bit surprising if Jurkovec gets a shot. Ideally, Jurkovec gets to preserve a year while watching Wimbush max out his own abilities.
BGI ANALYSIS
"Jurkovec always had five-star talent, which is why he had a five-star upside grade when these rankings first came out. That was based mostly off his sophomore season, a year in which he passed for 2,560 yards and rushed for 1,250 yards while racking up 31 touchdowns. Jurkovec missed more than half of his junior season, but as a senior his game went to a whole new level.
"The Pine-Richland star always had the tools, but as a senior he truly emerged as one of the nation's premier players, leading the Rams to their first-ever state championship while passing for 3,969 yards, completing 72.7 percent of his throws and tossing 39 touchdowns against just six interceptions. He added 1,224 yards and 24 touchdowns on the ground.
"During his senior season, he showed a far more advanced repertoire as a passer. Jurkovec tightened up his delivery, improved his footwork in the pocket and became a far more accurate passer. Despite playing against tough competition, he absolutely dominated week after week as a runner and passer." — BGI football analyst Bryan Driskell.