SIGNED: OL John Dirksen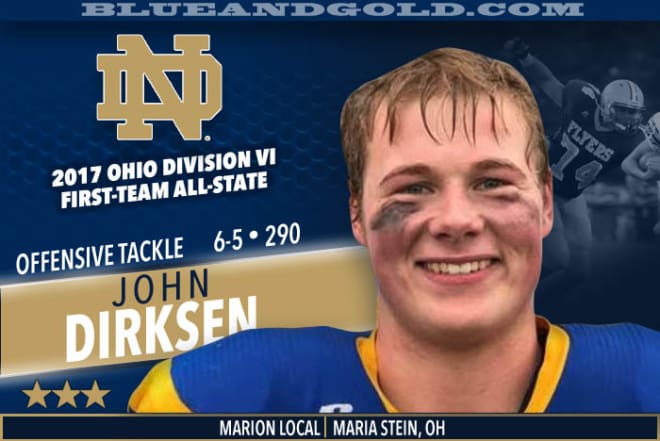 Maria Stein (Ohio) Marion Local offensive lineman John Dirksen submitted his National Letter of Intent to Notre Dame on Wednesday.
RANKINGS
Rivals: 3.0-star (No. 28 prospect in Ohio and No. 37 offensive tackle nationally)
BGI Grade: 3.5-star
Upside Grade: 4.0-star
MEASURABLES
Rivals lists Dirksen at 6-5 and 290 pounds.
STATISTICS
SENIOR SEASON: Helped Marion Local's offense average 31.2 points per game during its championship season.
JUNIOR SEASON: Missed most of his junior season with an injury, but in three games played helped the Flyers average 29.0 points per game (2-1).
SOPHOMORE SEASON: Part of a Marion Local offensive line which guided the offense to 34.0 points per game.
FRESHMAN SEASON: Dirksen and the Marion Local offensive line paved the way for the Flyers to 44.1 points per game during a 15-0 season.
HONORS
SENIOR SEASON (2017)
Division VI first-team All-Ohio (media)
RECRUITMENT
POWER FIVE OFFERS: Notre Dame, Michigan State, Northwestern, Kentucky, Boston College and Iowa State.
Dirksen committed to Notre Dame on March 25, 2017, after an unofficial visit during spring practice after keeping a low-profile throughout his recruitment. He was recruited primarily by offensive line coach Harry Hiestand.
Dirksen took game visits this fall for Georgia and USC, and made it back for the Echoes Awards banquet earlier this month.
NOTABLE
• Finished high school career with a 58-3 record.
• Part of four state title game appearances, winning three of those four, while at Marion Local (participated in two of those three games; missed one due to injury).
• One of just a few freshmen in history to start at Marion Local, which has won 10 state titles since 1999.
• Lives on a dairy farm.
2018 PROJECTION
Dirksen has a lot of tools, but he will need time to develop. The 6-5, 290-pounder has the frame Notre Dame wants, but his technique needs work and he needs work in the weight room. Combined with the fact Notre Dame has played just two true freshman offensive linemen during Harry Hiestand's tenure, expect a redshirt season from Dirksen.
BGI ANALYSIS
"Dirksen has upside, and my long term view of him has not changed. He did drop in the rankings, however, and I dropped him from a 4.0 star to a 3.5 star after seeing him play a couple of games his senior season. The tools that made me rank him as a 4.0 star last year are still present, it is just that his senior season showed that he is still a work in progress after missing almost all of his junior season with an injury.
"The 6-5, 290-pound tackle has really good country strength, but he doesn't use it to his advantage nearly enough. When he gets fired up in a game he can really move people around, but the issue is at this point he doesn't play with enough consistency from a power standpoint. He played too high at times, and he didn't finish consistently enough.
"Once his technique improves there is no doubt that Dirksen's power will play up, but he will need to add a lot of weight room strength. Once he gets to college he'll realize not only how much work he needs, but more importantly how much better he can be. That will happen with improved competition, and once that happens his game should take off." — BGI football analyst Bryan Driskell