SIGNED: OL Cole Mabry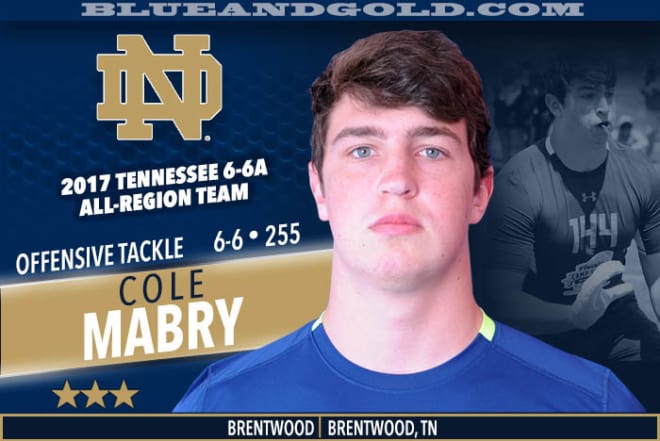 Brentwood (Tenn.) High offensive tackle Cole Mabry has submitted his National Letter of Intent to Notre Dame.
RANKINGS 
Rivals: 3-star (No. 23 player in Tennessee and No. 65 offensive tackle nationally)
BGI Grade: 4.0-star
Upside Grade: 4.5-star
A strong senior season resulted in Mabry going from a 3.5-star to a 4.0-star on the BGI Big Board.
MEASURABLES 
Listed by Rivals at 6-6 and 255 pounds.
STATISTICS 
SENIOR SEASON: Anchored a Brentwood offensive line that led the Bruins offense to an average of 32.0 points, 159.7 rushing yards and 212.0 passing yards per game in 2017.
JUNIOR SEASON: Was part of a Brentwood offensive line that led the Bruins offense to an average of 31.0 points per game in 2016.
HONORS 
SENIOR SEASON (2017)
Tennessee Sports Writers Association's Class 6A First Team All-State
Tennessee 6-6A All-Region Team
Member of The Tennessean's Pre-Season Nashville Area Dandy Dozen
JUNIOR SEASON (2016)
Tennessee 7-5A All-Region Team
RECRUITMENT 
POWER FIVE OFFERS: Notre Dame, Cincinnati, Colorado State, Indiana and Memphis.
Mabry committed to Notre Dame on Feb. 14, three days after being offered during a visit to campus for Junior Day on Feb. 11. The Tennessee talent was primarily recruited by offensive coordinator Chip Long, who recruited Mabry while at Memphis, and offensive line coach Harry Hiestand.
Mabry took unofficial visits to Notre Dame for the Georgia and USC games, and took an official visit for the Echoes Awards Dec. 8 (which was his only official visit).

NOTABLE 
• Born April 6, 1999.
• Second Nashville area offensive lineman to sign with Notre Dame under Brian Kelly (Alex Bars, 2014) and third since 2009 (Alex Bullard, 2009).
2018 PROJECTION 
Notre Dame has only played two true freshmen during Harry Hiestand's tenure in South Bend. With the depth returning on the roster it is expected that Mabry will redshirt in 2018.
BGI ANALYSIS 
"There isn't a faster riser up the board than Mabry, who went from the lowest ranked recruit heading into the season to being a legit four-star recruit that isn't that many points away from going up even higher. He always had tools, which is why line coach Harry Hiestand went after him so early, but as a junior he was tall, skinny and lacked the power needed to be a top player.
"He was a completely different player as a senior, and it was his power that stood out the most. The Brentwood standout filled out his frame and showed significantly more strength. After struggling to move defenders as a junior, Mabry played more like a mauling run blocker as a senior. He fired off the line extremely well, played with much better pad level, showed better leg drive and as a senior he was blowing defenders off the ball at times.
"I have seen players make jumps like this in a short period of time before, but that often resulted in that same player losing some of his quickness or agility. That wasn't the case for Mabry, who not only showed more power, he also showed better quickness off the line, showed even better change of direction skills and looked more comfortable in space." — BGI Football Analyst Bryan Driskell