Signed: Elijah Taylor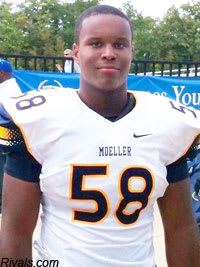 Cincinnati Archbishop Moeller defensive tackle
Elijah Taylor
submitted his letter of intent to Notre Dame on Wednesday.
Rivals ranks the 6-3, 285-pounder as a three-star prospect, the No. 25 prospect in Ohio and the No. 39 defensive tackle in the nation.
Measurables
• A power lifter since his days in junior high, he has benched 405 pounds and squatted more than 600. The Moeller High program includes weight training four times a week during the offseason and twice a week during the season.
Statistics
• Finished with 68 tackles, eight stops for loss and five sacks during Moeller's 10-4 season and run to the Division I state semifinals last fall.
• Recorded 68 tackles and six sacks during 14-1 season his junior year in 2013, when Moeller defended its Division I state championship with a 55-52 win versus Cleveland Mentor.
• Broke into starting lineup as sophomore on Moeller's first state championship football team since 1985, recording a sack and forcing a fumble in the 20-12 title game victory versus Toledo (Ohio) Whitman.
Honors
• Recognized as a first-team Division I all-state selection by both the Associated Press and Cincinnati Enquirer after his senior year.
Recruitment
• Originally offered a scholarship by Notre Dame prior to its 14-10 win over USC on Oct. 19, 2013, during his junior season. He verbally committed on June 13, 2014, over Ohio State, Florida State, Louisville, Miami, Michigan State and Tennessee.
• Took his lone official visit to Notre Dame on Jan. 16, 2015.
• Primarily recruited by Irish defensive line coach Mike Elston.
Notable
• Moeller High School sent nearly two-dozen football players to Notre Dame from 1968-82, including several first-round selections in defensive tackle Steve Niehaus (1972-75), linebacker Bob Crable (1978-81) and tight end Tony Hunter (1979-82), among many other standouts. That ultimately helped lead to the hiring of Crusaders head coach Gerry Faust to the same position at Notre Dame (1981-85). The most recent Moeller products to play for the Fighting Irish were quarterbacks Andrew Hendrix (2010-13) and former walk-on Charlie Fiessinger (2011-14).
2015 Projection
• A probable redshirt candidate because of the plethora of bodies in Notre Dame's defensive interior.
They Said It
Rivals.com Midwest recruiting analyst Josh Helmholdt: "Out of the three defensive tackle prospects, Elijah is the nose guard, or the zero-technique in my opinion. He's short and stockier and a guy that's going to plug the middle.
"When I see him, he hasn't made a big impact on the game. I have seen him a couple of times in high school and covered him live in games and he does get double-teamed a lot. He's a Division I-level tackle and that draws double teams, but he hasn't been very effective fighting those off in the times that I have seen him.
"He's a guy that you want to plug up the middle and not be pushed around — get in the A gaps [on either side of the center] and try to create some havoc from there.
"I don't expect that Notre Dame is going to count on him to create a consistent pass rush — he's more of a space eater. He's a guy that takes up a couple of blockers and allows your linebackers to roam free."
Prep Football Report's Tom Lemming: "He's a good, solid, steady ball player. He's not a great pass rusher, and he's not a super big guy yet, but I do think he's one of the more consistent defensive linemen in the Midwest."
Film

Click
Here
to view this Link.