SIGNED: DE Justin Ademilola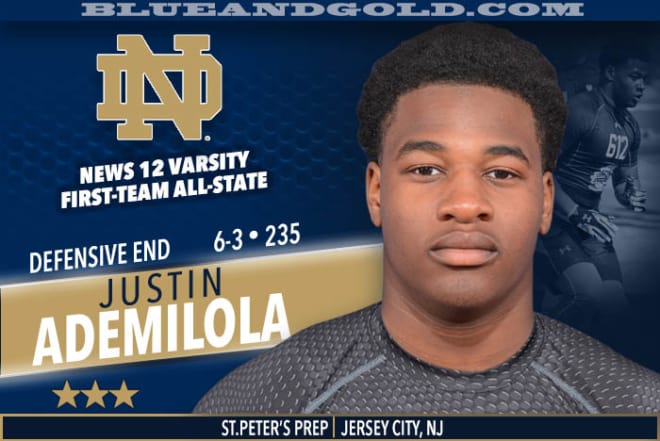 Jersey City (N.J.) St. Peter's Prep defensive end Justin Ademilola submitted his National Letter of Intent to Notre Dame on Wednesday.
Ademilola joins his twin brother Jayson Ademilola and rover Shayne Simon as St. Peter's Prep defenders to sign with Notre Dame in the 2018 class.
RANKINGS
Rivals: 3-star (No. 16 recruit in New Jersey and No. 34 strongside defensive end nationally)
BGI Grade: 3.5-star
Upside Grade: 4.0-star
Ademilola hasn't received the hype that his brother has, but he has been every bit as productive during his St. Peter's Prep career.
MEASURABLES
Rivals lists Ademilola at 6-3 and 234 pounds.
STATISTICS
SENIOR SEASON: Recorded 53 tackles, 10 tackles for loss, six sacks and five QB hurries. Also caught a six-yard touchdown pass in St. Peter's Prep's 42-19 playoff victory over Paramus Catholic.
JUNIOR SEASON: Tallied 85 tackles, 15 tackles for loss, 10.5 sacks and 20 QB hurries.
SOPHOMORE SEASON: Compiled 46 tackles, 8.5 tackles for loss, two sacks and seven QB hurries.
HONORS
SENIOR SEASON (2017)
First-Team All-Non Public Football Team (NJ.com)
Second-Team All-New Jersey (News 12 Varsity)
Second-Team All-New Jersey (NJ.com)
JUNIOR SEASON (2016)
Named to Tom Lemming's Junior All-America Team
Third-Team All-New Jersey (NJ.com)
RECRUITMENT
POWER FIVE OFFERS: Notre Dame, Clemson, Auburn, Penn State, Michigan, Georgia, Iowa, Boston College, Miami, Michigan State, Virginia, Vanderbilt, Syracuse, Rutgers, Missouri, Nebraska and Pittsburgh.
Michigan was considered the early leader for Ademilola, but Notre Dame made a hard push behind former defensive line coach Keith Gilmore. After camping at Notre Dame, Ademilola and his twin brother Jayson committed to the Irish.
NOTABLE
· Born Dec. 16, 1998 (was the first twin born)
· His older brother Marcus is a junior wide receiver at Bucknell University. He led the Bison with 32 catches this past season.
· His younger sister Mya set New Jersey state records for an 8th grader in the 4x100 relay and long jump.
2018 PROJECTION
Notre Dame returns all but one player from its defensive end rotation, and the numbers are very good at the spot in 2018. Expect Ademilola to redshirt next season and then work his way up the depth chart beginning in 2019.
BGI ANALYSIS
"While his twin brother Jayson was skyrocketing up the rankings and receiving a great deal of praise last summer, Justin was using the lack of attention heading his way as motivation. He entered his senior season with a major chip on his shoulder, and despite battling an injured ankle he put together another strong season.
"Ademilola was a much stronger player as a senior, and although his numbers dropped off his impact against the run was much better. He is a physical edge defender that can eat up the run game to his side. He has strong hands and uses good technique to set the edge, and when the ball comes his way he can quickly disengage and get to the football.
"In the pass game, Ademilola continued to display the outstanding motor that allowed him to rack up 10.5 sacks and 20 quarterback hurries as a junior. Power moves have always been his forte — but he showed a few speed moves as a senior, which enhanced his pass rushing repertoire. Just as important, he seemed to be at his best against the team's best opponents, which says a lot about his mindset.
"The fact Ademilola and Ovie Oghoufo are ranked this low in the class speaks to the exception depth Notre Dame has in this class." — BGI Football Analyst Bryan Driskell