Sights, sounds from Notre Dame: Brian Kelly bids farewell to Irish players
SOUTH BEND — He turned left from Courtney Lane onto Leahy Drive and was gone, just like that.
Brian Kelly sat in the driver's seat of a blue luxury SUV and put the pedal down — southbound. As the sun rose over Notre Dame's campus on Tuesday morning, the shade of the vehicle almost looked purple. Maybe it was. It would make sense, after all.
Per reports, Kelly is on his way to become the next head coach at LSU. He's trading Irish blue in for Tiger purple. He's keeping the gold, but even that has a different hue to it in Tiger land. Different. A simple word fit to describe what the last 24 hours have been like for Notre Dame. A simple word fit to describe what the coming days, weeks and year will look like, too.
After 12 years as Notre Dame's head coach, Kelly is on his way to assume a different (there's that word again) royal throne in Baton Rouge, and he didn't take long to say goodbye. Such is the nature of the business in college football. It's just, well, different.

Kelly messaged his team Monday night to arrange a 7 a.m. meeting at Notre Dame's on-campus facility. Players and team personnel filed into the Guglielmino Athletics Complex between 6:30 and 7. Kelly was seen driving away at 7:12.
If you blinked, you missed him.
There were police cars parked in odd places scattered around campus. Kelly received a lights-off police escort down Leahy Drive. Members of Notre Dame's athletics communications staff were spread around outside the building telling the 10 or so reporters on hand where they could stand. They weren't allowed too close to the building.
Other than that, Notre Dame was business as usual. Just before Kelly made his left turn, a group of student-athletes from another Notre Dame team hopped in a handful of cars parked in front of the Gug. They drove away just like the winningest head coach of one of the most storied college football programs of all time was about to on the very same street.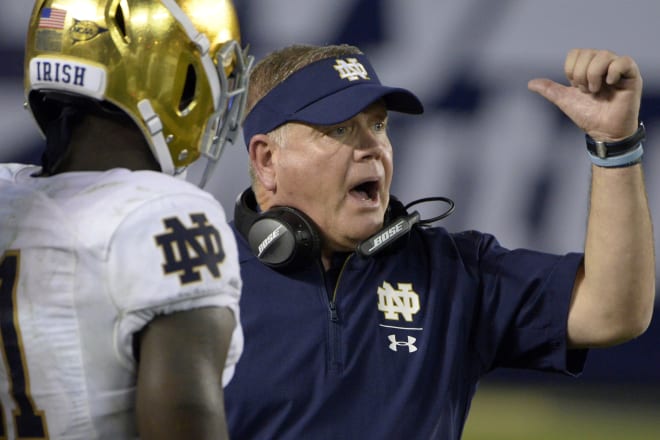 At 7:20, members of the Notre Dame men's lacrosse team arrived and parked in the same spots occupied by the cars that left roughly 15 minutes prior. They appeared ready to take the practice field. Five minutes later, the first group of Notre Dame football players exited the Gug.
They walked slowly. Kelly was probably already halfway to South Bend International Airport by then. Small group by small group, the Irish filed out of the building. Never again would Kelly — the man who has stood at the front of the room in Notre Dame attire for a dozen years — address them as their head coach.

There didn't appear to be much talking amongst them. What was there to say? Many of them had already addressed their grievances on Twitter. Some even showed support for Kelly. They understand that like with any profession, there is always rearranging of the pieces. There's always a price that can be paid to lure a seemingly 100 percent content coach away from a secure situation.
Notre Dame is Notre Dame, and LSU is LSU. Both are desirable jobs for their own reasons. Kelly didn't ride off into the sunset. This isn't the end for him. He — quite literally — rode off into the sunrise as a new day dawned for him and for Notre Dame.
What will it bring the latter? That remains to be seen. All we know is that it will be different.