Santa Clara Transfer Trey Wertz On Notre Dame: 'Definitely Fits My Style'
Trey Wertz wanted to declare some circulating narratives as wholly untrue.
His transfer from Santa Clara was not based in homesickness and a burning desire to play closer to his hometown of Charlotte. Nor was it done specifically with the idea of up-transferring to a power conference.
"That really had nothing to do with it," Wertz said.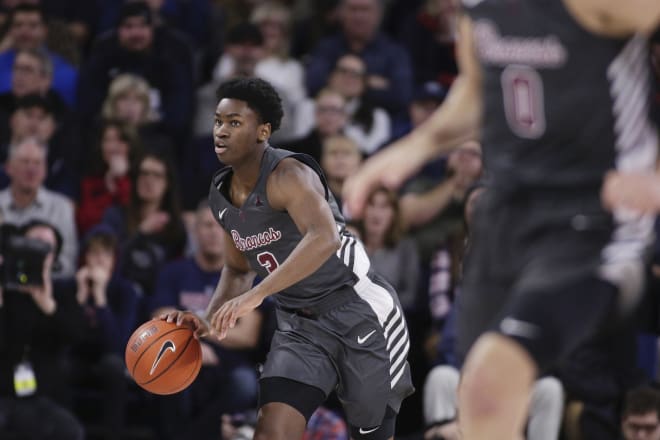 He will welcome a shorter trip home and a high-major league, though, if they line up with his primary requirement for a new destination: playing style fit. That, he said, is why he decided to move on from Santa Clara after averaging 12 points per game across two seasons as a starting guard.
"I loved my two years at Santa Clara, but it just wasn't the best fit anymore," Wertz said. "I'm just looking for the best overall situation. … Floor spacing is a big thing. I think I'm better operating with space and a free-flowing offense, just playing free. Not thinking too much, just playing basketball."

Wertz included Notre Dame as one of his seven finalists because he saw for himself an offense that crossed off each item on his list. With more down time and still in the hunt for a hoop to use amid gym and park closures, he dove into the film. When he watched Notre Dame, he discovered a four-out offense with shooters at every spot.
He has heard the Notre Dame staff explain its offensive philosophy. It was enough to intrigue him and put the Irish alongside Arizona, Butler, North Carolina, Ohio State, Oklahoma and Virginia in his final seven.
"It's a big thing for coach [Mike] Brey," Wertz said. "He's talked about it a lot how he likes to play three or four guards and likes to let guys play with freedom. Their offense definitely fits my style."
Notre Dame reached out to Wertz on March 25, one day after his name appeared in the NCAA portal. Assistant coach Ryan Humphrey was the first Notre Dame staff member to contact him, and they talked on the phone shortly after. Wertz's first call with Brey a couple days later was a rather promising sales pitch about his potential role.

"The first time I got on the phone with Coach Brey, he said he watched one of my games for five minutes, cut it off and said, 'We need to get him. He fits us perfectly,'" Wertz said. "Just having that confidence they have in me fitting in definitely helps."
Wertz has been in contact with Humphrey "almost every day" and has already done a virtual visit to Notre Dame on Zoom with the Irish staff. He saw the academic presentation that is normally part of an official visit, found Notre Dame's online tour video and was sent some pictures and video of the basketball facilities.
Notre Dame was one of five virtual visits for Wertz, along with Butler, Ohio State, Oklahoma and Vanderbilt. He has not done one with North Carolina and Virginia, but has been on campus at both before and each remains in the picture in his recruitment.
"All the ones on there, the coaches feel really good about how I fit into their system," Wertz said. "I feel pretty good about each one of them."
The NCAA extended the recruiting dead period through May 31 in response to the ongoing coronavirus pandemic, which confirmed to Wertz that he would make a decision before it ends, sight unseen — in person, at least. After his own deep dives and phone calls with coaches, he is OK with the idea.
"I feel like I have a pretty good sense for everything," Wertz said. "Right now, I'm just trying to think about it all. I'll try to have a decision in the next week or so."
Wertz was a finance major at Santa Clara and remains on track to finish his undergraduate degree early. He initially chose the Broncos over Clemson and Temple. His offer list included Missouri, Boston College, Massachusetts and Cornell, among others. He started 58 of his 62 career games at Santa Clara and averaged 11.9 points per game in 2019-20.
Wertz has two years of eligibility left and would have to sit out the 2020-21 season as of now, but the NCAA's upcoming vote on removal of transfer restrictions could make him eligible immediately.
Santa Clara was 20-13 last year and 6-10 in the West Coast Conference. Wertz also averaged 3.9 assists and 3.5 rebounds per game while shooting 49 percent from the field and 40 percent on three-pointers. He had three 20-point games, including a season-high 31 points in a win over Pacific Jan. 18.