Same familiar Irish flaws reappear in home loss to Boston College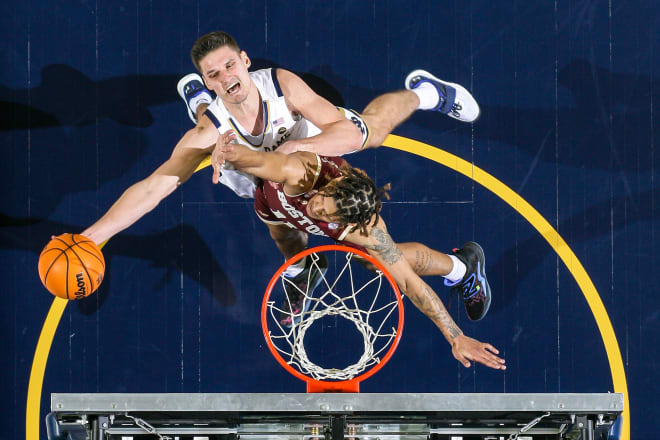 SOUTH BEND, Ind. — Whatever the state of Notre Dame's psyche on the basketball court Saturday afternoon, it was clear early that it wasn't going to help its defense.
Nothing looks like it could right now.
A poor-shooting 9-11 Boston College team (3-6 in Atlantic Coast Conference) torched the Irish from the perimeter (11-of-19 on 3s, 57.9%) and elsewhere (29-for-51, 56.9%, for the game) to secure an 84-72 victory in front of 6,068 in Purcell Pavilion.
What impact did head coach Mike Brey's announcement Thursday that he was stepping down at season's end have on the club?
None.
"I think that it's a tough thing for any human being to kind of persevere through adversity, especially when you've had expectations that might not have gone the way you want it to," ND grad student guard Cormac Ryan said at the postgame press conference after the Irish fell to 9-11 (1-8 ACC).
"But this is a group that's very resilient. Very high character. Very talented. And we still have a lot of belief in this group in this locker room. And we have no plan on going out without swinging – and that's a fact.
"We're already a very tight group," he added. "And, you know, we didn't need any extra reason to come together. But if there's ever a time, I think now is a great one to continue to stay committed to each other."
Brey, sitting a few feet away, chimed in.
He let the media know he talked to his team. He told them this wasn't about Mike Brey.
"It's for those guys in the program. It's always been about our guys," he said.
Good thing. Dedicating this one to their head coach would have been a mistake.
Dedicating any future games is a risk.
On a night when 6-foot-10 grad student Nate Laszewski put on a shooting show, it wasn't close to being enough. He finished with a career-high 29 points — 8-for-11 from the field, 7-for-9 from 3-point range and 6-for-6 on free throws. He added a team-high seven rebounds.
It couldn't make up for the lack of offense from guards JJ Starling (three points, 1-for-5 from the field) and Trey Wertz (zero points, 0-for-3), or the perforated defense.
The Eagles, on a four-game losing streak coming in, don't typically shoot well or score a lot.
They entered play 324th among 363 Division I teams in points per game (64.9), 348th in 3-point percentage (27.35) and 344th in made 3-pointers per game (4.5).
Then they went out and made 11 in just 19 tries, starting with two 3s by 7-footer Quinten Post in the first two minutes of the game. He was 4-for-5 after coming in 2-for-8 for the season and had a career high 29 points, 17 over his average.
Who would have guessed?
Not Brey.
"We were thinking we want them shooting 3s," he said. "And then the big fella (Post) makes a 3, and everybody's feeling good. The numbers say you really jam it in (the lane) and let them shoot it. We did that, and they make 11, which is painful.
"You play the stats and the numbers and they didn't mean a thing today. They made big ones and they made some really tough ones at the end of a shot clock. You know, you're feeling almost snake-bit a little bit.
"When your karma is really horrible, woo baby, everybody's feeling good against you."
Those 11 threes were big and unexpected, but even with the defense emphasizing taking away the inside, the Irish were still outscored 28-16 in the paint.
Brey knows his club could use a little luck to snap the downward cycle, but it also can't toss away points as it did on shooting 14-for-22 from the free throw line.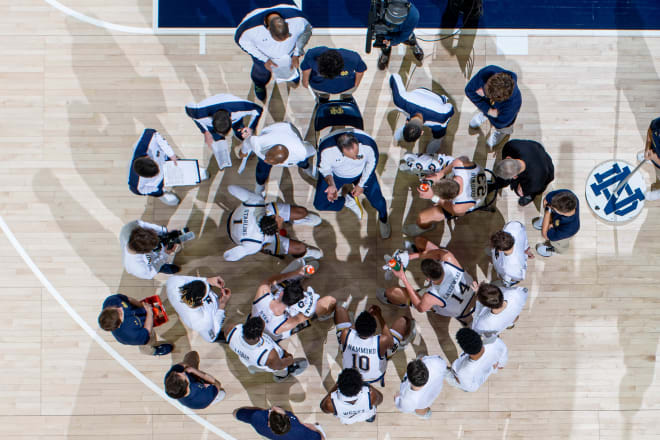 It could have been a rout. Notre Dame fell behind by 14 in the second half with a long scoreless stretch — from the 1:15 mark of the first half to the 14:27 mark of the second. (One of two free throws by Ryan that ended the drought produced some jeers from the fan base).
A rash of turnovers by the Eagles — some forced, some gifts — cracked the door open.
And Laszewski took advantage with back-to-back 3s near the 12-minute mark.
Then it was back and forth a little — there were eight lead changes — before Boston College took over inside and the Irish couldn't answer, going the final 4:53 without a field goal and the final 2:23 without a point.
That stretch included a couple of key turnovers — each team finished with 12.
"They have been a very tough matchup for us the last couple years," Brey said of BC. "With this nucleus, they're very physical, tough and old, and I thought it took its toll on us — their physicality, especially around the basket."
Dane Goodwin and Ryan each finished with 13 points and were a combined 9-for-23 from the field as the Irish were 23-for-53 for the day (43.4%), but 38.7% from the arc at 12-for-31.
The Irish play at North Carolina State (15-5, 5-4) Tuesday at 7 p.m., and Brey is holding out hope the change of scenery will help.
"Going on the road is probably a good thing," he said "No one feels you have a shot at a really good team (NC State was 15-4 heading into Saturday's game against North Carolina), an NCAA tournament team, and let's just let it rip."
Brey also addressed the aftermath of his announcement and what it means to current players with eligibility and the three incoming recruits.
He knows they will all get attention from other schools.
"One of the things I've talked to our younger players about and the three young men that we've signed is don't knee-jerk," he said. "I've been in this a long time. Give us a chance. … One of the reasons (you selected ND) was you love Notre Dame and the education and a lot of those things. Finish the season with this staff as we work with you to help you get better and meet the new guy.
"I did talk to their parents (of recruits) and, you know, they're disappointed, but they kind of understand the business. And I told them I'm here to help as a resource."