{{ timeAgo('2023-03-12 06:13:54 -0500') }}
football
Edit
Sam Pendleton rolling with the changes as an Irish O-line early enrollee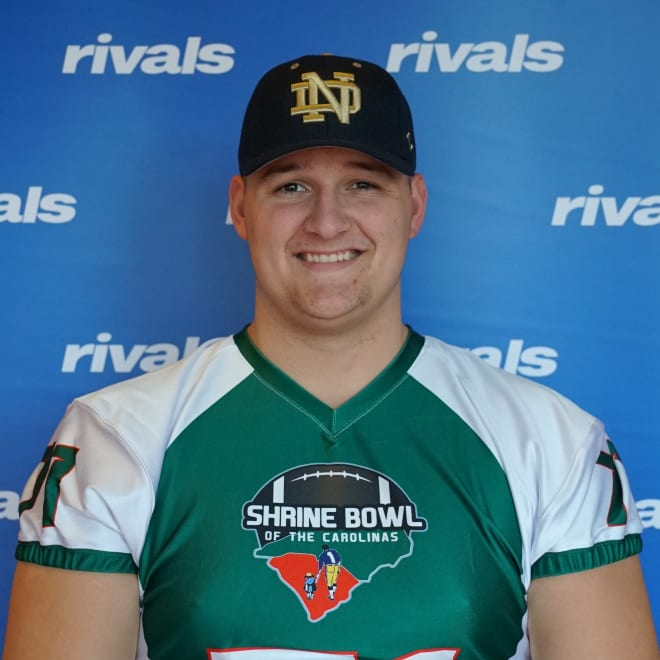 SOUTH BEND, Ind. — With a new offensive coordinator, a new offensive line coach and a revised playbook all to figure out before spring football practice starts on March 22, naturally one of the most heated debates among the Notre Dame O-line position group this winter has been … about basketball.
Specifically, how many of them could sophomore All-ACC guard Sonia Citron take down a game of 1-on-1.
Noting that Citron's boyfriend, grad senior linebacker Marist Liufau, admits the 6-foot-1 starter on the nation's No. 11 women's team (25-5) has drubbed him in an actual on-court matchup, the consensus is that hypothetically she could beat all but maybe two or three of ND's O-linemen.
"Obviously, you're going to have Joe (Alt), with just his height and reach advantage alone," early enrolled freshman offensive guard Sam Pendleton said of the 6-8 junior All-America left tackle. "I think (6-5 right tackle) Blake (Fisher) is another one there because of his basketball experience in high school.
"Then it's a little hazy. People have their own opinions. But my opinion is I think (6-6 backup tackle) Aamil (Wagner) could give her a good run for her money on athleticism alone. Billy (Schrauth, a 6-5 offensive guard) thinks he has a jump shot. He doesn't."
As for the 6-4, 300-pound Pendleton himself?
"I quit playing basketball, because I got tired of losing to my sister," he said with a smile.
That's twin sister Emma, a 6-2 center who is signed to start her college basketball career at NCAA Division II Lenoir-Rhyne next fall.
The siblings from Pfaffton, N.C., went through their respective recruiting processes simultaneously, pulling parents Jason and April constantly in different directions.
"We're very fortunate to be twins, especially both going to college for free," Sam said. "(For my) football recruitment, she would stay home and she was great. I have a little brother (5-year-old Eli). She'd watch him. She would do stuff around the house. We'd be gone for three or four days at a time.
"And when I'd come home, she would leave. Our parents made a lot of sacrifices, and they did a lot of stuff to give us opportunities to be where we are. I can't thank them enough."
His immediate next step, as a 17-year-old nearly two months into his first college semester, is to make a strong early impression in the 15 spring practice sessions that conclude with the Blue-Gold Game at Notre Dame Stadium on April 22.
"I want to optimize every opportunity I get," Pendleton said, "to show I'm capable of what they're asking me to do. That I know the playbook, that I'm physical, that I understand the plays.
"My goal in spring is to show them I'm capable of playing left and right guard. They've got me rotating right now, and just to be ready for whenever they need me to go somewhere and be prepared."
He's also serving as a lifeline of sorts for the four freshman offensive linemen who didn't enroll early — Sullivan Absher, Chris Terek, Charles Jagusah and Joe Otting — all of whom arrive in June and have questions about what life is like after recently departed offensive coordinator Tommy Rees (Alabama) and O-line coach Harry Hiestand (retirement).
"Getting here and right away and you have a coach change, it definitely takes a toll on you," Pendleton said, with Gerad Parker being elevated to OC and Virginia Tech's Joe Rudolph taking over for Hiestand..
"I was the first guy to commit. I'm the first guy here, so I definitely take a lead role on that. Sullivan Absher, being from the same state, about an hour away from each other, has reached out quite a bit. Other guys have reached out as well, too.
"We have a group chat. We talk on the regular. I consider those guys brothers now. We're going to live together. We're going to work together. We're going to be together, and I have complete clarity with them from the hard through the easy.
"They've reached out but … they're locked in. They didn't come here to run away. They're not coming here not to fight through adversity, because that's what builds character. I believe that they all carry that in their hearts as well."
Pendleton probably knows Rudolph better than most of the offensive line group. Rudolph tried to recruit him to Virginia Tech, April's alma mater and less than a two-hour drive from home, before Pendleton committed to ND last spring and signed with the Irish in December.
"He's very intentional," Pendleton said of Rudolph. "He's always available. Coach Rudolph is the guy who will meet you at 9:30 in the morning or 9:30, at night and in between. He's been super great about being available to teach us what he wants to teach us.
"He's been a student himself. He didn't come here and change anything big. He's had to learn as much as any of us have. He had to come in to learn all of our plays, had to learn what the lingo is."
And had to understand there was going to be some disappointment among the five freshman linemen.
"A guy recruits you all the way to signing day, and then he retires," Pendleton said. "Nothing against coach Hiestand. He did what was best for his family, and I respect him. He's still been really great about reaching out to those guys, and he was very upfront.
"Right after they heard the news, there was that three-week span before we got (a new O-line) coach. I called (the other freshman linemen) that night, and I was like, 'Guys, how do you feel about this?' They were like, 'Well, we're coming to Notre Dame.'"
Pendleton said Irish sixth-year O-linemen Josh Lugg, who exhausted his eligibility this past season, has been a huge help in just about every phase of life at Notre Dame, including the Hiestand-to-Rudolph transition. Lugg, who was coached by Hiestand in his first (2017) and final (2022) seasons of his college career, has remained in South Bend to get ready for Notre Dame's Pro Day, NFL Draft showcase, on March 24.
"Obviously, (he's) been through coaching changes," Pendleton said. "He's just been really great, just keeping my mindset in the right place that it needs to be. You have your moments when you are going through that transition, and it's hard. He just kept me positive and kept telling me, 'This is what I went through. This will make you a stronger person in the end. Trust me.'"