Sam Mustipher, Notre Dame O-Line Snapping To It This Spring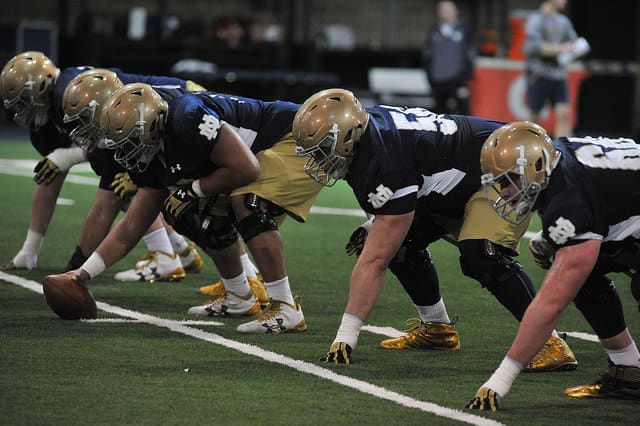 Don't miss out on any of our exclusive football, basketball and recruiting coverage. Click here to get your 30-day free trial!
Of the 826 plays run by Notre Dame's offense last year, 814 of them unofficially began with center Sam Mustipher snapping the football.
Among those 814, maybe five to 10 went glaringly awry, meaning that about 99 percent went according to plan.
"You have to bat 1.000 in only two things — flying and heart transplants," said the late Beano Cook, known in his day as The Pope of College Football. "Everything else, you can go four for five."
However, Mustipher's line of work isn't always a snap either, literally or figuratively. The exchange of snap between the center and quarterback — conventional or shotgun — might be the single most taken-for-granted aspect in football. That is why when it fails, it is far more conspicuous and castigated.
Last October, Mustipher underwent a nightmare with the shotgun snap. The first occurred in horrid conditions at Raleigh, N.C., during Hurricane Matthew, in which Notre Dame lost 10-3 to North Carolina State.
One Mustipher fumble ended an Irish drive at the NC State 22. Then in the game's closing minutes, he errantly snapped the ball past quarterback DeShone Kizer on a miscommunication when Notre Dame faced fourth-and-eight from the Wolfpack 16-yard line, ending an 18-play, 60-yard drive.
After the game, head coach Brian Kelly labeled the snapping as "atrocious" — and that in turn led to much vilification from the public of his game plan of not playing more conservatively in the awful conditions.
A week later versus Stanford, Notre Dame's 10-0 halftime lead was cut to 10-7 after Kizer opened the third quarter with consecutive interception tosses (the first returned for a touchdown). Then with 1:17 left in the third quarter and the Irish backed up near their own goal line, a Mustipher snap sailed over the head of reserve QB Malik Zaire and through the end zone for a safety. On the ensuing Irish kick, the Cardinal scored the go-ahead TD in its 17-10 victory.
When Mustipher met with the media this Friday for the first time since those setbacks, he was forthright.
"I've been hardened here at Notre Dame to when a situation goes bad you just have to bounce back, you have to figure out what's going wrong, you have to fix it, you have to come back and respond each and every play," Mustipher said. "I had to be a guy this team could count on and that was something I looked forward to every day. I'm going to get this right because these guys deserve it."
During that rough stretch, Mustipher said he was uplifted by the encouragement behind closed doors he received from Kelly, offensive line coach Harry Hiestand and his teammates.
"There was nobody that was saying, 'Hey, you suck!' " said Mustipher, who is majoring in computer science and is contemplating pursuing a career in cyber security. "It was, 'Hey, how can we help you? How can we fix this issue? How can we make your job easier?' That's what we did every day.
"Sometimes when you're in the routine of the game you lose focus of that — getting back to basics of snapping the football first and then doing my job. … Talent doesn't mean much if you can't get the little things done, so that's what we're focusing on doing the most."
The left side of the line with fifth-year senior tackle Mike McGlinchey and senior guard Quenton Nelson, both elected captains, receives the lion's share of esteem, but the 6-2 ½, 305-pound Mustipher has been placed in a similar category by Kelly this spring, including having him among the dozen team leaders setting the tone during pre-practice drills.

Since their first workout with new strength and conditioning coach Matt Balis on Jan. 18, Mustipher and his teammates have been engrained in embracing daily competition that is evaluated every day.
"I just like the competitive edge of it every day, even on plate holds [in the weight room]," Mustipher said. "Everything is a competition. You're competing against yourself, you're competing against the guy you're working out with … that's the best part of it."
With four returning starters along the line (senior right guard Alex Bars the fourth), the unit might be the strongest on paper for the Irish this season, like it was in 2015, led by left tackle Ronnie Stanley and center Nick Martin, first- and second-round picks, respectively.
That group returned 68 career starts, while this year's has 76 — a sharp contrast to the 27 last season. Including bowl games, the 2015 line led an Irish ground attack that had its best rushing average (207.6 yards per game) in 17 years. Kelly seemed to hint that the Irish might go back to that route, especially with a less experienced QB in the lineup.
"You can see where this offense clearly is going," said Kelly this Friday. "We've got depth at the tight end position. We've got big bodied wide receivers. We've got a very physical offensive line and we're very deep at the running back position."
Bring it on is how Mustipher and cohorts are looking at it.
"I don't feel like it's a burden. I feel like it's a responsibility that we know we have, we always have to take care of," said Mustipher of the team needing to lean more on the line. "There was a responsibility we had last year [too], regardless of starts or not. We have a responsibility to this team to get our job done, and not be the guys that let the team down.
"The cohesion of a unit is definitely something that helps any unit. Having guys that have been around and that you know how they work, how they operate on a day-to-day basis is definitely something that is going to help us."
For all the talk about "tempo," Mustipher said what will define this offense is the basics, not the bells and whistles.
"Techniques stay same, fundamentals stay the same, you're not going to see some drastic changes," Mustipher said.
Both the Martin brothers, Nick and All-Pro brother Zack, returned this spring to offer their own insights to the linemen.
"A guy can sit down in the room and just listen to them talk for hours upon hours about things they know, things they learned in the NFL and things they knew while they were here," Mustipher said.
"I feel like every day there is something to learn, and that's something that I learned from Nick as well. We're in meeting rooms and he was a fifth year [player] and always taking notes. I still take notes on the basics, each and every play: Concept, assignment, the guy's assignment to the right and left of me, I've got to know what's going on each and every play.
"I know it, but repetition always helps you learn more."
There might even be a little more conventional setups with quarterback Brandon Wimbush taking a direct snap from Mustipher.
"It's cool," Mustipher chuckled. "I told him, 'If you come up, just slap me on the butt and let me know you're there.' "
One way or another, Notre Dame's 2017 offensive line will need to make its own presence better known.
----
• Talk about it inside Rockne's Roundtable
• Subscribe to our podcast on iTunes
• Learn more about our print and digital publication, Blue & Gold Illustrated.
• Follow us on Twitter: @BGINews, @BGI_LouSomogyi, @BGI_CoachD,
@BGI_MattJones, @BGI_DMcKinney and @BGI_CoreyBodden.
• Like us on Facebook