Robert Hainsey Next 'In Line' With Notre Dame O-Line Excellence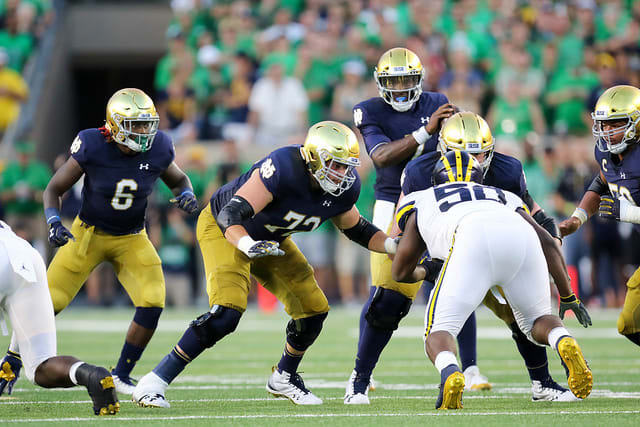 If one didn't know better, he could have sworn that a clone of Notre Dame 2010-13 offensive tackle Zack Martin — already a five-time Pro Bowl choice and three-time All-Pro selection — walked into the media interview room last Saturday after the initial spring practice.

Junior right tackle Robert Hainsey fittingly was selected as the first Irish player to meet with the media this spring. His confident, assertive demeanor and physique — even the facial beard and features — possessed the characteristics of the ultra-consistent Martin.
In his time at Notre Dame, Martin was the consummate "same guy every day." A school record 52 straight starts at left tackle (all 13 from 2010-13), same punctual time each Wednesday in his meeting with the media, same seat in the meeting room, same approach and outlook … which is why he became a rare two-time captain.
Even when he had yet to start a game while getting redshirted as a freshman in 2009, Martin was one of a handful of players selected by the administration as player reps in the coaching search to replace the then deposed Charlie Weis. Martin possessed an intrinsic leadership aspect that was palpable to everyone else.
That's Hainsey today. He was the lone captain selected at superpower IMG Academy — replete with dozens of college football prospects — in 2016 after previously attending Gateway High School in Monroeville, Pa.. Then he became a rare freshman starter along the 2017 Notre Dame offensive line that won the Joe Moore Award as the finest in the country. This winter he was the lone sophomore selected among the eight SWAT (Spring/Summer Workout Accountability Team) captains.
Hainsey is slightly taller at 6-4 5/8 than the 6-4 Martin was at Notre Dame, and not necessarily deemed the prototype 6-7, 320-pound road-grading tackle like a Mike McGlinchey (2013-17). Like Martin, whose arms were deemed a tad too short to play tackle in the NFL, Hainsey could line up at guard if needed, and there were even whispers that because of his football IQ and superb technique he could be a viable center candidate to replace three-year starter Sam Mustipher this season.
Instead, sophomore tackle Jarrett Patterson has taken on that role. Hainsey referred to Patterson as an "outstanding young player" the way a fifth-year senior might talk about a freshman. Yet, still in his sophomore year, Hainsey already is speaking like a grizzled veteran after a surprisingly strong freshman debut and then starting all 13 games last season.
"Zack's a big one," replied Hainsey on players he has attempted to model in his approach. "I remember Mike showed me film of Zack from 2011-12, watching him and Chris Watt do [double-team] blocks, Zack doing pass pro against guys way bigger than him and longer than him, and just how smooth he was and how efficient he was with his movements and his techniques.
"Same thing with Mike. Mike's bigger than me but the way he plays is what I've tried to emulate because he still has some of the best technique that I was able to work with. No matter what your size is, your technique can't slip based on that."
As a freshman in 2017, Hainsey went against and held his own against the likes of North Carolina State's Bradley Chubb (No. 5 overall NFL pick in 2018) and many other future pros during a 10-3 campaign. That year he and current right guard Tommy Kraemer were in a co-starting role, with each taking about 40 snaps per game. Last year Hainsey took on the exclusive starting right tackle role for the 12-1 Irish that advanced to the College Football Playoff, while Kraemer downshifted to guard.
"Experience helped a lot, just knowing what to expect," said Hainsey of his sophomore year. "I wasn't super bright-eyed, bushy-tailed … I was able to relax a little bit and play more. At the same time, though, I need to find a happy medium where I'm not too relaxed and I can just specifically work on my technique … Just the little things that get you through every player and allows you to dominate your opponent. That's what's really important — sticking true to my technique that I've learned through the years."
He said he couldn't have arrived at a better time as an early enrollee in the spring of 2017 to learn from the likes of McGlinchey, Mustipher, Quenton Nelson and Alex Bars, with esteemed line coach Harry Hiestand (now with the Chicago Bears) in his final season at Notre Dame.
"Guys that taught me how to be a Notre Dame man and how to live my life and run the program," Hainsey praised. "Just follow their footsteps. They taught me a ton … I did everything I can to emulate them and lead the way I know how to, as I've been on leadership roles on other teams. But taking what I've learned from them, their strategies, the style that they play and the character that they have and the kind of men they are.
"The way I see it it's a day by day kind of thing. You're trying to come in and be the same guy and the same team every day, and just continue to grow."
At 298 pounds, Hainsey continues to hang his hat foremost on becoming a master technician with an unsurpassed work ethic and football acumen. That's not to say he will have the future in the NFL like a Martin or McGlinchey do, but it's more about maximizing his own capabilities while elevating those around him, including four other offensive linemen who started at least five games last season.
"I have more than enough size to compete, it's just that I have to be as technical as possible," Hainsey said. "If I was even a lot bigger and was able to use my size more, I don't think I should ever let my technique suffer."
Destined for a captain's role sooner or later, Hainsey's leadership was further manifested when he recently conversed with senior quarterback and fellow SWAT team captain Ian Book.
"I told him that you're the quarterback and everyone is going to listen to you," Hainsey said. "Your voice echoes loudly within our locker room and within this building. People are going to perk up an people are going to listen because of who you are and the way you run this team.
"That's one of my good friends. I'm really proud of the way he handled everything and the way he's been handling his leadership role now ... Very smooth and he does a great job with what he's been given."
In that capacity, Hainsey might be setting the standard again in 2019 and beyond.