Rivals250 TE George Takacs Is Irish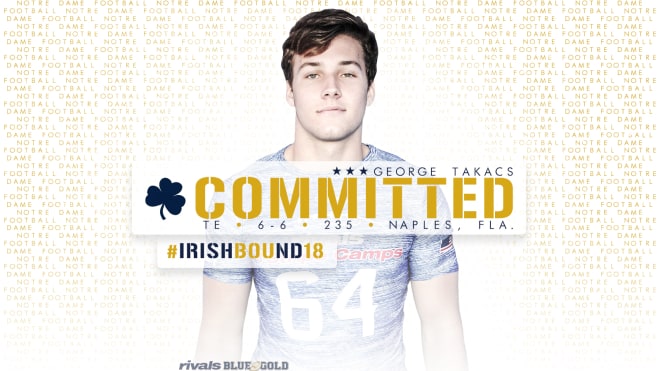 After a successful unofficial visit this week, Notre Dame has locked up its first tight end of the 2018 class.
Rivals250 member George Takacs, who had the Irish in his top four heading into the trip, saw all he needed to see from South Bend and became the Irish's 12th commitment.
Takacs, the No. 10 tight end in the class of 2018 and No. 234 overall player in the nation, grew up a Notre Dame fan, and immediately had the Irish in his top group following the offer.
The Naples (Fla.) Gulf Coast standout chose the Irish out of a final four that included Wisconsin, Florida and Georgia.
"I was a fan growing up, so that's' cool, but a lot of the stuff they do and the history they have really attracts me to Notre Dame as well," Takacs said. "They have a great history with tight ends, so that's exciting to me too."
Takacs' two main contacts have been running backs coach and Florida recruiter Autry Denson and offensive coordinator/tight ends coach Chip Long.
The Florida talent has built a strong relationship with both.
'It's been great talking with him and getting to know him," Takacs said of Denson. "He knows South Florida and he knows all the players down here. It's been great to talk to someone who came from South Florida and ended up at Notre Dame."
Long has also been recruiting Takacs, who said talking football with Long has been a great experience.
"Coach Long is a big tight end guy, so talking to him about the offense has been fun," Takacs said. "The fact that he's the offensive coordinator and the tight ends coach really excites me."