Rivals250 CB Philip Riley Recommits To Notre Dame Football
After decommitting from Notre Dame on September 25 and subsequently flipping his commitment to USC just days later, 2021 Valrico (Fla.) Bloomingdale cornerback Philip Riley is back with the Irish.
Riley announced his decision to rejoin Notre Dame's 2021 class, which already contains defensive backs in Bolingbrook (Ill.) High's Justin Walters, Encino (Calif.) Crespi's Chance Tucker and Gaithersburg (Md.) Quince Orchard's Ryan Barnes.
The Florida corner hadn't visited Notre Dame's campus, which was likely a reason for his initial decommitment, but he tells BlueandGold.com that he was able to get to South Bend in October.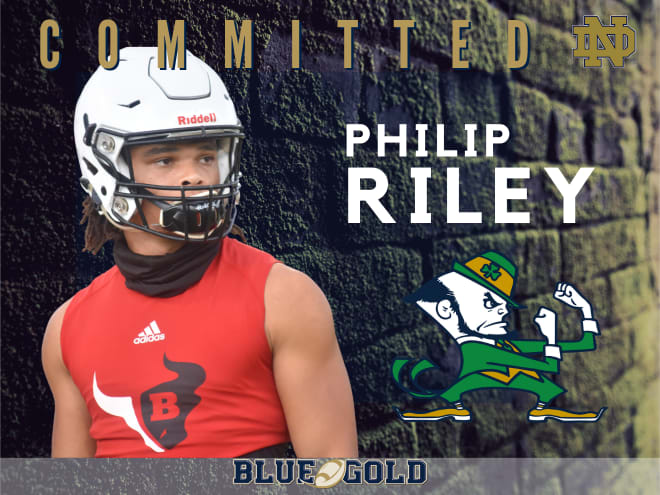 He originally pledged to Notre Dame May 5 and was a Virginia Tech lean before his decision. Riley's latest commitment should be his last, ending a wild recruitment that has been impacted by the COVID-19 dead period.
In a past interview with BlueandGold.com, Riley spoke glowingly of Notre Dame.
"Of course the academics," he said. "Not everyone can go to Notre Dame. I believe just 18 percent of people who apply there get accepted. It's a once-in-a-lifetime opportunity.
"I was fine committing without visiting the campus. I know I'm going to love it; it's a historical place. It was comforting to know that I'm going to be in a stable situation with a great coaching staff and great academics."
The 6-0, 190-pounder is Notre Dame's highest-rated defensive back recruit, checking in as Rivals' No. 241 overall player in the country and No. 24 cornerback.
Former Notre Dame defensive back Preston Jackson raved about Riley in a BlueandGold.com podcast back in May.
"The No. 1 thing with Philip Riley is that he can play press man," Jackson said. "The second thing you can see is that he's been coached very well. This kid could possibly play as a freshman if he shows enough in camp — definitely as a sophomore," Jackson noted. "Your defense becomes that much stronger because you have a talented kid who can take coaching."
"He looks the part; you can see the size on tape," former Irish linebacker Mike Goolsby said. "In some of these plays where it's an outside toss run, he'll disengage from the receiver and make tackles. That really speaks to his strength and eye discipline. He's well-coached and his footwork is exceptional."
Riley moved from the state of Washington down to the Tampa, Fla., area in December 2018. His stepfather retired from the military, and Riley's family decided to move down to the Sunshine State and be closer to family.
He's the second recruit in the Irish's 2021 class to commit to the Irish, de-commit and then recommit, joining Athens (Ga.) Academy wide receiver Deion Colzie.