Rivals100 DB Houston Griffith Commits To Notre Dame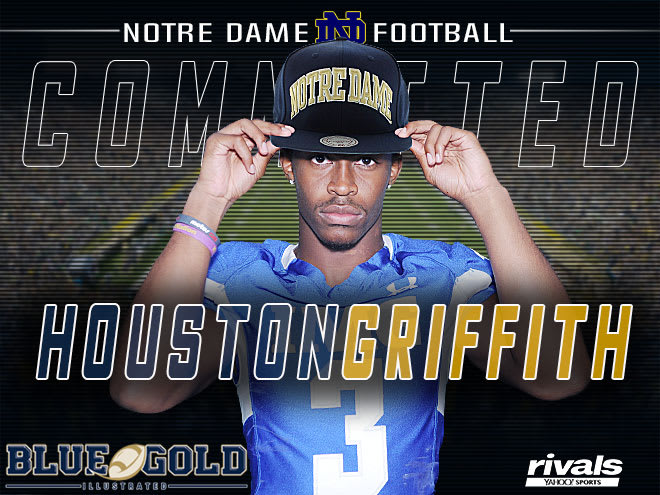 Notre Dame has picked up a major commitment, with Bradenton (Fla.) IMG Academy defensive back Houston Griffith announcing that he intends to play his college ball for the Fighting Irish.
Griffith has been a prime target for Notre Dame going back to his freshman season, when he was a standout for Chicago Mount Carmel. He spent the last two years playing for national powerhouse IMG, and during that time he has emerged as one of the nation's premier players. Rivals ranks the four-star as the No. 35 player in the country and the seventh best defensive back.
Griffith becomes the 19th commit in the 2018 class, and he is the highest ranked Rivals player to pledge to Notre Dame. He is the second Rivals100 defensive back to pick the Irish, joining Marietta (Ga.) Lassiter safety Derrik Allen, the nation's No. 66 player.
It has been quite a ride for Griffith, who went from an apparent long-time Notre Dame lean to a Florida State commitment. After deciding to reopen his recruiting in late November, Griffith once again began re-establishing his bond with Notre Dame.
In the end, Notre Dame's entire package won the day.
"Tradition. People talk about that gold helmet, everybody knows about that," Griffith said of his reasons for picking Notre Dame. "Everybody knows about Touchdown Jesus and the Play Like A Champion sign. Just the education you get. I know that the people that go there, they are going to be going there with father's who own businesses, so networking is a big thing for me.
"It's not a four-year decision, it's a 40-year decision," continued Griffith. "That's what is really intriguing about Notre Dame."
It is no surprise that Notre Dame began to fade in Griffith's eyes as the team struggled to win games on the football field. During Notre Dame's 4-8 campaign in 2016, the Irish went from being in his top group to being on the outside looking in.
That changed when Notre Dame hired defensive coordinator Mike Elko, whose history and scheme had a significant impact on Griffith.
"When I went up there for the Stanford game it seemed like they weren't that physical on the defensive side," Griffith said of Notre Dame's 17-10 loss to the Cardinal on Oct. 15 of last season. "When Coach Elko got hired I went to spring practice and we went over the scheme and he was telling me Notre Dame is going back to the basics and talked about being physical."
Griffith officially visited Notre Dame the weekend of Sept. 9 when the Irish hosted Georgia, the SEC Champions and a team that will be playing in the College Football Playoffs in January. Notre Dame lost that game, but how the defense played made a huge impact on Griffith.
"When I went to [watch them play] Georgia, I thought they were going to lose badly," Griffith stated. "One point loss to a College Football Playoff team, that was exciting. I know he's going to get them better. What he's done at Bowling Green and Wake Forest, making them one of the top defense's and the players he's got at Notre Dame he can get them to be one of the best defenses in the country."
Ultimately, Griffith wanted to be a part of what Elko, cornerbacks coach Todd Lyght and the Notre Dame staff is building on defense in South Bend.
"Coach Kelly had to do what was best for the program," Griffith said of the offseason changes that brought Elko to Notre Dame. "The changes that he made really helped. The guys I know up there tell me it's a different program, it's a different team up there. Last season was a learning year and this year shows that they are starting to get all the pieces.
"I feel like the next few years all the pieces are there to compete for a national championship."
Griffith will look to be a part of that final push for a title.
"I'm just ready to ball and compete."
When discussing his game, there was a word that kept coming up with Griffith. Physicality. The lack of it turned him off in 2016, it turned him back onto Notre Dame in 2017 and its what he wants his game to be known for.
"My dad has always told me to be the hammer, not the nail," Griffith said, referring to his father Howard Griffith, a fullback for the Denver Bronco teams that won Super Bowls XXXII and XXIII. "Everybody says I used to play running back like him, hard and tough. I translate that to defense and I've had a lot of success the last few years playing the position.
"I like being physical, that's a big part of my game … physicality."