Return of the natives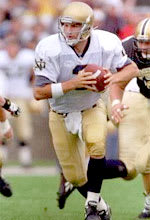 The soon-to-be official announcement of Notre Dame hiring 1989-90 Fighting Irish consensus All-America cornerback Todd Lyght provokes thought about how often Notre Dame alumni have coached football at their alma mater.
Once upon a time it was an unwritten mandate at the school that the head coach needed to be an alumnus. That was the case with every non-interim coach in the 45 seasons from 1918 (Knute Rockne) through 1962 (Joe Kuharich), and even interim coach Hugh Devore in 1963, until Miami (Ohio) graduate Ara Parseghian came aboard in 1964. Another alumnus didn't become the head coach at Notre Dame until 41 years later with Charlie Weis (Class of '78) in 2005.
Yet even under Parseghian and Dan Devine (1975-80), a strong Notre Dame alumni presence permeated the staff. If there were a College Football Hall-of-Fame wing for assistants, Fighting Irish defensive line coach Joe Yonto's school record 18-year stint from 1964-80 would be among the most esteemed (and he held the same title the first two years under Lou Holtz in 1986-87 after serving as an administrative assistant for Gerry Faust from 1981-85). Under Yonto's tutelage, Notre Dame produced eight first-round draft picks along the defensive line in the 12 years from 1967-78, plus numerous other All-Americans and future pros. As a comparison, since 1979 Notre Dame has had only three first-round picks along the defensive line, and none since 1997 (Renaldo Wynn).
Linebackers coach George Kelly (1969-85) was hired from rising power Nebraska, which would win the national title in 1970 and 1971, even though the Cornhuskers hinted that Kelly might be the successor for head coach Bob Devaney when he steps down. However, Kelly's affinity for his alma mater was too strong, and he remained a top administrator at the school right into the turn of the century after instructing All-Americans such as Bob Olson, Greg Collins, Bob Golic and Bob Crable.
Finally, there was offensive line/tight ends coach Brian Boulac (1970-82), who played under Kuharich and coached as a grad assistant and freshman coach for a while under Parseghian before getting his full-time gig and also becoming the first assistant at Notre Dame with the recruiting coordinator title. Like Kelly, he too would remain in administration at the school at the turn of the century.
Such devoted loyalty to one's school is less common these days. Since the days of that trio, only a handful of Notre Dame alumni have returned to their roots. Lyght's return, plus all-time Irish leading rusher Autry Denson (1995-98) often mentioned as a potential candidate to succeed Tony Alford as the running backs coach, probably would elicit concern among Fighting Irish faithful because both are relative neophytes as major college assistants. Lyght was an intern for two years at Oregon (2011-12) before serving as a defensive backs assistant with the Philadelphia Eagles the past two years. Denson was at Bethune-Cookman from 2011-13 before mentoring the running backs at Miami (Ohio) last year and getting hired by South Florida this January.
However, as loyal and impassioned sons of the University, they would receive the benefit of the doubt like few others.
There was a time in the Weis era when he too desired a powerful Notre Dame flavor on the staff. He had at one point former cornerback Mike Haywood (1982-86) as his offensive coordinator/running backs coach through 2008, while 1994-97 starting quarterback Ron Powlus was his quarterbacks coach in 2007-09. Earlier in his tenure he wanted to bring 1987 Heisman Trophy winner Tim Brown on board, but the ungodly hours a major college coach has to put in led Brown to respectfully decline the invitation.
Weis did hire stellar 1990-93 Irish defensive lineman and future All-Pro Bryant Young as a grad assistant in 2009, but Young eventually left the coaching ranks a few years later at the University of Florida because he too wanted to spend more time with his family. In addition, Weis nearly brought 1986-89 Notre Dame guard Tim Grunhard (a 10-year starting center at Kansas City) on to the staff late in his tenure, and did in 2012 when he was at Kansas. However, Grunhard likewise stepped down from that post in December 2013 for family reasons.
Besides Weis, the only other time since the Yonto-Kelly-Boulac trifecta that there were multiple on-field coaches on the Notre Dame staff was in the early 1990s with Skip Holtz (1990-93) and Tom Clements (1992-95).
Holtz was a walk-on for his father, Lou Holtz, during his debut season in 1986 before serving as an assistant for four seasons and holding the offensive coordinator title during the 11-1 campaign in 1993, which landed him the head coaching job at the University of Connecticut when it was still in Division 1-AA. In 15 years as a head coach at UConn, East Carolina, South Florida and now Louisiana Tech, where he finished 9-5 this past year, Holtz has fashioned a 101-84 ledger, highlighted by a stunning 23-20 upset win at Notre Dame to open the 2011 season.
Irish legend Clements, the starting quarterback for the 1973 national champs, departed after four seasons because of a fall-out with Holtz. Although Clements held the assistant head coach title in 1995, when Holtz was sidelined a couple of games that season because of surgery, it was defensive coordinator Bob Davie who was named the acting head coach in his absence.
Since 1997, Clements has worked as an NFL assistant instructing quarterbacks and helping coordinate offenses, and he might have been next in line for the Notre Dame job in December 2004 had Weis not accepted. Clements has been with the Green Bay Packers since 2006 and this weekend was informed he would be handling the future play-calling duties.
Prominent college careers at Notre Dame and then also thriving at the school as a coach are two different entities. In Lyght, head coach Brian Kelly and the Irish will aspire to make that combination work.