{{ timeAgo('2023-03-17 19:57:02 -0500') }}
basketball
Edit
Retooled Notre Dame tramples Southern Utah in NCAA Tourney opener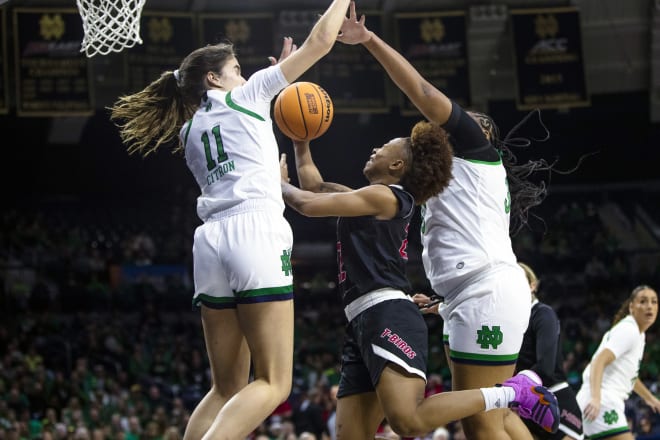 SOUTH BEND, Ind. — The numbers screamed progress. So did the eye test.
But exactly how much growth was made over the last two weeks for Notre Dame's women's basketball team will be determined at a later date.
Taking the floor in just its third full game with passing savant and second-team All-American Olivia Miles on the bench with a season-ending knee injury, the 11th-ranked and third-seeded Irish (26-5) tied a season high in assists (24) in Friday afternoon's first round NCAA Tournament rout of No. 14-seed Southern Utah, 82-56, at Purcell Pavilion.
"I have talked a lot that playing the right way for me is being unselfish and finding the open player," Irish third-year head coach Niele Ivey said in her postgame press conference. "Teams are going to do a lot of different things against us, sometimes double-team. So, being aware of that and finding the mismatches, again just playing unselfish — I thought we did a great job of that today."
The next test, a likely truer test, comes Sunday at 3:30 p.m. EDT (ESPN) against No. 11 seed Mississippi State (22-10), which defeated No. 6 seed Creighton, 81-66, in the second game at Purcell on Friday night. Sunday's survivor advances to the regional in Greenville, S.C.
Sophomore Sonia Citron, an honorable mention All-American and previously the 2 guard, has taken over primary point guard responsibilities of late and had a Miles-like six assists to go with 14 points, a point below her average. Freshman KK Bransford, who has picked up a piece of those minutes at the point, had five assists with nine points.
Those 24 assists look even better against just 10 turnovers, five below the Irish average.
But the Irish weren't playing a team the caliber of a top-five Atlantic Coast Conference team. Southern Utah (23-10), in its first NCAA Tourney game ever after winning the Western Athletic Conference regular-season and tournament titles, came in with a plus-8.2 rebounding margin (16th in the country), but was overwhelmed in the paint by the taller, much stronger Irish.
By the time it was done, the Irish had 50 points from the lane to 18 for Southern Utah.
The Thunderbirds have met a few teams with solid bigs this season, but "Nothing like No. 33," said 6-foot-3 Megan Jensen who led her club with 11 points.
She was talking about 6-4 center Lauren Ebo, the Texas transfer, who had 10 rebounds and went 6-for-10 from the field, finishing with 14 points in 26 minutes. Kylee Watson, a 6-4 forward, went 6-for-6 from the field for 12 points and added seven rebounds in 17 minutes.
They helped kick off a seismic start, combining for half of Notre Dame's points in a 16-0 burst and a big part of the 9-for-10 shooting five minutes in.
"It's tough," Thunderbirds coach Tracy Sanders said. "We knew that they were going to be bigger and stronger than us. And you know, we just had to kind of settle in.
"You can tell there was a little bit of nerves. Like I said, they're (Irish) a great team. Transition-wise, we were not hitting shots and they were pushing the ball pretty quickly. You know, I think we needed to buckle down and focus on the transition first, and yeah, just do our best to kind of be as physical as we could be…"
Among the bigger questions for the Irish coming in was how they would respond from the 64-38 beating they took in the ACC semifinal loss to Louisville on March 4. And how it would play out without Miles.
But while the outside world wondered about Miles' official status, which wasn't announced until Thursday, behind closed doors the Irish were retooling without her.
Maddy Westbeld made that clear Thursday when asked about club morale considering the announcement of the loss of Miles.
"I think we're locked in at this point," she said.
She was certainly locked in.
The 6-3 junior forward went 9-for-17 from the floor with one 3-pointer and finished with a team-high 20 points. She added five assists, three rebounds, a couple of blocks and two steals.
"It started on defense," Westbeld said. "We've emphasized getting out and running in transition. Get the rebound and run. We did a really good job at the beginning, and that's what set the tone early."
The Irish finished the first quarter 13-for-16 from the field, with Ebo and Watson each going 3-for-3 and Westbeld totaling eight points for a 27-10 lead 10 minutes in.
Overall, there were 13 Irish fastbreak points to four for the Thunderbirds, but there also were some offensive lulls for ND, as Ivey tinkered with her rotation and the Irish took some time to adjust to a late first-half zone from the team from Cedar City, Utah, that was accompanied by its band.
With some pinpoint adjustments at halftime, the Irish picked apart the zone inside, and the lead grew to 33 at the 3:26 mark of the third quarter. The Irish finished the day shooting 48.6% from the field, which included a non-impressive 3-for-14 from the 3-point line.
The defense was solid, and Ivey tossed in some occasional traps and full-court pressure, more for practice than the need with the sizable lead.
The Thunderbirds handled the pressure well, committing only 10 turnovers, but shot just 35.7 from the field — the Irish had eight blocks. Southern Utah leading scorer, 5-10 grad student Cherita Daugherty (15.7 point average), was chased hard all day. She went 3-for-7 and totaled eight points.
Maybe the best part of the big picture for Notre Dame was that it was able to get the ball inside where they have done most of their damage all season, something that didn't happen in the loss to Louisville.
"I was really impressed by the way we started the game and the way that we pushed pace today," Ivey said. "That was a big emphasis for me. I'm forcing KK, Cass (Prosper) and Jenna (Brown) to be in those positions that they didn't have to be before with Olivia just dominating the ball in a really positive way. It's really great to see them comfortable making decisions. I was really proud of the way we improved today."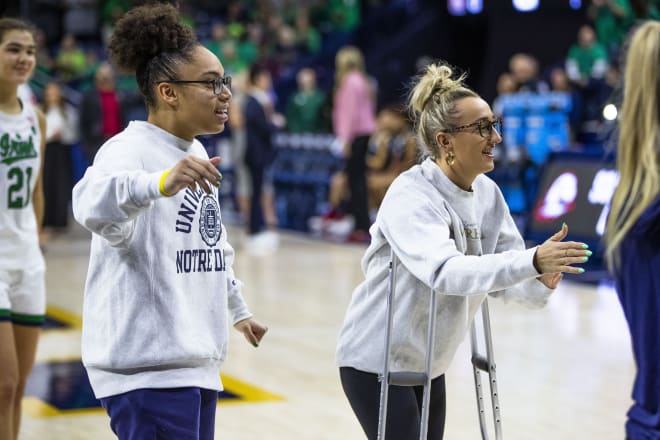 Mississippi State 81, Creighton 66
Associated Press
Jerkaila Jordan scored 20 and led No. 11 seed Mississippi State to an 81-66 win against No. 6 Creighton in the women's NCAA Tournament on Friday night.
Jessika Carter, the 6-5 Bulldog center, took advantage of the Bluejays' undersized front court, with 14 points and 10 rebounds. Anastasia Hayes chipped in 12 points and seven assists. Ahlana Smith and Asianae Johnson each added 10 points.
Lauren Jensen scored 22 points to lead Creighton (22-9), which made a run to the regional final last season. Emma Ronsiek scored 21 points, hitting 3 of 6 shots from beyond the arc.
The Bulldogs picked up their second NCAA Tournament victory in coach Sam Purcell's inaugural season. Mississippi State defeated Illinois in a First Four matchup on Wednesday.
Mississippi State (23-10) will face No. 3 Notre Dame (26-5) in the second round of the NCAA Tournament on Sunday. The Fighting Irish are hosting first and second-round NCAA games this weekend.