Report: Rees emerges as top candidate for Alabama OC coaching search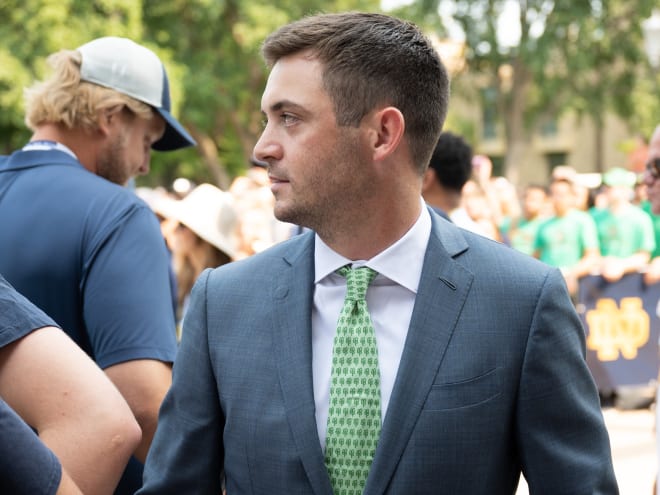 Within weeks of finally landing the ideal quarterback to run his offense, Tommy Rees may end up drawing up X's and O's elsewhere in the near future.
ESPN's Chris Low reported that the 30-year-old Notre Dame offensive coordinator is on the Alabama campus Thursday discussing with Crimson Tide head coach Nick Saban the possibility of Rees leading his offense in 2023.
Low cited sources that Rees had emerged as the top candidate to replace Bill O'Brien, who recently left the Alabama offensive coordinator job for the same position with the New England Patriots.
University of Washington offensive coordinator Ryan Grubb was initially the top pick to replace O'Brien, but the 47-year-old turned the job down Tuesday after going through the interviewing process.
A source told Inside ND Sports on Thursday afternoon that whether Rees stays or goes, it will not be based on finances. In other words, Notre Dame will match whatever Alabama offers if Rees is indeed offered the job with the Crimson Tide.
Pete Sampson of The Athletic posted a photo on Twitter of the Alabama team plane at the South Bend International Airport early Thursday afternoon.
It's the second time in four years that Saban has considered an Irish offensive coordinator for a staff opening at Alabama. Chip Long in January of 2019 did the same but didn't end up landing the job.
Rees flirted with the Miami OC job last winter, but elected to stay at Notre Dame for Marcus Freeman's first season as head coach. Notre Dame finished 60th nationally in total offense this past season and 42nd out of 131 teams in scoring.
Miami head coach Mario Cristobal ended up hiring 2021 Broyles Award winner Rich Gattis away from Michigan and then fired him recently after one season.
Rees played quarterback at Notre Dame from 2010 to 2013 under Brian Kelly. He returned to Notre Dame in 2017 as the Irish quarterbacks coach, then added the offensive coordinator title after the 2019 season, roughly a month after Kelly fired Long.
Wake Forest grad transfer Sam Hartman chose the Irish in January as his destination to play his sixth and final season in large part based on ND's offensive structure and personnel.
Hartman and fellow transfers Kaleb Smith, Javontae Jean-Baptiste and Thomas Harper were all scheduled to meet with the Notre Dame media on Friday. Those interviews have been pushed back a week to Friday, Feb. 10.