Rees' career path will inevitably lead him away from ND, but how soon?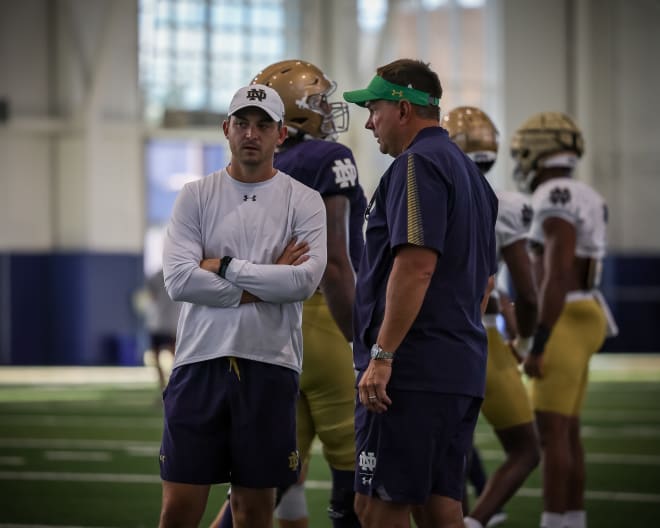 It will happen someday and likely before Tommy Rees can convince the college football world he has already turned 30.
If his next move doesn't, in fact, unfold in the ensuing hours/days.
Rees the former Notre Dame quarterback will become Rees the former Irish offensive coordinator. Probably with imperfect timing.
Like having the best ripened potential at quarterback waiting in the wings, in Wake Forest grad transfer Sam Hartman, since Jimmy Clausen was heading into the 2009 season — with Golden Tate, Michael Floyd and Kyle Rudolph to throw to.
Or next offseason when CJ Carr arrives in January of 2024, unfinished but with an even higher perceived ceiling than Hartman.
It would seem Rees' career path will take him to the NFL sooner than later and maybe define his career as well. Maybe it would include time as a college head coach leading up to it.
But if Rees' mindset is that working for iconic Alabama head coach Nick Saban for one to three seasons accelerates his growth and coaching timeline, that's going to be tough to turn down. A source told Inside ND Sports on Thursday afternoon that it won't come down to a financial decision and that the Irish administration has the willingness to back that up.
Big-picture perception of Rees, though, is invaluable.
He had the aura of a prodigy in entry-level jobs with Northwestern (2015) and the San Diego Chargers (2016) before landing back at ND in 2017 as QBs coach. Probably the fairest assessment of the coaching snapshot of Rees so early in his career, particularly in this three years as an offensive coordinator, is that his production hasn't matched the promise that still seems very real anyway.
"Tommy made a living on being the smartest guy in the room," offered San Francisco 49ers offensive tackle Mike McGlinchey Thursday on the Inside ND Sports podcast presented by DeadSoxy.
McGlinchey's freshman season, in 2013, overlapped Rees' final season as a player with the Irish. And McGlinchey's fifth year (2017) as an ND player was Rees' first back as ND as a member of the coaching staff.
"As a player … he was able to be so successful because of how he understands and gets football," McGlinchey continued, "and understands where the ball needs to go when it's placed in his hands. And he loves football.
"Those two things were very evident when I knew him as a player and as a teammate, and they became even stronger when he came back as a coach. He had already learned from some good systems. He was in the NFL (early on) and got the opportunity to be on some great staffs with people who understand and taught him how to do the game-planning aspect of it.
"And he grew up around (coaching), obviously. He grew up around all that stuff. So his understanding of the game of football is why he's always had success, and I think it was no more evident than his last couple of years he's been the play-caller for Notre Dame."
Perhaps Rees' ability to work around personnel holes and shortcomings was most impressive, but his critics will point out that he's been in great position to form and influence those rosters through his own recruiting in more recent seasons.
On paper, it looks like this:
Notre Dame's rushing offense ranking nationally among the 131 FBS teams in Rees' three seasons as ousted Chip Long's successor has bounced between 24th and 83rd. Passing offense, a range of 26th to this year's 98th.
Total offense: 26th to 2022's ranking of 60th. Scoring: 17th to 2022's 42nd. Team passing efficiency 43rd to this past season's 32.
Alabama in 2022 only ranked lower than 19th in one of those categories (30th in rushing offense) and was fourth in scoring. In 2021 and 2020 only rushing offense ranked lower than seventh among those same offensive categories.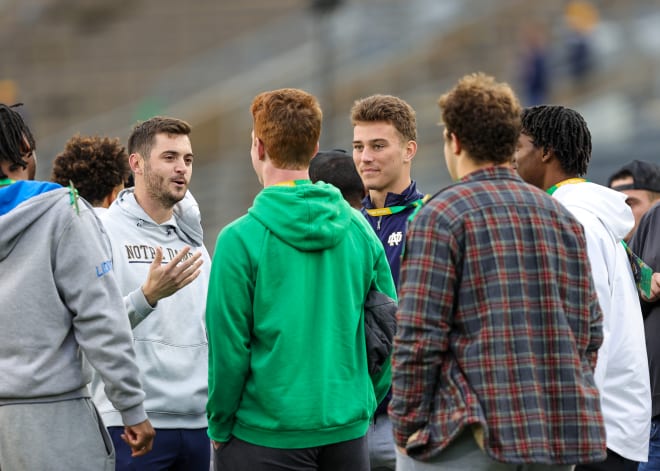 So if Rees had the same star power across the board that departing Bill O'Brien and his predecessor, Steve Sarkisian, had to work with, do Rees' numbers instantly become elite?
Saban seems to be convinced, enough so that after a Zoom meeting on Wednesday and a Rees trip to Tuscaloosa on Thursday that he offered Rees the job, according to multiple reports, two days after University of Washington OC Ryan Grubb turned down the job.
Usually, coaching moves this high-tiered on the school/position continuum don't come without at least some collateral damage in recruiting. Yet this is where Marcus Freeman's first order of business, upon being elevated from Irish defensive coordinator to head coach 14 months ago, will serve him well whenever Rees walks away for good.
Freeman is the lead recruiter with every prospect, offense or defense, five-star or three-star, forging relationships to weather inevitable staff changes. Even one as momentous as Rees' might be someday.