Recruiting States Of Notre Dame: No. 24 Tennessee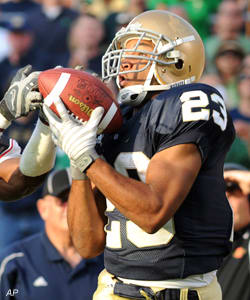 What have been the greatest and most productive states for recruiting in Notre Dame's football history? Our countdown from 50 to 1 is based on these criteria:
• Quantity from the state who have seen game action at Notre Dame.
• Quality and depth of athletes from the state throughout history.
• Impact made on the program in the past, present and how it's on the rise or decline in the future.
Our countdown began with states that have had the least impact over the years. At No. 24, we have now reached a point where at least five major contributors, record setters or luminary-like figures can be counted from each state. As the list continues, it will be upped to 10, and eventually an all-time team at every position for the top states.
At No. 24 is Tennessee.
Players Who Have Seen Action At Notre Dame: 18
First To Play: Carl White (Lookout Mt.) in 1911
Most Recent To Sign Scholarship: Alex Bars (Nashville) in 2014, although an argument can be made for incoming 2015 receiver/return man recruit C.J. Sanders(Brentwood). He committed to the Irish while he still played in Tennessee, but Sanders moved to and played his senior season in California when he signed with the Irish.
Notable: Among all SEC schools, the Tennessee Volunteers have played Notre Dame the most during the regular season with eight meetings from 1978 through 2005. The series is tied at 4-4.
Top 5 Notre Dame Players From Tennessee
1. Golden Tate (Hendersonville, 2007-09) - The most electrifying triple threat for the Fighting Irish since Raghib "Rocket" Ismail (1988-90), the 2009 Biletnikoff Award winner turned pro after a junior season in which he caught 93 passes that averaged 16.1 yards per reception and included 15 touchdowns, tied for the single season school record. He also rushed for 186 yards that season, averaging 7.4 yards per carry, and had an 87-yard punt return for a touchdown at Pitt. The second-round pick was the top receiver for the 2013 Super Bowl champion Seattle Seahawks before signing last year with Detroit.
2. Willie Fry (Memphis, 1973, 1975-77) - Inexorably linked with classmate and fellow "bookend" Ross Browner, the Browner-Fry tandem is the Gold Standard at Notre Dame for pass rushing duos at end, helping the Irish to two national titles. The UPI second-team All-American recorded 214 tackles at Notre Dame, 29 for lost yardage and was a rare two-time captain. The second-round pick's three-year NFL career never got off the ground because of two major knee injuries, but he then worked on Wall Street at the New York Stock Exchange before suddenly passing away at age 44 in 1998.
3. Harrison Smith (Knoxville, 2007-11) - A safety who served as the sole captain in 2011, Smith developed tremendously his last two seasons under Brian Kelly's staff and became the first Irish player from Tennessee to become a first-round selection. He recorded 307 tackles, and all seven of his interceptions came in 2010, three in the Sun Bowl win over Miami.
4. Chuck Lanza (Germantown, 1983-87) - Powerful center was a second-team AP and UPI All-American as a fifth-year senior and served as a co-captain in head coach Lou Holtz's second season. He was drafted in the third round by the Pittsburgh Steelers.
5. Matt Shelton (Collierville, 2001-05) - In 2004 he set the Notre Dame single season record for yards per catch (25.8), with his 20 grabs, six of which were touchdowns. He also nabbed 28 receptions as a fifth-year senior under first-year head coach Charlie Weis.
Special mention goes to top reserve guard Joe Signaigo (Memphis), who played on national title units in 1943, 1946 and 1947, and sophomore defensive end Thomas Knight (Memphis), a starter on the 11-1 team in 1993.
The Recruiting Future
Although it will always be challenging to pluck any top prospect away from SEC country, Notre Dame has had decent success in the Volunteer State the past 40 years, highlighted by the Tate-Smith tandem in 2007. Almost half of whom have played from Tennessee have come since 2000, and the addition of offensive lineman Bars (Nashville), who played at Montgomery Bell Academy, continues the momentum.
In the 2016 cycle, Notre Dame is pursuing two Nashville products: linebacker Daniel Bituli and safety JoeJuan Williams. We're not expecting the Irish to land one every season from The Volunteer State, but at least two on the roster every year isn't out of the question.
Next: No. 23