RECRUITING: Specialist Alex Peitsch Explains Notre Dame Commitment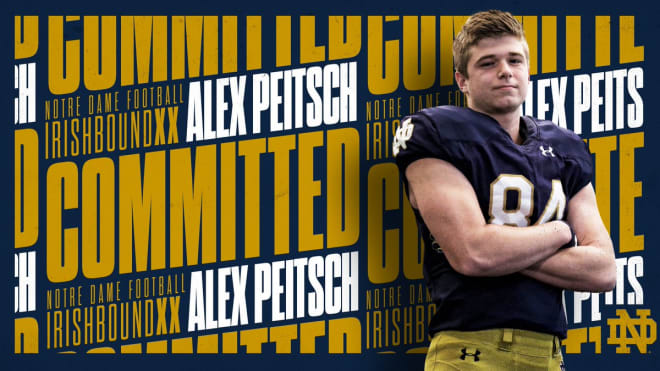 On April 17, Washington (D.C.) St. John's College High long snapper Alex Peitsch announced on social media that he had received an offer from Notre Dame. It took the 6-foot-2, 220-pound class of 2020 recruit just seven days to announce his pledge to the Fighting Irish.
Why did Peitsch commit so soon to Notre Dame?
"I had a couple of other schools looking at me, but as a specialist, you don't get 30+ offers. It's very limited," explained Peitsch. "So with Notre Dame -- how can I get [a school] better than that?"
In February, Peitsch visited Notre Dame and felt very comfortable with his time in South Bend.

"I really liked it there when I went up there," Peitsch said. "I met with the academic advisor and really got the whole feel for it. I got to know the staff and everyone on the football team. It was a really cool experience and it was really genuine too. I liked that a lot."
Notre Dame special teams coordinator Brian Polian led the charge in recruiting the nation's No. 1 long snapper according to Kohl's. Polian invited Peitsch to campus for the February visit, which obviously paid off for both parties.
"He hit me up and told me to come down. It really worked out nicely and I'm happy about it," stated Peitsch.
With the commitment to the Fighting Irish, Peitsch just plans to continue to develop his craft.
"I'm pretty much done with recruiting," he said. "I'll get ready for my senior year and get ready for college."
Peitsch plays for one of the top high school football programs in the country, as St. John's College High is loaded with recruits. Safety Mordecai McDaniel officially visited Notre Dame this spring, and Peitsch will try to recruit him and others to join him in South Bend.
"Yes sir, I will definitely try," the Kohl's five-star said. "It would be nice to have some guys that I know to come in with. They're all good guys too."
Look for Peitsch to redshirt as a true freshman in 2020, and in 2021, he will be expected to replace John Shannon, who has been Notre Dame's starting long snapper for the past two seasons.
Upon landing the offer from Notre Dame, Peitsch was at a loss for words.
"It really is crazy, and it's really gratifying too," Peitsch told Blue & Gold Illustrated. "I put in all this work, so it was a little frustrating, putting in a lot of work without a lot of results. So it was really gratifying and I'm very honored to have an offer from Notre Dame."
The Fighting Irish checked all of the boxes for Peitsch.
"There are three things I want when I'm looking for schools," Peitsch explained. "One of them is a scholarship, which I got, the second one is big-time football and the third thing is great academics. Notre Dame nails all three."
Here is what Kohl's wrote about Peitsch:
"Peitsch has put himself in a league of his own and is truly one of the most impressive snappers we have ever seen. He snaps a consistent ball that is unmatched by anyone else in the country. Peitsch recently competed against the best 2020 snappers at our Underclassman Challenge and was unbeaten. Through all of the Kohl's National Ranking Camps, Peitsch has finished with the top overall charting score for all ages. He has a great frame and has shown the ability to cover down field. Peitsch is one of the best high school snappers Kohl's has ever seen and will be a day one starter for any program in America."
Peitsch is Notre Dame's eighth commitment of the class of 2020. He joins drop end Jordan Botelho and wide receiver Jordan Johnson as prospects who committed to Notre Dame in April.