Prosise shows promise at Z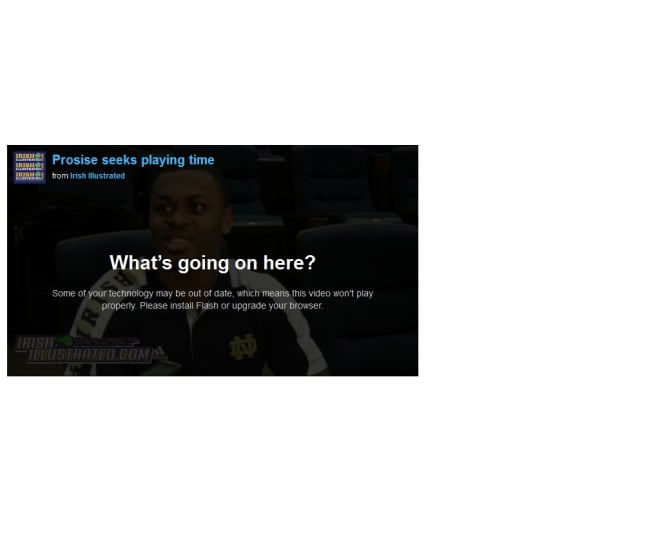 Two days before the start of spring ball, C.J. Prosise was told that he would be moving from safety to receiver.
Gloves? Check. Number change? Check. Conditioning? Uh-oh.
"The biggest change was the running," laughed the engaging 6-foot-0 ½, 220-pound sophomore.
"At safety, you're in for about four plays, you run to the ball and you get to your landmarks. Now, you're running 20-, 30-yard routes, they run another play, and then you're back in there for another one. I wasn't used to that."
Prosise will have to change his conditioning routine in preparation for the 2013 season because he won't be moving back to safety anytime soon. If the season started tomorrow, the Petersburg, Va., product likely would be in the starting lineup at Z receiver, or at least rotating in at the position.
"They said I was going to get a lot of reps this spring," Prosise said. "I knew we were short in the first place. Then things happen."
The opening up of the Z position began last year when Theo Riddick moved back to his original running back spot. Robby Toma ascended to No. 1 in the rotation, but the slot position often was filled by a second tight end during the 2012 season.
With the graduation of both Riddick and Toma, the spot opened up for sophomore Davonte' Neal, who couldn't crack the rotation as a freshman and then decided to transfer shortly after the start of spring drills.
Amir Carlisle - the transfer from USC who missed the '12 season with a persistent ankle injury - suffered a broken collarbone while cross training between running back and Z. Daniel Smith, a senior, remains a candidate to play Z. But until his route running and pass catching catches up to what he offers as a blocker, his reps will be measured.
Enter Prosise, who was listed at 208 as a freshman while preserving his first year of eligibility. During the '12 season, he worked as a prep-team wide receiver, where he raised some eyebrows with the coaching staff.
"They told me I was looking good at receiver," Prosise recalled. "Catching the football has always kind of been a natural thing to me. So I figured - I can't say I figured - but I knew I had some skill at the position and that I could perform."
But it wasn't until the middle of March - two days before the start of spring drills - that Prosise was informed that he would be getting a look at the slot receiver position.
"I wasn't upset, but I can't say I was excited either," Prosise said. "I was just ready for a new challenge in my life and a new challenge in my career here.
"It's definitely happened fast. But college is a fast game and you just have to get used to it. I watched a lot of receiver clips when I went back to my room that night. I was preparing my hands, slapping my hands, getting ready to catch the ball."
Prosise hasn't looked back. Thursday, during Notre Dame's 11th practice of the spring, he took tons of reps at the Z receiver position. His wide receiver athleticism and his 220-pound frame give him an advantage over smaller wide receivers, who don't have the bulk to block, and tight ends, who don't have a wide receiver's speed.
"I'm very comfortable at 220," Prosise said. "It doesn't feel like it's inhibiting me in any way. I feel like I've gotten faster since I've been gaining the weight. Blocking the linebackers, more weight helps out. Running some short routes and catching the ball and getting past that first hit and getting a couple yards after contact is always a good thing."
So is his defensive background.
"I still know the defense and still know what's going on over there," Prosise said. "Knowing the defense helps on offense."
Prosise asked for a number change, thinking that No. 34 - which he wore last season at safety - didn't fit the receiver position. So with Cierre Wood gone, he inherited the No. 20. That's still not exactly a "normal" wide receiver number, but it seems to fit Prosise well.
"No, I haven't played any safety this spring," Prosise said. "None of the coaches have said anything about staying at receiver or moving back to safety."
Prosise's actions at receiver say all that needs to be said.
<!-