Preview: Notre Dame Ends Regular Season Against No. 11 Florida State
Notre Dame's final regular-season game is, in theory, an opportunity to be rid of a years-long bugaboo.
A ranked team will roll into South Bend when No. 11 Florida State arrives with hopes of officially clinching the ACC regular-season title Saturday (12 p.m. ET on ESPN2). An Irish win would put an end to their 28-game skid against ranked opponents, which would be a fine way to enter the offseason with something to identify as a positive step from a difficult year that's finishing with a whimper and some candid big-picture conversations.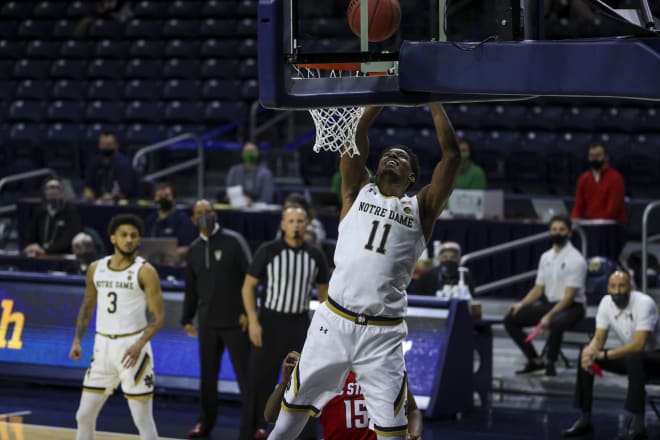 The way this season has devolved, though, this opponent at this time feels like undeserved punishment, like an 18-wheeler meeting a stalled Camry. No one's giving much of a chance to Notre Dame, which is on a four-game skid that has a lassiez-faire attitude about it. KenPom puts the odds of an Irish win at 30 percent.
There aren't many signs of life lately. Notre Dame (9-14, 6-11 ACC) has held a lead for 19 seconds in the last three games. It scored the first basket of the game Wednesday against North Carolina State, allowed one on the ensuing possession and never regained an advantage.
"I thought we practiced a little better to come out and dig in," Brey said. "We didn't have much. We really haven't had much the last two games — you know, fighting. You can't use pandemics and all that as an excuse.
"It's a little bit of the pride of digging in and competing. We did that to get out of a hole at 0-5, but we haven't shown any of that lately. And we have an unbelievable challenge on Saturday."

Florida State (15-4, 11-3 ACC) at Notre Dame (9-14, 6-11)
When: Saturday, March 6 at 12 p.m. ET
Where: Purcell Pavilion
TV: ESPN2
Radio: Notre Dame basketball radio network
KenPom prediction: Florida State 81, Notre Dame 75
Series history: Florida State leads 6-4
Last meeting: Florida State won 73-71 on March 4, 2020 in South Bend
Other notes
• Notre Dame will play consecutive home games for the first time in the conference season. It's the last ACC team to do so.
• Saturday is the final home game for fifth-year seniors Juwan Durham and Nik Djogo. Each has delivered their best offensive seasons in their final year. Djogo entered 2020-21 with a career 30.4 shooting percentage, but is making 53.0 percent of his shots this season. Durham's 58.3 career shooting percentage is on track to be the third-highest of any player in the Brey era with at least 400 attempts, behind only Jack Cooley.
• Durham has scored in double figures nine straight times and 12 of his last 12 outings. He's averaging a career-best 10.6 points per game. He will also finish third in school history in career blocked shots.
• Florida State enters with the nation's eighth-best offense, per KenPom. The Seminoles are seventh nationally in three-point percentage, at 39.7.
• When Florida State has lost or squeaked out closer-than-expected wins, turnovers are often the near-fatal flaw. In each of their three ACC losses, the Seminoles have given the ball away on at least 22 percent of possessions. They're 184th nationally in turnover rate this season. Notre Dame, though, is last in forced turnover rate among the 347 Division I teams that have played a game this year.
• If there are no 11th-hour hiccups, Notre Dame will have played 24 out of a maximum 27 regular-season games this year. In all, the Irish had eight games that were not played on their initially scheduled date and six that were canceled altogether. All of them were due to opponent COVID-19 issues.