{{ timeAgo('2021-03-19 06:32:36 -0500') }}
football
Edit
Point-Counterpoint: Which Notre Dame Coordinator Faces A Tougher Task?
Although nothing has been officially announced, the expectation is Notre Dame will begin spring practice on Saturday, March 27. Last year the Fighting Irish had only one such practice before COVID-19 shut it down.
Fortunately, because it was one of the most veteran teams in college football — and throughout the 11-year Brian Kelly era — the program was still in decent position by August more than most throughout the country.
This year there is a different adjustment, which prompts the question on whether second-year offensive coordinator Tommy Rees or first-year defensive coordinator Marcus Freeman has the greater challenge this spring.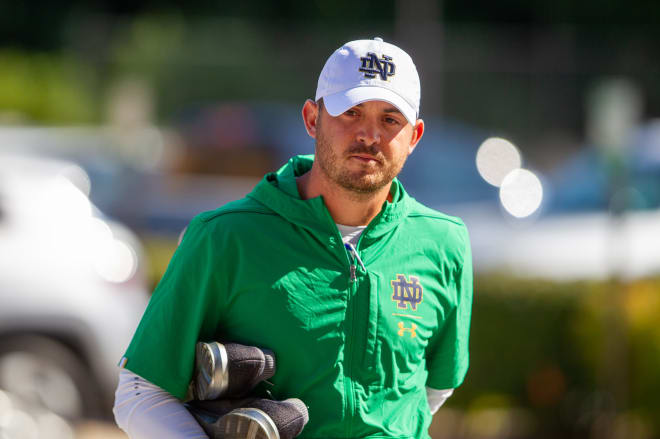 Veteran Losses Leave Tommy Rees A Taller Task 
By Todd D. Burlage
Given the recipe for success Rees inherited last season as Notre Dame's first-year offensive coordinator — a third-year starting quarterback, a veteran offensive line stocked with NFL talent and his personal understanding of Kelly's vision — anything other than scoring lots of points and winning lots of games would have been disappointing in 2020.
In fact, the 2020 offense's experience and strong leadership — along with Rees' familiarity with his players and Kelly's system — made the Irish better-equipped than any team in the country to hit the regular season running after COVID-19 canceled spring ball and disrupted an entire offseason.
Notre Dame's veteran advantage neatly paved Rees' move from three-year Irish quarterbacks coach to first-year offensive coordinator, and that smooth transition fueled an undefeated regular season and a place in the College Football Playoff. Injuries to the receiving corps were the main setback, but even there the emergence of fifth-year senior Javon McKinley and the addition of Northwestern grad transfer Ben Skowronek helped allay them with veteran leadership.
Based on a new-look 2021 spring roster, the honeymoon is over, and Rees may need Starbucks stock this spring season. Facing an entire offensive line rebuild, another premier blocker in tight end Tommy Tremble turning pro early, a search for reliable wide receivers, and acclimating a new starting quarterback following the departure of Ian Book, Rees might feel more like a rookie coordinator than he did last year.
With so many holes for Rees to patch and so many standout players to replace, no coach on the staff faces a more intricate puzzle to construct than Rees. Does Notre Dame continue its "power football" identity that was successful last year, or does it need to open up the downfield/vertical passing game more to achieve a higher level? Which lane do they want to take on offense this season?
Whether it was as an undersized and overachieving Irish quarterback from 2010-13, or during his four seasons coaching the position he previously played, Rees has always proven challenge-worthy. Expect more of the same in 2021.
New Team, Huge Shoes To Fill Make It Marcus Freeman 
By Lou Somogyi
Whether inheriting a veteran-laden offense in 2020 or doing some reconstruction in 2021, offensive coordinator Rees knows Notre Dame, Kelly and the personnel in a way few coordinators across the country do at their respective schools. This will be his fifth year on the staff, and ninth overall at the program since 2010 — which coincided with Kelly's arrival — as a player or coach.
On the other hand, although defensive coordinator Freeman already is earning renown as a "tiger" on the recruiting trail and seems an ideal fit into Notre Dame's culture, he is still in a situation where there is going to be a feeling-out, learning process.
Like Rees with Kelly, Freeman had a long-standing chemistry with Luke Fickell, playing linebacker for him at Ohio State, working as a graduate assistant for him and coordinating his Cincinnati defenses from 2017-20.
Notre Dame is a new experience and learning curve — and he will be replacing one of the two or three best and most respected assistants Notre Dame has had since 2000 in Clark Lea. That's not an easy task in itself.
Then there is still the matter of replacing five starters, most notably 2020 Butkus Award winner Jeremiah Owusu-Koramoah. The secondary in particular is trying to find more corners and a consistent complement to All-America safety Kyle Hamilton. From late September through the end of October, the Irish defense must be prepared to handle a strong group of potential NFL quarterback prospects that include Wisconsin's Graham Mertz, Cincinnati's Desmond Ridder, USC's Kedon Slovis and North Carolina's Sam Howell.
Whereas in 2017 new coordinator Mike Elko and then linebackers coach Lea succeeded a train wreck defensive regime and there was no place to go but up, Freeman has a tough act to follow, including the first three-year stretch of Notre Dame ranking among the top 15 in scoring defense since 1969-71.
Freeman has stated one would have to be crazy to tinker too much this year and go against what has been successful for the Irish the past four years. Yet there is still a delicate balancing act involved in that he has to be his own person and inject his own touch without derailing what has uplifted the entire operation.