Plenty Of Pride Remains Among Notre Dame Cornerbacks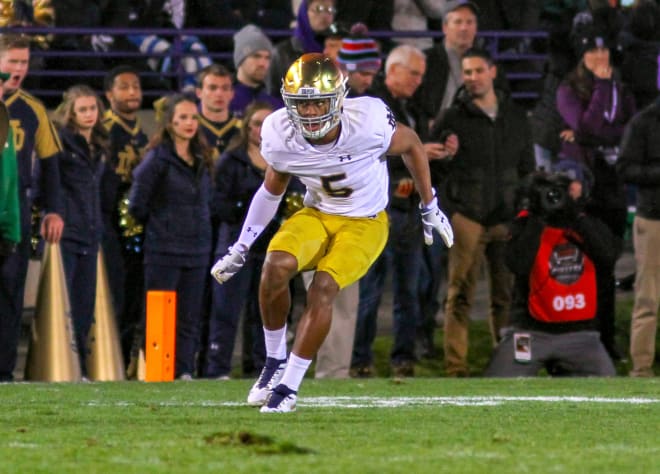 There was a lot of Love lost in the Notre Dame defensive backfield this spring, but plenty of Pride still remains.
The departure of 2018 consensus All-American Julian Love to the NFL following his junior season leaves an immense void in the 2019 secondary. Projected to fill that star power void is his classmate Troy Pride Jr., who finished the back half of 2018 with a flourish and returns as one of the nation's fastest players at any position.
However, Pride hung up his track cleats following the Alex Wilson Invitational (second in the 60-meter dash) on Feb. 16 to concentrate fully on football, despite earning second-team All-ACC honors last season in his part-time sport.
When it comes to judging speed, Pride knows about the topic, and he's had a chance to assess the rising sophomore class at receiver this spring that is aspiring to add a consistent vertical threat to the 2019 passing arsenal. Kevin Austin is the lone member of the class to have seen action last season (five catches for 90 yards), while Lawrence Keys III, Braden Lenzy and Joe Wilkins Jr. are vying to crack the rotation that is led by the veteran tandem of Chase Claypool (50 catches last season) and Chris Finke (49 receptions in 2018).
"The sophomores are fast, but you've got to count in [junior] Mike Young," Pride reminded. "He's got some wheels. And Finke, I don't know what he did, but he's looking faster."

With Claypool in the boundary (where Miles Boykin starred last year), Finke in the slot and Young at field — plus the regular use of two tight-end alignments or splitting out running backs Jafar Armstrong (a former receiver) or Tony Jones Jr. — opportunities to get on to the field will remain extremely competitive for the younger corps.

Physically, Austin has the highest ceiling, but off-field issues must first be rectified to earn the trust of the staff.
"A great athlete," Pride said. "He came in here and I'm, 'Yo, did you transfer here?' He was just big (currently 6-2, 210 pounds) coming in. He's a really tough cover. You've got to get physical with him — but he can do that with you, [and] can run with you."
If there is anyone on the roster who can match Pride's flat-line speed, it's Lenzy, who like Pride was a high school phenom on the track circuit but chose to bypass the sport this winter and spring to concentrate on football, which included adding 14 pounds to get his 5-11 frame up to 184. However, lane-running track speed and functional football speed — including breaking off press coverage, proper route running, tracking the ball, body adjustment … — are two different elements.
"Joe's a little hurt right now, so I would say Keys right now," said Pride of who might possess the best functional football speed among the sophomores. "Keys is really quick and he can get to his speed faster than Braden can. I want to see Joe a little bit more healthy, but right now Keys in the slot looks good. He's been moving well."
Pride also judges receivers by 11-on-11 work because 1-on-1 action is "not real [football]" with all the time a receiver has to release, no safety help, no pass rush, etc. The fact that Lenzy sacrificed track in order to excel in football is expected to have a pay-off, because Pride admits he feels a difference this spring, too.
"I felt a lot more put together," Pride said. "I wasn't stretching myself too thin, I wasn't out every weekend on a flight or something … I also feel faster, I just feel good, I feel in a good place. Maybe I just needed to be in a more focused level."
He has remained at his usual field side rather than move to Love's former boundary position, where sophomore Houston Griffith has been taking the reps with the top unit. It is a significant adjustment for Griffith, the top-ranked Rivals recruit for the Irish in 2018, who shifted to safety and nickel last season while having his share of growing pains in the college game. Confidence, however, was not lost.
"He chats it up with me all the time," said Pride of Griffith, who dons jersey No. 3 while he wears No. 5. "We've got the saying, 'If you want to stay alive, stay away from 3 and 5.' Me and my guy Houston, we are just trying to build.
"He's very good with his hands. He's a very fluid corner. He does so many things well. If you go look at the weight room board, he's at the top [among defensive backs]. He's a natural athlete, a natural competitor. Those traits, regardless, are going to make you a great player."
Working with the second team corners are sophomore TaRiq Bracy and junior Avery Davis, who was on offense the past two seasons (quarterback and running back). During the open session to the media on Tuesday, Davis also lined up at nickel.
Currently sitting out the spring while recovering from surgeries are senior boundary cornerback Donte Vaughn and fifth-year senior Shaun Crawford, whose primary role has been at nickel. Sophomore Noah Boykin and then June incoming freshmen Isaiah Rutherford and K.J. Wallace round out the scholarship unit at the position.
Even though he has eschewed track this winter and spring, Pride said it feels like the work volume under second-year defensive coordinator Clark Lea has more than compensated for it.
"I thought I was a worker before, but he has really got me being a workhorse," Pride said. "He's really got me being a leader, doing so many little things. It's ramped up."
With the Boykin-Love matchups in practice gone, the Claypool-Pride challenges have especially been competitive and entertaining, with Claypool getting the nod in the Tuesday session.
"He had a great day today," said Pride after the Tuesday practice. "Sometimes you just tip your hat. Great player. He's elevated his game for sure — but he already had been like that."
It's those challenges that have Pride fully immersed on the here and now rather than whether he can match Love's achievements, even though by the second half of last year Pride was equally as productive and effective statistically when teams attempted to challenge him, and mostly failed. This included Clemson in the College Football Playoff, which was 2 of 4 for 12 yards on Pride's side of the field, per Bluandgold.com analyst Bryan Driskell.
"I still have a whole spring to finish, I still have a whole summer of workouts, I still have whole everything," he said. "There is so much in the future that you don't know, so I just like to cling on to what I have now, cherishing every moment I'm out there with my guys, cherishing every rep, cherishing the coaches and everything."
It's all for the love of the game, even minus Love.