Pitt upends Irish in ACC baseball tourney, creates bubble trouble for ND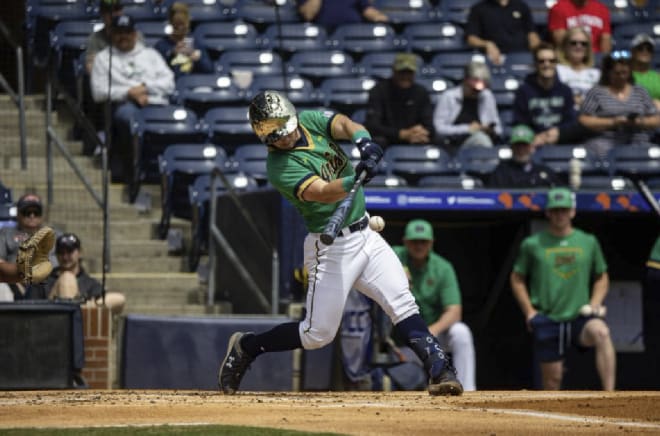 The Notre Dame baseball team has bubble trouble.
No 12 seed Pitt launched five home runs, including a tie-breaking three-run shot from Panthers slugger Noah Martinez, to upend the eighth-seeded Irish, 9-5, Wednesday in the pool-play phase of the ACC Baseball Championships at Durham, N.C.
The loss eliminates Notre Dame (30-23) from advancing to the tourney's semifinals on Saturday and may have knocked the Irish onto the wrong side of the bubble for at-large consideration for the NCAA Tournament.
With top seed and No. 1 nationally ranked Wake Forest owning the pool-play tiebreaker in the event of a three-way deadlock, Thursday's 11 a.m. EDT matchup between Pitt (24-30) and the Demon Deacons (45-9) will determine the pool-play winner.
The Irish take on Wake Forest Friday night at 7 at Durham Bulls Athletic Park in a game that will have no bearing on the semifinal field, but it could be a last-gasp opportunity to impress the NCAA Tournament selection committee.
"I mean, we're gonna treat it that way, for sure," said Notre Dame first-year Shawn Stiffler, whose Irish have lost four of their past five games.
"I don't pretend to know what the committee's thinking, what their thoughts. I certainly would feel a lot better with one of these two wins here."
Typically 15 hits would be enough to secure an ACC win, but the Irish mitigated those by hitting into four double plays, striking out 10 times and leaving 11 runners on base. Its 1-5 hitters went a collective 12-for-24, but its 6-9 hitters combined to go 3-for-15 with eight Ks.
"I loved our at-bats," Stiffler said. "I loved the way we competed, but we hit into four double plays. Percentages of the game, there's nothing we did wrong. You hit the balls on the screws, and sometimes you hit it at people. They made their plays. They did a great job. Disappointing and certainly tough."
The Panthers roughed up All-ACC pitcher Aidan Tyrell for a season-high six earned runs in 4 ⅓ innings. Tyrell (8-3) came into the game with a 2.74 ERA, but found trouble early and often. Sky Duff led off the game with a home run and Jack Anderson added an RBI single in the top of the first inning.
It was 3-1 Pittsburgh after Justin Acal's solo homer in the top of the second. The Irish tied the game at 3-3 in the bottom of the third on an RBI triple by catcher Vinny Martinez and Martinez taking home on a double steal.
Tyrell got the first two outs of the fourth before running into trouble again. Duff and Jayden Melendez followed with singles, bringing up Martinez, who fell behind 1-2 in the count. The Central Connecticut State transfer worked the count full, then blasted his 13th home run of the season, to right field, and Pitt took the lead for good at 6-3.
"He just couldn't locate," Stiffler said of Tyrell, a grad senior lefty. "It always comes down to that for Aidan. He was in even counts a lot and pitching behind quite a bit. His stuff just didn't seem to have a finish on it that I've seen through kind of this stretch over the last six or seven weeks.
"So, I thought he was kind of settling in, but a good job by Pitt."
TJ Williams and Carter Putz each went 3-for-5 for the Irish, with Putz driving in two runs. Zack Prajzner, Vinney Martinez and Brooks Coetzee had two hits apiece.
Putz's double with two outs in the bottom of the eighth scored Casey Kmet and put runners on second and third, trailing 9-5, but Pitt brought in closer Nash Bryan to face Martinez.
He got Martinez to ground out to end the threat, and got DM Jefferson to hit into a game-ending double play in the ninth to pick up his eighth save.
"Congratulations to Pittsburgh. They played a great game," Stiffler said. "Offensively, they were really dialed in. I thought we were dialed in offensively and defensively, too.
"The difference in the baseball game is they hit home runs, and we hit into double plays. Plain and simple. We couldn't keep them in the ballpark."
ACC BASEBALL CHAMPIONSHIP
Durham Bulls Athletic Park; Durham, N.C.
(All Times EDT)
POOL A – #1 Wake Forest, #8 Notre Dame, #12 Pitt
POOL B – #2 Virginia, #7 North Carolina, #11 Georgia Tech
POOL C – #3 Clemson, #6 Boston College, #10 Virginia Tech
POOL D – #4 Miami, #5 Duke, #9 NC State
TUESDAY
No. 6 Boston College 11, No. 10 Virginia Tech 7
No. 7 North Carolina 11, No. 11 Georgia Tech 5
No. 9 NC State 8,. No. 5 Duke 7 (11 innings)
WEDNESDAY

No. 12 Pitt 9, No. 8 Notre Dame 5
No. 2 Virginia 15, No. 11 Georgia Tech 1
No. 3 Clemson 14, No. 10 Virginia Tech 5
THURSDAY
No. 1 Wake Forest (45-9) vs. No. 12 Pitt (24-30), 11 a.m. (ACC Network)
No. 7 North Carolina 10, No. 2 Virginia 2
No. 4 Miami 4, No. 9 NC State 2
FRIDAY
No. 6 Boston College (35-17) vs. No. 3 Clemson (40-17), 11 a.m. (ACC Network)
No. 5 Duke (35-20) vs. No. 4 Miami (38-18), 3 p.m. (ACC Network)
No. 8 Notre Dame (30-23) vs. No. 1 Wake Forest (46-9), 7 p.m. (ACC Network)
SATURDAY

Semifinals
Wake Forest (46-9) vs. Miami (38-18), 1 p.m. (ACC Network)
North Carolina (35-21) vs. Clemson or Boston College, 5 p.m. (ACC Network)
SUNDAY
ACC Championship, Noon (ESPN2)
MONDAY
NCAA Tournament Selection Show, Noon (ESPN2)