Over-Under: Notre Dame QB Rushing Yards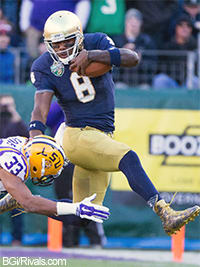 Junior quarterback Malik Zaire wants to shed the label that he is primarily a read-option threat in Notre Dame's offense.
"I take offense to it in the sense that people don't just really know, people haven't seen everything I can do yet because I haven't been playing as much," said Zaire earlier this year. "You can't say they're wrong for it because that's what I've been called to do, so whatever it takes to do for the team, I'll do it. I think that as time goes on, you'll see more of my game develop."
Zaire's lone career start, the MVP performance in the 31-28 Music City Bowl victory versus LSU last December, helped validate to many that his legs are a greater weapon than his left arm. Zaire kept the ball 22 times for 96 yards to pace the Irish ground arsenal that finished with 263 yards. He also completed 12 of his 15 passes for 96 more yards, but it was confined to a conservative, high-percentage attack. On two of the touchdown drives, Everett Golson (6 of 11 for 90 yards in the game) was inserted to complete vital passes, and it was Golson who led the 14-play, 71-yard march that culminated with kicker Kyle Brindza's game-winning field goal as time elapsed.
What is a good over-under bet on Zaire's rushing total in 2015?
If he matches the Music City Bowl performance each game (including the bowl), it would translate to 1,248 yards on the ground, which would be the highest at Notre Dame since running back Darius Walker amassed 1,267 in 2006 before turning pro as a junior.
In five seasons under Brian Kelly, the highest rushing figure by a quarterback was Golson's 298 in 2012, followed closely by the 283 last season. Golson was not a natural with the read-option play, though, and a good percentage of his rushing yards were off scrambles. Zaire is certainly capable of improvising with the scramble too.
So what would be a fair over-under figure for rushing yards by Zaire, or the quarterback position overall, at Notre Dame this year? Our first inclination is to put it somewhere between 300 (for Golson in 2012 and 2014) and 1,200 (Zaire based on the LSU game), which would put us at 750 yards.
That would make it only the fourth season in school history that a Notre Dame quarterback would surpass 500 yards rushing. Including bowls, the single season Fighting Irish record for rushing yards by a signal-caller is Tony Rice's 934 in 1989. However, under head coach Lou Holtz, Rice averaged only about 10 to 15 passes per game. Under Kelly, and with more than a dozen receivers and only three experienced running backs, it would be safe to say Zaire will be called on to pass twice as much than Rice ever did.
Factoring in the possibility of an injury and trying to not overwork Zaire with the run the way he was in the bowl game — and then not have another game in nine months &mdash 650 might not be a bad over-under figure. That would be 50 yards per game over 13 contests. Zaire's first career carry, versus Rice in last year's opener, netted 56 yards. While playing the entire second half at USC last year, he managed 18 yards on six carries.
Including bowl games, here are the top 10 rushing totals in one year at Notre Dame, one where Zaire's name should be after this season.
1. Tony Rice (1989) — 934 yards
2. Tony Rice (1988) — 775 yards
3. Carlyle Holiday (2001) — 666 yards
4. Paul Hornung (1955) — 472 yards
5. Jarious Jackson (1999) — 464 yards
6. Jarious Jackson (1998) — 453 yards
7. Tom Clements (1973) — 434 yards
8. Joe Theismann (1969) — 426 yards
9. Paul Hornung (1956) — 420 yards
10. Joe Theismann (1970) — 406 yards