Observations: Notre Dame Stumbles In Loss At Last-Place Boston College
Notre Dame dropped its third straight game, losing to Boston College 94-90 Saturday afternoon.
The Irish never led and fell to 9-13 and 6-10 in the ACC. Boston College improved to 4-13 and 2-9 in conference games.
Here are some observations from the game.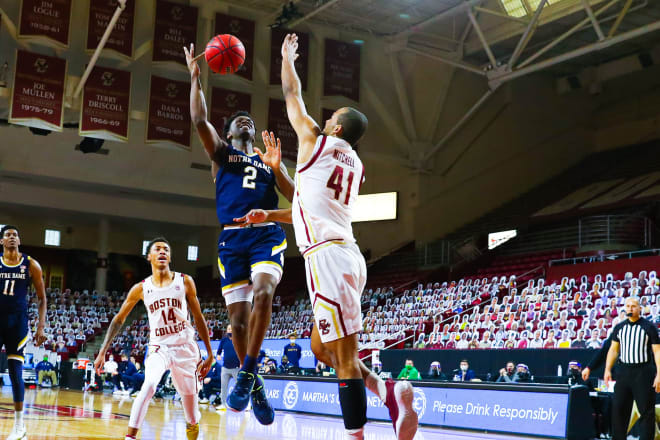 • With the frequent moments of dispassionate play, it's hard not to wonder if Notre Dame overlooked this end-of-season game against the remnants of a last-place team and figured Boston College would fold at the first sign of adversity. Notre Dame couldn't force the Eagles into an adverse situation to find out, though.
• Notre Dame took the court with little apparent interest in guarding. Irish players were caught watching the ball and losing track of their man, not closing out hard enough on shooters and lacking effort when defending on the ball too often.
Boston College, which entered the game ranked 13th in the ACC in conference-game offensive efficiency, averaged 1.38 points per possession. It didn't matter what type of defense Notre Dame played. The Irish allowed Boston College to score its most points in regulation since Jan. 1, 2017.

• Boston College hadn't played in two weeks, was coming off a COVID-19 pause, is playing out the string with an interim coach and has three double-figure scorers who are either suspended (guard Wynston Tabbs) or injured (guard Rich Kelly, forward C.J. Felder). Tabbs and Kelly subsequently announced they are transferring. Yet it seemed like Notre Dame was the one tagged with all those maladies.
All told, the Eagles allowed one Notre Dame offensive rebound and committed zero turnovers in their first half of basketball since Feb. 13. They entered averaging 13.6 turnovers per game and didn't commit one until 15:42 remained.
Meanwhile, Notre Dame didn't draw its first foul until nearly 12 minutes had passed, didn't coax its first shooting foul until 6:18 remained and committed six turnovers in the first 12-plus minutes.
• Overall, Notre Dame didn't have trouble scoring. It shot 58.5 percent for the game and 60.5 in the second half. Guards Trey Wertz and Prentiss Hubb combined for 45 points, nine assists and 19-of-28 shooting (5 of 10 on threes). It wasn't just end-of-game easy layups. The Irish found matchups they wanted off the dribble. They exploited some interior Boston College defensive breakdowns.
The offense was, though, bogged down by 11 turnovers. Irish players were stripped of the ball six times for a takeaway and threw errant passes for turnover twice. They also thrice missed a chance to finish a three-point play.
• This was Notre Dame's first loss to one of the four teams below it in the ACC standings entering Saturday (Pitt, Miami, Boston College and Wake Forest). The Irish were 5-0 in such games entering today.