Observations: Notre Dame Holds Off Miami For 71-61 Win
Notre Dame defeated Miami 71-61 Sunday night, moving to 9-10 and 6-7 in the ACC.
The Irish are 6-2 in their last eight contests since a Jan. 13 loss at Virginia and have moved up to No. 53 in the KenPom rankings. They left Virginia that day at No. 88.
Miami, meanwhile, fell to 7-12 and 3-11 in the ACC.
Here are some observations from the game.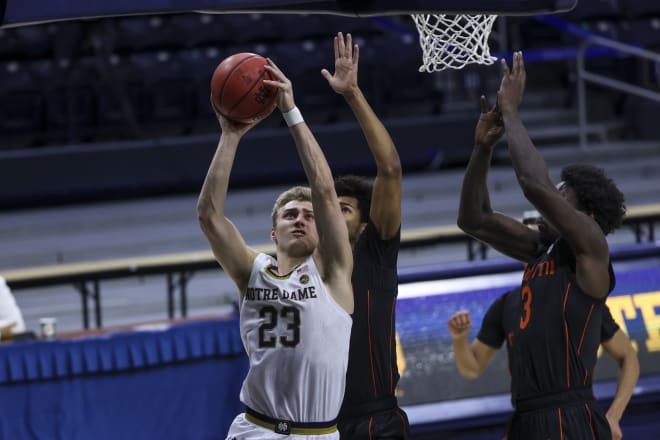 • The game of Nik Djogo's career. The fifth-year senior wing had 18 points, seven rebounds (three on offense), three assists and two blocks. He played a few possessions at the 5 with forwards Juwan Durham and Nate Laszewski in foul trouble and held his own against Miami's forwards. He capped the impressive performance with a block of explosive Miami leading scorer Isaiah Wong with 2:30 left.
• Outside of Djogo, Notre Dame played a largely flat game. Miami didn't have the offensive firepower to turn it into a loss for the home team, but this game had the energy of a Sunday night Valentine's Day contest in a mostly empty gym. Notre Dame led for nearly 25 minutes, but couldn't push its advantage past seven points until the final minute.
The Irish played well enough to beat a bad team, but weren't particularly crisp. They missed a lot of makeable shots. They fell asleep on defense a few too many times. There were careless passes rooted in a lack of communication. Point guard Prentiss Hubb had one of his rougher games of the season: four points, 2-for-12 shooting, five assists and four turnovers. He did, though, drive and kick to guard Trey Wertz for a decisive three-pointer with 2:14 left.

• Back to the shooting. Notre Dame was 7-for-29 on three-pointers. For the most part, this wasn't an instance of chucking bad shots. Notre Dame generated open ones without much trouble. It was capable shooters missing perimeter looks they often make. Hubb, Wertz, guard Dane Goodwin, guard Cormac Ryan – all shooting at least 36 percent on threes this year – were a combined 5-for-24.
• It's worth noting Notre Dame's ability to pull out a victory in an ugly game like this and make a few winning plays late. They played more cohesive defense in the final minutes. They made two of their final four three-point tries. After Miami took a 54-52 lead with 6:44 left, Notre Dame outscored the Hurricanes 19-7. It wasn't just Djogo: Laszewski had nine points, three rebounds and a block in that stretch. The All-ACC version of him showed up at the right time.
• Miami shot just 32.4 percent (22-of-68) and didn't stress Notre Dame's defense outside of a first-half stretch where it scored on nine of 10 possessions. The Hurricanes had more open looks than the low percentage suggests, but didn't make many of them. The Irish also benefitted from Miami's poor 12-for-21 free throw shooting.
Miami is one of the ACC's easier teams to guard because of its shooting woes. Notre Dame did make the Hurricanes take 22 three-pointers, but didn't cause a lot of disruption. The Irish started out in zone defense, but a couple early Miami threes took them out of it for a stretch. They switched between man and zone more frequently in the second half.
• Early on, the Hurricanes hung around by rebounding nine of their first 17 missed shots. All told, they grabbed a third of their misses and turned the ball over just five times. Second-chances opportunities led to four of the combined five first-half fouls from Durham and Laszewski