Notre Dame women's basketball will host Cal in Niele Ivey's hometown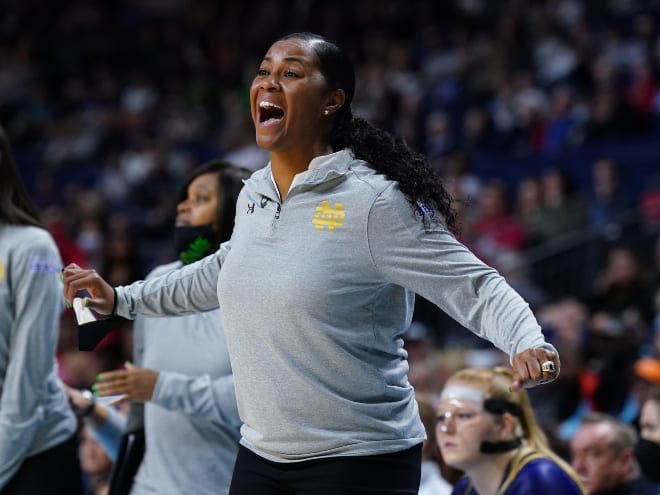 Niele Ivey will return to her hometown of St. Louis with her Notre Dame women's basketball team on Nov. 12.
The Irish announced Thursday the inaugural Citi Shamrock Classic, which will pit Notre Dame against California in the Enterprise Center. The game will be televised on NBC and Peacock and become the first live women's college basketball game shown on either platform.
Both Ivey and Cal head coach Charmin Smith played high school basketball in St. Louis — Ivey at Cor Jesu Academy and Smith at Ladue Horton Watkins. When Ivey won the 2001 national championship as a player with the Irish, the Final Four was also played in St. Louis.
"I would like to thank Citi for the opportunity to showcase our women's basketball program on this major stage in the inaugural Citi Shamrock Classic," Ivey said in a released statement. "This is a full circle moment to come back home to St. Louis where my basketball journey began. It's an overwhelming feeling to think about the positive impact this will have in my community and for our sport. I hope to continue to inspire and empower the next generation of young leaders and athletes."
Notre Dame finished last season with a 24-9 record and a trip to the Sweet 16. Cal struggled with an 11-13 record.
Tickets for the Citi Shamrock Classic will go on sale Sept. 23.
Notre Dame and the ACC previously announced the rest of the 2022-23 schedule, which is outlined below.
SUBSCRIBE TO INSIDE ND SPORTS TO STAY IN THE KNOW ON NOTRE DAME ATHLETICS
Notre Dame's 2022-23 schedule
10/31 vs. Truman State (exhibition)
11/7 vs. Northern Illinois
11/12 vs. California in St. Louis
11/16 at Northwestern
11/20 vs. Ball State
11/24 vs. American in Bahamas (Goombay Splash)
11/25 or 11/26 vs. Arizona State in Bahamas (Goombay Splash)
12/1 vs. Maryland (ACC/Big Ten Challenge)
12/4 vs. UConn (Jimmy V Classic)
12/8 at Lafayette
12/10 vs. Merrimack
12/18 at Virginia Tech
12/21 vs. Western Michigan
12/29 at Miami
1/1 vs. Boston College
1/8 at North Carolina
1/12 vs. Wake Forest
1/15 at Syracuse
1/19 at Clemson
1/22 vs. Virginia
1/26 vs. Florida State
1/29 at NC State
2/2 at Boston College
2/5 vs. Duke
2/9 vs. Pitt
2/12 vs. Syracuse
2/16 vs. Louisville
2/19 at Pitt
2/23 vs. Georgia Tech
2/26 at Louisville