Notre Dame Vs. USC: 10 To 1 Countdown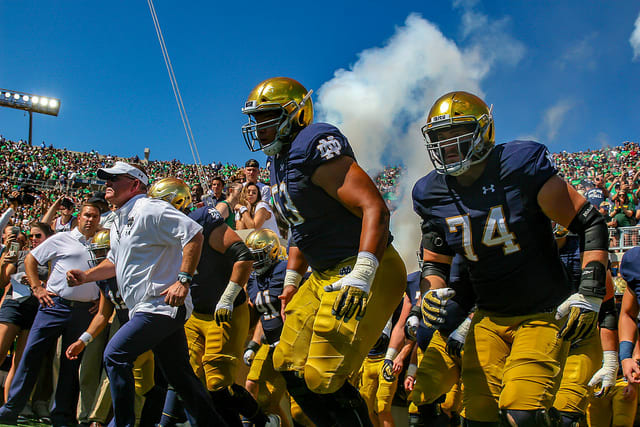 10 There have been 10 previous occasions Notre Dame entered the Los Angeles Memorial Coliseum with an unbeaten record in the final game of the regular season, and it has a 5-4-1 record. It clinched national titles there with resounding victories in 1930 (27-0), 1947 (38-7) and 1966 (51-0), and set itself up for the fourth national title in 1988 with a 27-10 conquest. The fifth occurred just six years ago on the same date, Nov. 24, a 22-13 triumph for a 12-0 mark.

The four losses were in 1938, 1964, 1970 and 1980, and the tie in 1948.
9 Penalties committed last week by USC for 63 yards in its 34-27 loss to UCLA. The Trojans are tied for 110th nationally out of 129 teams in penalties committed. We note that because this month in the last three games Notre Dame has been whistled for 23 infractions compared to its opponents eight: none by Northwestern, five by Florida State (which is 127th in penalties with nine per game) and three by Syracuse.
There is an ACC field crew for tonight's game, and a Pac-12 replay crew.
8 Quarterback Ian Book, who ranks second nationally in completion percentage (.726) and seventh in passing efficiency (165.5), has won his first eight career starts for the Irish (one last year and 7-0 this season). He is three wins away — USC and two College Football Playoff victories — from tying the school record 11 by Bob Williams (10-0 for the 1949 national champs and the first game of 1950).
7 With a loss, 5-6 USC would finish with a minimum of seven defeats in a season for only the fifth time in its history. The Trojans were 5-7 in 2000 and 1935, 3-8 in 1991 and 1-9 in 1957.
Also, there are only seven teams ranked ahead of Notre Dame in the Football Outsiders Fremeau Efficiency Ratings on defense when not including "non-garbage" possessions. Alabama (1), Clemson (2) and Michigan (5) are ahead of the Irish, but only Notre Dame has an 11-0 record versus FBS opponents.
6 Quarterback sacks recorded by Notre Dame last week during a 36-3 romp versus then No. 12 Syracuse. It was the most registered by the Irish since Oct. 5, 2013, which also was in the Shamrock Series, a 37-34 victory versus No. 22 Arizona State. USC has allowed 25 sacks this year, tying it for 69th nationally.
5 Consecutive games lost by the Fighting Irish in the regular season finale, a school record. The last such victory, came six years to the day, 22-13 at USC to complete a 12-0 regular season. Talk about a chance for history to repeat.
Also, Book will be the fifth Notre Dame quarterback from California to make a start in the Coliseum, joining Daryle Lamonica (1960 and 1962), John Huarte (1964), Steve Beuerlein (1984 and 1986) and Jimmy Clausen (2008).
4 The Irish are seeking a 4-0 finish in November after going 9-12 in this month the past five seasons from 2013-17. The three checkbox points for the regular season by Notre Dame were to beat Michigan in the opener (check), finish unbeaten at home for the third time in seven seasons (check) and sweep November (to be determined tonight).
Also, four of Notre Dame last seven opponents totaled less than 250 yards total offense against the Irish, a first overall in a season since 2006.
3 Head coach Brian Kelly is on the threshold of achieving his third 12-0 regular season in the past 10 years. The first was at Cincinnati in 2009, which helped him get the Notre Dame job in December of that year, followed by the 12-0 regular season in his third year (2012) with the Irish. He would join Washington's Chris Petersen, Alabama's Nick Saban and Ohio State's Urban Meyer as the lone active coaches to post three 12-0 regular seasons.
Petersen accomplished it at Boise State (2006, 2008 and 2009). Saban has done it at Alabama in 2008 (12-0 start but 12-2 finish), 2009 and 2015 — and could do it a fourth time today with a win over Auburn. Meyer did at Utah (2004), Florida (2009, before losing in the SEC title game), and Ohio State (2012 and 2013, losing the last two in the latter).
Kelly and Meyer are the only two to achieve a 12-0 start at two different schools, with Meyer doing it at three.
Tom Osborne had three 12-0 regular seasons at Nebraska in the 1980s and 1990s.
2 Times in history Notre Dame reached a 12-0 ledger. The first was the most recent national champion in 1988 under third-year head coach Lou Holtz, and the second under then third-year head coach Kelly in 2012. That means, believe it or not, that Kelly, could join Knute Rockne as the lone Notre Dame coaches to record two unbeaten regular seasons with at least 10 wins. Rockne was 10-0 in 1924 and 1930. Even Frank Leahy, 10-0 in 1949, had 9-0-1 marks in 1948 and 1953.
1 A victory at USC would clinch Notre Dame's first College Football Playoff bid in the five-year history of the event. No. 1 Alabama has been in it all four years from 2014-17, while No. 2 Clemson has been there each of the past three campaigns. The other four teams legitimately vying for the fourth spot are Michigan, (also seeking its first CFP), Georgia (lost in the title game in overtime last year to Alabama), Ohio State and Oklahoma, both of whom have been in it twice, and Central Florida on the outside looking in.