Notre Dame vs. Texas: Offensive Grades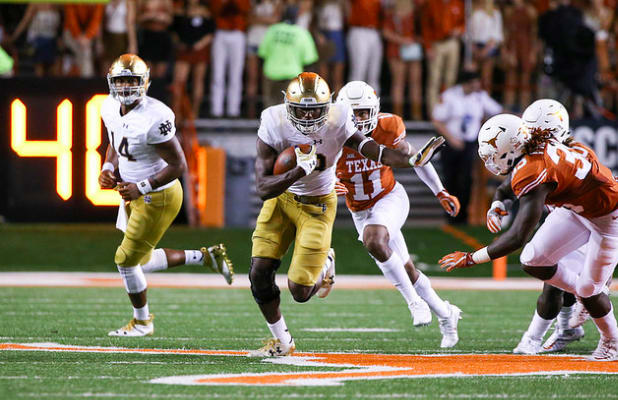 Notre Dame did some good things offensively against Texas, but in the end the Irish offense could not capitalize on enough opportunities to win the game.
Here are the grades for the Notre Dame offensive position groups:
QUARTERBACK
DeShone Kizer – 15-24, 62.5%, 215 yards, 5 TD's, 0 INT – 13 carries, 77 yards, 1 TD
Malik Zaire – 2-5, 40.0%, 23 yards, 0 TD, 0 INT – 3 carries, 0 yards, 0 TD
Zaire struggled against Texas, missing throws and missing reads. Not being the starter kept him from ever getting into a rhythm. His impact on the game was minimal.
Kizer was able to move the offense much better than Zaire, leading the Irish to all six of its touchdown drives. He made plays with his arm (215 yards, 5 TD's) and legs (77 yards, 1 TD). Kizer was more than willing to attack tight windows, which is something he did not always do last fall.
It was not a perfect performance from Kizer, as the Irish quarterback left too many yards on the table. He missed a clutch 3rd-down throw on Notre Dame's final drive of the first half and made a wrong check on a 3rd-and-12 late in the fourth quarter. Kizer also made the wrong read on a throw that got senior receiver Torii Hunter Jr. drilled and knocked out of the game.
All in all, Kizer played very good football, but moving forward he will have to clean up some mechanical and read issues.
GRADE: B
RUNNING BACK
Tarean Folston – 18 carries, 88 yards, 4.9 avg., 0 TD – 1 rec., 17 yards, 0 TD
Josh Adams – 11 carries, 43 yards, 3.9 avg., 0 TD – 3 rec., 46 yards, 1 TD
On the first carry of the game, senior Tarean Folston ripped off a 54-yard gain. For the next 59 minutes, the Irish backs did not make any big gains, but both did some impressive things against Texas.
Folston did not get open for any more big gains, but he grinded well against Texas, converting a number of short yardage situations. Folston made quick cuts, showed good vision and ran with authority. His blocking was solid, but he could certainly stand to improve in that regards.
Like Folston, sophomore Josh Adams showed good vision and decisiveness as a runner. He was able to grind out tough yards, including ripping off a 7-yard gain on a play where a defensive end came up the field unblocked. Adams had a solid blocking performance and showed more quickness with his cuts than he did as a freshman.
Adams did miss a bounce opportunity on the Inside Zone, but overall his decisions were sound.
Adams biggest impact came in the pass game, as he set career highs with three receptions and 46 yards. His wheel route for a touchdown was outstanding, and showed he's a legitimate downfield passing threat.
GRADE: B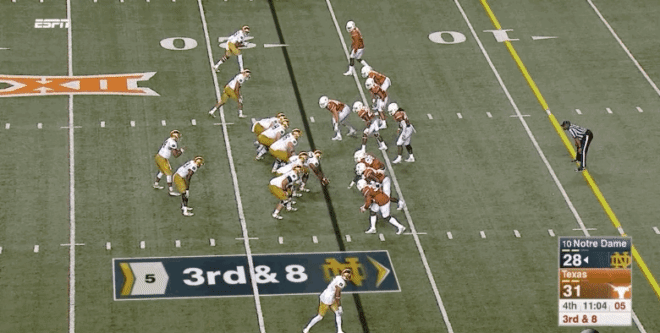 WIDE RECEIVER
Equanimeous St. Brown – 5 rec., 75 yards, 15.0 avg., 2 TD's – long 30
Torii Hunter Jr. – 4 rec., 37 yards, 9.3 avg., 1 TD – long 19
C.J. Sanders – 3 rec., 55 yards, 18.3 avg., 1 TD – long 25
Sophomore Equanimeous St. Brown broke out in his first career start, hauling in five passes for 75 yards and a pair of touchdowns. St. Brown was open several other times that could have resulted in big plays had the ball been thrown in his direction.
For the most part, St. Brown ran good routes and showed a knack for getting open. He made a huge block on Folston's 54-yard run and did a solid job in other instances in the run game, but being more physical on a consistent basis is a must moving forward.
Senior Torii Hunter Jr. did not make any plays down the field, but he played solid football against Texas. He blocked well and did a good job finding an open spot for his only touchdown, a 5-yard haul on a Kizer scramble.
Hunter was very inconsistent with his speed off the line, something a senior should not do. It caused the timing of some pass concepts to be off, and moving forward he has to pick up the speed off the snap on a far more consistent basis.
Like St. Brown, sophomore C.J. Sanders made his first offensive start this weekend. Like St. Brown, Sanders also showed himself to be an impact player. He hauled in just three passes, but each went for either a first down or a touchdown. His after the catch skills were dynamic, as he turned a screen and a quick crosser into 49 yards.
Sanders was just average as a blocker against Texas, and he was called for holding on a screen pass to Hunter.
Sophomore Miles Boykin earned his first career playing time, but he was targeted just once. Boykin blocked well in the game. Freshman Chase Claypool and Boykin were often used together when Notre Dame went to its two tight end looks. Freshman Kevin Stepherson replaced Hunter when he went down, but Stepherson did not play confidently and could not get open.
Junior Corey Holmes was solid as a blocker but did not make an impact in the pass game.
GRADE: B-
TIGHT END
Durham Smythe – 1 rec., 8 yards, 0 TD
Notre Dame's tight ends made a minimal impact against Texas.
Senior Durham Smythe was just average against the Longhorns. He hauled in one pass for eight receptions, and he was not as effective in the run game as hoped for. His effort was good, but his footwork was inconsistent and it caused him to miss some blocks.
Junior Nic Weishar struggled a bit at the point of attack and didn't do a good job locating linebackers when he pulled. Junior Tyler Luatua was solid at the point of attack in two tight end sets, but his playing time was limited.
GRADE: C
OFFENSIVE LINE
The expectations for the Irish line were sky high, almost to the point where anything other than an absolutely dominating performance would have been considered a disappointment. Notre Dame's line played solid football against Texas, but it did not have the dominating performance many seemed to expect.
Senior Mike McGlinchey was inconsistent against Texas. He was physical at the point of attack and multiple times he was able to get very good movement throughout the game. McGlinchey pass blocked well and in the first half Notre Dame pounded a lot of yards to McGlinchey's side.
The issue against Texas was that McGlinchey made too many mental or technique mistakes. There seemed to be some communication problems with McGlinchey and junior left guard Quenton Nelson, who also had a disappointing game. McGlinchey whiffed on a couple of blocks on the stretch and he did not finish off blocks.
Nelson really struggled with consistent technique, which caused the majority of his problems. He had major problems putting his head down, which caused him to whiff on blocks and to lose blocks late. When Nelson kept his head up he was dominant and got excellent movement.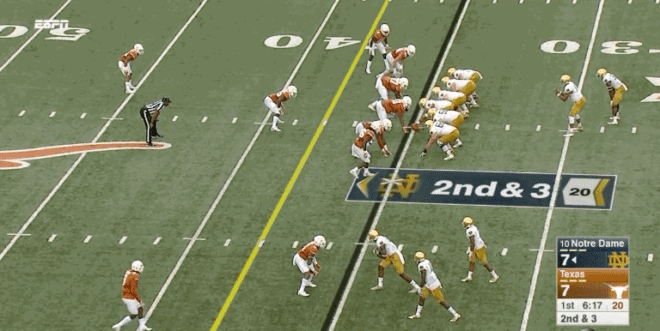 Junior right tackle Alex Bars made his first start at tackle after making two starts at left guard last season. Bars was a bit erratic and at times looked unsure of who to block, but he also had a number of strong blocks. When he was comfortable with his assignment, Bars was physical and got a very good push.
Bars was solid in protection as well. If he can get settled in with his assignments and be more consistent with his pad level he will be very good.
Junior Sam Mustipher had a decent first start, but improvements are certainly needed. Mustipher spent the entire game going against a nose, and usually the defender he was matched up against was his size or bigger. Mustipher battled and he did not lose many battles, but he also did not necessarily win a ton of battles. He held his own, which then opened up cut back opportunities in the run game.
His biggest issue was how he snapped the ball, or at least the timing of when he snapped. Mustipher had a consistent rhythm with his snaps. He would look back to the quarterback, then look up and then snap the ball within a second of looking up. This allowed the Texas front to get a good jump off the ball once they figured this out.
Senior right guard Colin McGovern had several bad misses in the game, plays that were obvious on the television screen. McGovern whiffed on a block and on a couple of other occasions he stopped his feet when he made contact, which caused him to lose blocks late.
Outside of those few situations, McGovern played good football in the run game. For the most part he got very good movement at the point of attack, pushing back the Texas interior linemen to open up good cut back lanes on the Inside Zone runs to the left.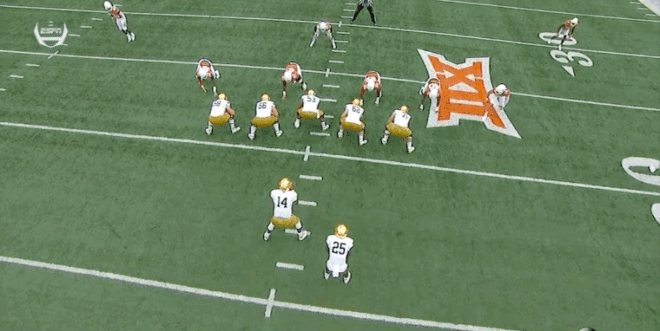 This clip is an example of McGovern getting outstanding movement, which allowed Folston to make a vertical cut. There were several blocks on the Inside Zone to the left where McGovern and Bars whipped the Texas line and opened up running lanes.
Where McGovern had his biggest issues were in protection. He failed to recognize a delayed linebacker blitz, which resulted in a sack. He also lost two defenders after good initial contact, which resulted in defensive pressures.
GRADE: B