Notre Dame-USC: Road Paved For Another Special Memory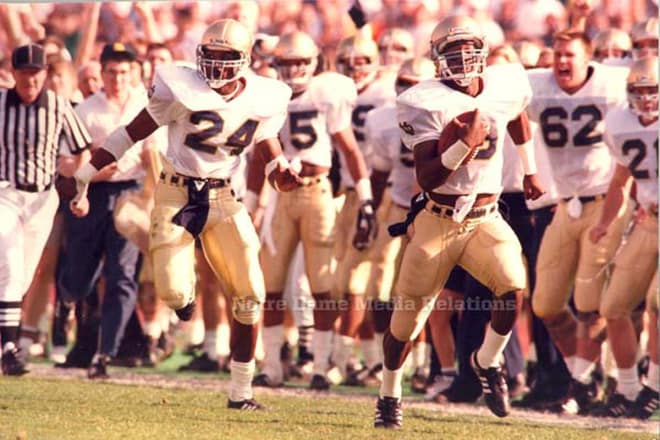 As noted earlier this week, this Saturday's Notre Dame-USC matchup will mark the 11th time in what will now be the 90th game in series history the Fighting Irish will enter the Los Angeles Coliseum on the last day of the regular season with an unbeaten record and the national title — or the chance to play for it — hanging in the balance.
Five times Notre Dame was the victor, with four of them helping result in national titles, and interestingly all of them convincing wins: 1930: (27-0), 1947 (38-7), 1966 (51-0) and 1988 (27-10). In 2012, the Irish battled to a 22-13 triumph, but would lose in the BCS Championship to Alabama on Jan. 7.
Now, six years later, the Irish are 11-0 again entering the Coliseum that could put it a position to meet Alabama again on Jan. 7.
The bar in this series is about as high as it comes because there has been no rivalry in college football history where a meeting between two programs has had the national title on the line with such frequency. The peak of the series was from 1964-80, when in those 17 years those two programs won outright or had a share of the national title nine times (five for USC, four for Notre Dame) and/or finished in the AP top 3 five times.
In my lifetime (since 1962), these are the half-dozen victories in the series that helped set up Notre Dame with a chance to win it all, if not at that moment:
6. Nov. 26, 1966: History Doesn't Repeat
As a four-year-old, this was the game where my immigrant parents (both of whom worked at Notre Dame) moved into their new home 1.2 miles from the campus and began to understand what football meant to the school with this victory.
Two years after No. 1 Notre Dame held a 17-0 halftime lead at USC — only to lose in the closing minute (20-17) — the Irish were No. 1 once again and had built a 17-0 cushion in the closing minutes of the second quarter against Pac 8 champion and Rose-Bowl bound USC.
"My God," hollered Irish linebackers coach John Ray from the sidelines, "We just have to get another score before the half!"
Indeed, with 58 seconds left in the first half, backup quarterback Coley O'Brien, subbing for an injured Terry Hanratty, found split end Jim Seymour on a 13-yard tally to make it 24-0. Then, after partially blocking a Trojan punt, Notre Dame struck again when O'Brien found Seymour on a 39-yard strike with eight seconds left to up the halftime advantage to 31-0.
The Irish posted a 51-0 win — still the largest margin of defeat by a USC team — to clinch the consensus national title one week after the famous 10-10 tie with No. 2 Michigan State. In fact, the UPI had dropped Notre Dame to No. 2 after the tie, prompting Notre Dame to drape a banner over the back of its bench at USC that read: "To Hell With UPI, We're No. 1." By the end of the day, everyone agreed.
"I told our players that there were 700 million Chinese people in the world who didn't even know the game was played," USC head coach John McKay would say later. "The next week, I got five letters from China asking, 'What happened?' "
5. Oct. 21, 1989: The Series' Best Game?
This 28-24 Irish victory may have been the most exciting back-and-forth game in this series.
After No. 9 USC built a 17-7 halftime lead, No. 1 Notre Dame put together two 80-yard drives in the fourth quarter, the second on a 15-yard Tony Rice tally with 5:18 left, and then made a goal-line stand versus quarterback Todd Marinovich and Co. to hang on against a team that would win the Rose Bowl.
Remarkably, it was Notre Dame's seventh straight conquest of Troy, and the streak would reach 11 in 1993.
"This will even out some day and things will go their way," Irish head coach Lou Holtz predicted. "I'll be saying, 'See, I told you it would all even out.' Of course, I don't know if I'll be here then."
Alas, Notre Dame would finish No. 2 at 12-1 despite defeating No. 1 Colorado in the Orange Bowl, 21-6. Miami's season ending regular season win over the Irish put the Hurricanes at the top.
4. Nov. 24, 2012: Cherished Moment
A week earlier, an involuntary tear went down my eye when I realized that after No. 1 Oregon and No. 2 Kansas State both lost, 10-0 and No. 3 Notre Dame was now the new No. 1 in the polls — a first in 19 years. I was beginning to doubt whether I would see it again in my lifetime.
Then, on this day, Notre Dame clinched the berth to the BCS Championship game with what that year was a typical grind-it-out 22-13 win over USC, which used Max Wittek at QB because of an injury to Matt Barkley.
Theo Riddick rushed for 146 yards and a touchdown, Kyle Brindza kicked five clutch fields, linebacker Manti Te'o recorded a remarkable seventh interception this season, and fittingly, a late goal-line stand by the nation's No. 1 defense that allowed only nine touchdowns all season helped clinch the victory. The Trojans had first-and-goal at the one but three straight running plays and an incomplete pass gave the ball back to the Irish with 2:33 left.
It truly was like old times — with 2018 presenting a second opportunity to complete the mission.
3. Oct. 22, 1977: Dressed To Thrill
Although Notre Dame has often tried to replicate "The Green Jersey Game," this is the original.
The popular preseason pick to win the national title, Notre Dame sputtered to a 4-1 start, losing at Ole Miss and squeaking by Purdue (31-24) only after third-team quarterback Joe Montana rallied the Irish from a 24-14 fourth-quarter deficit.
When he took over as the Irish head coach in 1975, Dan Devine's suggested switching to green jerseys because that's how he remembered Notre Dame in the 1940s and 1950s. The idea received a cool reception, but Irish basketball coach Digger Phelps urged him to keep trying. Devine secretly ordered green jerseys for a special occasion in 1977. That arrived with the No. 5 Trojans coming to town and owning a 7-1-2 advantage in the series since 1967.
Only a few knew the secret, including team captains Ross Browner, Willie Fry, Terry Eurick and Steve Orsini — and they were vowed to silence.
At the pep rally the previous evening, Phelps began a "Green Machine" chant (a take on the "Mean Machine" mantra in the 1974 movie "The Longest Yard.").
With Montana tossing two touchdown passes to All-America tight end Ken MacAfee, and sneaking in for two more scores, the Irish rolled to a 49-19 victory.
From 1966-82, the Irish were 3-12-2 against USC. Each of the three wins (1966, 1973, 1977) resulted in a national title.
2. Nov. 26, 1988: 1 vs. 2
This was the only time in series history the two schools were ranked 1 (Notre Dame) and 2 (USC), with both sporting 10-0 ledgers.
Notre Dame was lined up to meet 11-0 West Virginia in the Fiesta Bowl, but a trip to the Los Angeles Memorial Coliseum was considered far more daunting. On six previous trips to Notre Dame's version of "The Wailing Wall", its dreams of a national title were shattered on the final day of the regular season: 1938, 1948, 1964, 1970, 1974 and 1980.
Furthermore, on the eve of this contest, Notre Dame head coach Lou Holtz sent home leading rusher Tony Brooks and leading receiver Ricky Watters for repeated tardiness.
"There is never a right time to do the wrong thing, and never a wrong time to do the right thing," Holtz philosophized.
Although USC finished with more first downs (21-8) and total yards (356-253), the Irish used a 65-yard scoring run by quarterback Tony Rice in the first quarter, a 64-yard interception return for a touchdown by cornerback Stan Smagala, and a 4-1 advantage in turnovers to post a 27-10 conquest — its record sixth in a row against USC.
1. Oct. 27, 1973: Ending The Curse

Entering this contest, USC was the defending national champ, boasted a 23-game unbeaten string and possessed the nation's most lethal offensive arsenal with quarterback Pat Haden, tailback Anthony Davis (who scored six touchdowns the previous year against the Irish, two on kickoff returns), and wide receiver Lynn Swann. Above all, head coach Ara Parseghian's Irish had not defeated the Trojans the previous six years, and pundits mocked him as the coach who "can't win the big one."
During one of the most electrifying weeks of preparation on campus, impromptu pep rallies were held nightly, hundreds of Davis photos dancing on his knees in the end zone against Notre Dame in 1972 were taped to the campus sidewalks, and bed sheet banners were hung from dorm rooms throughout the campus.
On USC's opening series, Irish freshmen phenoms Ross Browner and Luther Bradley set the tone, with Bradley dislodging the helmet from Swann on an incomplete quick out and Browner nearly sacking Haden for a safety. Notre Dame's 23-14 victory earned it the cover of Sports Illustrated thanks to limiting Davis to 55 yards rushing on 19 carries. Meanwhile, Eric Penick's 85-yard scoring run on the first Irish play from scrimmage in the third quarter to provide a 20-7 cushion is often classified the most electrifying run in Notre Dame Stadium annals.
When asked after the game why he didn't dance on his knees after his score like Davis, Penick replied, "This is Notre Dame. We're not hot dogs."
Bob Thomas' third field goal provided a crucial two-score edge, and the ball repeatedly bounced in Notre Dame's favor during the fourth quarter while USC turned it over three times in Irish territory on a rainy day.
The euphoria so overcame Notre Dame Stadium, the student body tore down the north goal post after the contest — to our knowledge the last time that has occurred (in fact, an old "H" goal post/ crossbar had to be installed from the practice field for the rest of the season.)
Just like in 1977, the victory propelled Notre Dame to the national title later that season.