Notre Dame Tight Ends Growing From Addition By Subtraction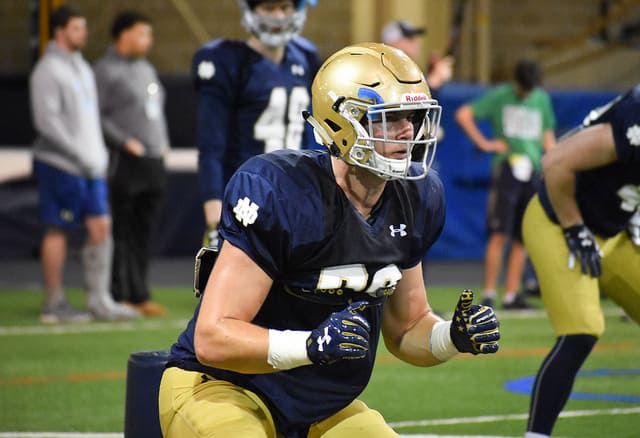 Growth does not always occur by adding. Sometimes it comes from reducing. Notre Dame junior tight ends Cole Kmet and Brock Wright are undergoing such an experience this spring.

For Kmet, a top pitcher for the Fighting Irish baseball team as a 2018 freshman with a team high eight saves, it means putting his hurling career on at least temporary hold.
A statement from Notre Dame's baseball team this week read: "Cole is out for the foreseeable future with elbow soreness. We will continue to evaluate his status as the season progresses."
While that soreness precludes him from taking the mound, the southpaw is not restricted on the football field, where he has been one of the favorite targets this spring for starting quarterback Ian Book. As the sophomore backup last year for Alizé Mack, who is now training for next month's NFL Draft, Kmet still started seven games in the regular double tight end alignment while snaring 15 passes for 162 yards despite a high ankle sprain that slowed him quite a bit.
With his sole concentration this spring now on football, the 6-5 ½, 255-pound "freak athlete, once-in-a-lifetime guy you get to coach" — as described by Notre Dame offensive coordinator/tight ends coach Chip Long — can hone his craft on the gridiron even more.
Meanwhile, Wright's subtraction has come on the weight scale, where his physique was reduced from about 260 pounds to approximately 248, and it was conspicuous when he showed up for an interview following Tuesday's open practice. Both Long and Wright came to the conclusion at the end of last season that to become more effective at tight end he needed to "scale back."
"In the previous years I was a little bit more stiff, so I thought maybe if I could lose the weight and get a little bit more flexible I'd be able to move better and do more things on the field," Wright said.
So far the returns have been promising, and it is right on schedule for Long, whose emphasis on year 3 for himself, the tight ends and the overall offense is a constant reminder to ratchet up the overall production.
In the 21-man Irish freshman class signed in February 2017, Wright and Kmet were 1-2 among Notre Dame recruits nationally on Rival.com. Wright ranked No. 44 overall in the country and Kmet No. 95. Their enrollment coincided with the hiring of Long to handle the play-calling and to get the tight ends more involved in the attack as viable receiving threats. In 2016, with Mack academically ineligible, the Irish tight ends snared only 12 passes, a significant decline from head coach Brian Kelly's earlier years when they were integral with the likes of top draft picks Kyle Rudolph, Tyler Eifert and Troy Niklas.
In Long's first season (2017), the tight end production improved to 45 catches and Durham Smythe became a fourth-round draft selection. In 2018 the number of catches went up to 56, and in both of his years three different tight ends grabbed touchdown passes. Production at tight end will not necessarily be measured just by the number of catches made, but in the efficiency that will allow Notre Dame to continue to play in multiple tight end alignments.
"It's year three, both are extremely confident," said Long earlier this month of his junior tandem at tight end. "Cole seems a lot faster without 20 pounds of tape on his ankle. Brock is strong as an ox … Been a surprise for us."
The resources in the Notre Dame strength and conditioning program are abundant, and director of performance Matt Balis and staff tailored a workout program to Wright this winter that is expected to benefit him.
"He does a great job of putting us in positions where we have to get comfortable with being uncomfortable," said Wright of Balis. "He uses the word 'chaos' a lot, and a lot of times in a game there's going to be chaos. So by training, he's preparing us to deal with that kind of thing (the Irish currently own an eight-game winning streak in one-score games)."
Tight ends are often categorized into two categories: The "flex-out" figures such as Kmet or sophomore Tommy Tremble who can create potential mismatches with their receiving skills, or the in-line people such as Wright or sophomore George Takacs, who are perceived primarily as blockers.
Wright has been linked with the latter because he wasn't necessarily a prolific receiver in high school — 30 catches as a high school senior at Cy-Fair for the Cypress, Texas native, and 17 as a junior — while at Notre Dame he has foremost been used in a blocking capacity in short-yardage situations, even lining up as a fullback.
"It's a little different," he said of the fullback role, "especially being off the line you kind of have to read things differently. It took a while to get used to that. Now I kind of know the flow of the play and being able to bend and read things better."
Out of that formation, he did catch his first career touchdown pass in college at Wake Forest last year, but he won't define himself by catches, either.
"In this offense, you have to be able to do both," he said of developing into a well-rounded tight end. "It doesn't really matter what the labels are. We just want to be able to go out there to do whatever we're required to do on offense."
The ability to do so is not lacking. Since 2013, only four other Irish players were rated higher by Rivals than Wright: linebacker Jaylon Smith (3) in 2013, offensive lineman Quenton Nelson (29) in 2014, current senior defensive end/linebacker Daelin Hayes (31) in 2016, and current sophomore boundary cornerback Houston Griffith (43).
Wright has earned monograms each of his first two seasons with work on special teams, but saw only 30 snaps on offense in 2017 and 57 in 2018. With Mack and Nic Weishar now moving on to their next chapter, it is time for the esteemed duo of Kmet and Wright to seize the mantle at Tight End U., whose assembly line of NFL-level talent since the early 1970s is unsurpassed.
"He's my best buddy, so it's exciting whenever we get to go out there together on the field," said Wright of joining forces with Kmet this year.