Notre Dame & The MAC: A Budding Football Union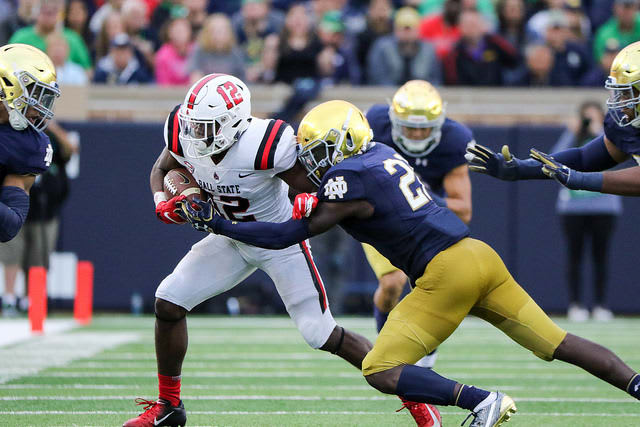 Why is Notre Dame scheduling Mid-American teams, like Bowling Green this year, more frequently?
Doesn't that go against the principle of "to be the best you have to play the best" that Knute Rockne espoused?
Maybe — but even Rockne's initial consensus national champion at Notre Dame in 1924 began the season against Lombard and Wabash.
Doesn't Notre Dame want attractive games for its NBC contract? Remember when it originally had Miami (Ohio) on the schedule to open the 1997 schedule, but then cancelled it to put a bigger name on the slate (Georgia Tech) for the rededication of Notre Dame Stadium?
That's true too … but times change, and Notre Dame has had to as well. When the stadium was expanded in 1997, Field Turf or even a video board were still considered a potential desecration, but now they have become part of the ambiance.
Other than continuing its annual rivalry with Navy that began in 1927 and has since remained uninterrupted, Notre Dame seldom has ventured outside of playing a team from a major league, or the Power Five — ACC, Big Ten, Pac-12, SEC and Big 12 — as it is known today.
As a football independent, albeit a partial member in the ACC, the modus operandi of its schedules has emphasized a slate laden with teams from such leagues. The military academies have been the prime exception.
That began to change in 2008 under then Notre Dame athletics director Kevin White.
Two years earlier in 2006, the Fighting Irish for the first time began 12-game regular-season schedules on a yearly basis, and the realization crystallized that going through a 12-game gauntlet with only Power Five teams would not be conducive to championship aspirations.
So in 2008 and 2009, Notre Dame opened their seasons against non-Power Five teams San Diego State and Nevada, respectively.
By 2010, Mid-American Conference winner Western Michigan was added, and in 2015 the Fighting Irish schedule began a string of what will now be annual one-game visits from teams in lower-level leagues:
• Massachusetts of the MAC in 2015 (62-27). Former Irish head coach Charley Molnar served as the head coach for the Minutemen during their first two seasons in the Football Bowl Subdivision in 2012-13, but was let go after a pair of 1-11 campaigns. UMass ended up leaving the MAC after the 2015 campaign.
• Nevada of the Mountain WestConference in 2016 (39-10), with current Notre Dame special teams coordinator and recruiting coordinator Brian Polian the head coach. Polian was realistic going into the contest, with the prime purpose to pick up a $1 million payday for the school to make the trip.
"If we were supposed to beat Notre Dame, we wouldn't be in the Mountain West," he summarized after the game.
• In 2017 it was Miami (Ohio) of the MAC, a 52-17 sacrificial lamb coached by former Notre Dame assistant Chuck Martin (2010-13).

• Last year it was Ball State, a first-time opponent for Notre Dame. Despite ending 2017 on a nine-game losing streak, the Cardinals battled well for four quarters and caught Notre Dame at the perfect time — the week after opening with a 24-17 victory versus presumed national title contender Michigan — before losing 24-16.

• In 2019, the Irish have games scheduled on Sept. 14 versus New Mexico — currently coached by 1997-2001 Irish head coach Bob Davie — and on Oct. 5 against MAC member Bowling Green. The two foes combined for a 5-19 ledger last season, and it was a way to compensate for some "overscheduling" with road games against Louisville — which was a power at the time it was added — Georgia, Michigan and Stanford.
• Western Michigan is on the docket for 2020, Toledo comes aboard in 2021 — five days after Notre Dame opens on Labor Day at Florida State — and Marshall was recently added in 2022.
The important element is not just the who but the "when" aspect of the schedule.
For example, the New Mexico game was added right before Georgia this season — because the Bulldogs themselves play Murray State and Arkansas State the two weeks prior to hosting Notre Dame, while the Irish have a bye Sept. 7 and then host the Lobos. Playing back-to-back power teams before the showdown is generally not a wise course of action.
Maybe head coach Lou Holtz's single-most talented roster at Notre Dame from 1986-96 was 1990, the year they finished with road games at SEC champ Tennessee and USC, with a home game versus Penn State sandwiched in between. Yes, the Irish toppled the Volunteers and Trojans — but in between were upset by Penn State at home, helping cost it a national title. A cumulative effect can take hold.
That's why Western Michigan is on Notre Dame's 2020 schedule the week after the Irish host the SEC's Arkansas Razorbacks for the first time ever.
That's why Toledo and not a Power 5 Conference foe was inserted five days after opening at Florida State in 2021 — although the Rockets were one of the nation's top scoring offenses in 2018.
That's why after Notre Dame opens with Ohio State on Sept. 3, 2022, Marshall is the next game.

Reigning national champ Clemson wisely interspersed Charlotte and Wofford onto its 2019 slate, but nobody does it better than Alabama, which has won five of the last 10 national titles and made the College Football Playoff each of the first five years. This year the Crimson Tide hosts New Mexico State the week before the SEC opener at South Carolina, has a bye the week before the Texas A&M and LSU games, and welcomes Western Carolina prior to the regular season finale versus Auburn.
Thus, mixing games against MAC or Mountain West foes is a first step for Notre Dame to allay some degree of difficulty in the schedule. Next probably would be not relinquishing a home game for the sake of the Shamrock Series — as the Irish did in 2018 with Syracuse last Nov. 17 by moving it to New York City.
Understandably, there is a reason why the MAC has become more prevalent on Notre Dame's present and future schedules.