Notre Dame-Texas: Numbers, Turning Point & More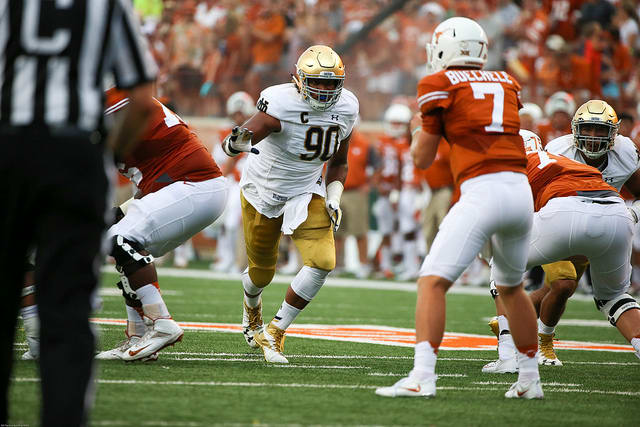 4 Consecutive years that Notre Dame did not commit a turnover in its opening game — and it had only one in 2012. However, this is the first time a Brian Kelly team at Notre Dame lost a game despite no turnovers. He had been 19-0 his first six seasons in such contests.

5 Years between opening-game losses for Notre Dame. It lost 23-20 at home to South Florida in 2011 with Skip Holtz, the son of 1986-96 Notre Dame head coach Lou Holtz, as the Bulls' head coach. In this defeat to Texas, the Longhorns holder on extra points and field goals was Trey Holtz — son of Skip and grandson of Lou. From Bulls to Longhorns.
5-10 Record for Notre Dame in games decided in overtime since the extra sessions were added to college football in 1996, which includes 1-4 in more than one overtime. The Irish are 2-3 under Kelly. Both OT victories occurred in 2012 (Stanford and Pitt), and the other losses were against Michigan State (2010) and Northwestern (2014).
20-1 Kelly's record against unranked teams when Notre Dame is ranked in the Associated Press Top 10 — with Texas this year contributing the sole blemish.
24 Straight losses by Notre Dame once it fell behind by at least 17 points in a game, as it did at Texas (31-14) early in the third quarter. Even though, the Irish took a couple of leads thereafter, it wasn't enough. It has not won such a contest since 2006, when it trailed 24-7 at Michigan State before rallying to a 40-37 conquest.
47 Points by Notre Dame were the most ever by a Fighting Irish football team in defeat. The previous high occurred in a 46-44 three-overtime loss to Navy on Nov. 3, 2007.
1944 The last year Texas started a freshman quarterback — Bobby Layne — in the opener, until Shane Buechele against the Irish. Buechele also became the first true freshman QB to defeat Notre Dame since Tate Forcier helped direct Michigan to a late 38-34 win in 2009. Forcier totaled 310 yards total offense, threw for two scores and ran for one, while Buechele totaled 313 yards total offense, passed for two TDs and ran for a third.
102,315 In attendance for Notre Dame game, a new record at Texas' Darrell K Royal Stadium. The Fighting Irish also set a stadium record on their last visit to Austin in 1996 (83,312), prior to expansion.
Turning Point
Our choice goes back to controlling your own destiny, which Notre Dame twice had in the fourth quarter. Leading 35-31, the Fighting Irish regained possession at their own 25 with 8:35 remaining and had posted 21 unanswered points while also holding Texas to without a first down three straight series. After picking up one first down, Notre Dame faced third-and-5 at its 40. Quarterback DeShone Kizer kept it on a draw but was stopped one yard short of the first down. An average 40-yard punt still could have pinned Texas inside its 20 — but a 24-yard shank gave Texas the ball at its 32 to give it a boost. Seven plays later, Texas moved ahead 37-35.
With the score tied at 37, the Irish had the ball again at their 29 with 3:23 left, but on third-and-12 a draw came up well short of moving the chains.
Stat Of The Game
Texas amassed 517 yards total offense (280 passing and 237 rushing) after putting up only 163 total yards in last year's 38-3 loss at Notre Dame. It scored on all seven red-zone chances — six of them touchdowns. The Longhorns finished 83rd in scoring offense and 92nd in total offense in 2015, prompting a house cleaning on offense that brought in four new coaches, most notably offensive coordinator/quarterbacks coach Sterlin Gilbert from Tulsa.
Texas had a new staff on offense, a true freshman at quarterback, a true freshman at center, was trying to find the right timing to use a second and oft maligned quarterback in a different package, yet the youth laden Longhorns made an exceptional debut.
Going For Two
Kelly's decision to go for two points too early in the 2014 loss to Northwestern in overtime (43-40) and Clemson last year (24-22) prompted much criticism about the strategy. But what about when Notre Dame scored a touchdown on its first play of overtime to cut the Texas lead to 44-43? Should it have gone for two to win the game, especially given that the defense was not eliciting confidence to make the needed stops? Damned if you do…
Nevertheless, it didn't take long for the much publicized "two-quarterback system" to have a more established figure. While senior Malik Zaire is as good a second option as one could have in college football, junior DeShone Kizer is too proficient with his combination as a passer, runner, reading defenses and in poise/leadership to not be the centerpiece. He passed for five touchdowns and rushed for a sixth.
Game Balls
Offense: Kizer. His 292 yards total offense (215 passing, 77 rushing), no turnovers and then rallying the troops from 31-14 down to two different leads merit much respect.
Defense: Isaac Rochell. Repeatedly displayed a Sheldon Day-like quickness on twists and other plays to be disruptive throughout the night, team defensive stats notwithstanding.
Special Teams: CJ Sanders' 40-yard punt return set up Notre Dame's go-ahead TD in the fourth quarter before Texas rallied. Special mention to Jarron Jones for blocking the fifth kick of his career that resulted in two points for Notre Dame on a Shaun Crawford return to tie the game at 37-37.