Notre Dame-Texas: Irish Not Taking Anything For Granted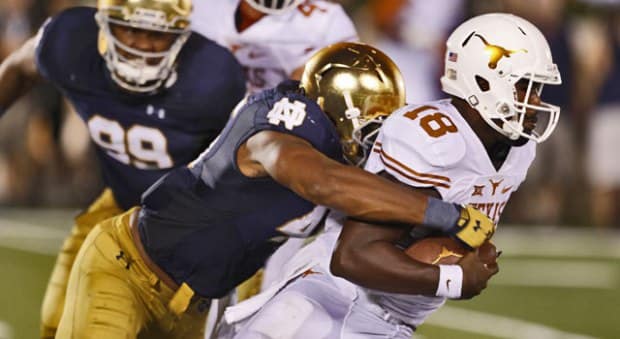 The most misguided way to dismiss Notre Dame's opener at Texas this Sunday is to conclude that because the Fighting Irish shellacked the Longhorns 38-3 in last year's opener, it should be easy pickings again this year.

Yeah … sort of like how crushing Boston College in 1992 by a 54-7 count meant the Eagles likewise would be a pigeon in 1993 versus the 10-0 and No. 1 Irish. Instead, it pulled off the enormous upset in Notre Dame Stadium.
Yeah … sort of like concluding that because USC won by 35 points against Notre Dame in 2014 (49-14), just like the Irish did versus Texas last year, a similar outcome would occur in 2015. No it didn't in the 41-31 Irish conquest.
Not only can there be a dramatic change in a team's personality/demeanor after just one year, it can happen in just one week too.
Last Oct. 3 at TCU, Texas football suffered one of its most humiliating afternoons ever when it fell behind 30-0 in the first quarter en route to a 50-7 defeat. Texas head coach Charlie Strong seemed as good as gone, and a watch was on as to whether he would be fired that week.
The next game, Strong and his Longhorns upset Oklahoma (24-17), which would be one of four teams to make the 2015 College Football Playoff.
Such is the drama of athletic competition and the human spirit that often strives for redemption and atonement. That is what current Notre Dame veterans such as captains Torii Hunter Jr. or Mike McGlinchey, among many others, are trying to impart to the younger players or many new faces making starts in Austin this weekend. There is no Will Fuller or C.J. Prosise to bail out the offense in precarious situations, or a Jaylon Smith or Sheldon Day to compensate for mistakes elsewhere.
"We're just trying to get them to understand that this isn't the same [Texas] team," said Hunter, who starred as a high school athlete in Prosper, Texas. "They're going to be angry, looking for revenge to basically prove they're point that we're not messing around this year. They're going to be ready, man, playing at home in front of that crowd … It's a tough environment."
"It's self-explanatory: What happened last year doesn't mean anything in terms of what happens this year," McGlinchey said. "We have a completely new football team, they're a new football team. It's going to be a completely different ball game. We can't go in anticipating anything, assuming anything."
Adding to the degree of difficulty is the home field. Just the fact that the Longhorns, who finished 5-7 last year, are only 3.5-point underdogs at home after losing by 35 at Notre Dame in 2015 speaks volumes.
"Crowd noise, and guys just play at a different level at home," Hunter said. "They just play harder at home, protecting the house. That's just how it is. You don't want somebody to come into your house and beat you. It's definitely harder, and we have to play against that."

The first time this writer learned about year-to-year differences was as a 9-year-old in 1971, concluding that the game at Purdue that year should be a breeze because Notre Dame won 48-0 the season prior. Instead, the Irish needed to rally in the closing two minutes for an 8-7 victory.
The next year was a lesson on how even one week can make a difference. One week the 1972 Missouri team (1-9 the year before) lost 62-0 to Nebraska. The next it defeated Ara Parseghian's unbeaten Notre Dame squad on the road (30-26). Afterward Notre Dame executive vice president Rev. Ned Joyce visited the Missouri locker room to congratulate the Tigers and express how this is the beauty of competition and life — how the fully vanquished one day can rise up and shine the next.
There are other factors to Notre Dame only being a 3.5-favorite despite last year's slaughter of the Longhorns.
• It is the first time the Irish are opening a season at the other team's campus site since 2006. In that night game at Georgia Tech, the No. 2-ranked Notre Dame team rallied from a 10-0 deficit to eke out a 14-10 win.
• Notre Dame has generally struggled the past decade in its initial road trip to an on-campus site, including trailing 27-26 last year at Virginia before scoring on a long pass to Fuller with 12 seconds left in the contest.
• Per BradPowersSports.com: "Notre Dame is 0-8 straight up the last three years in true road games (neutral sites don't count) when they are favored by less than a TD or an underdog."
• Texas will be pointing to state pride and trying to avoid an 0-5 record versus the Irish in Austin.
The past has zero bearing on any present game. Nevertheless, it can provide some extra juice to any contest. It might in Austin as well this week.
----
• Talk about it inside Rockne's Roundtable
• Subscribe to our podcast on iTunes
• Learn more about our print and digital publication, Blue & Gold Illustrated.
• Follow us on Twitter: @BGINews, @BGI_LouSomogyi, @BGI_CoachD,
@BGI_MattJones, @BGI_DMcKinney and @BGI_CoreyBodden.
• Like us on Facebook