Notre Dame-Temple: By The Numbers, Turning Point, Key Stat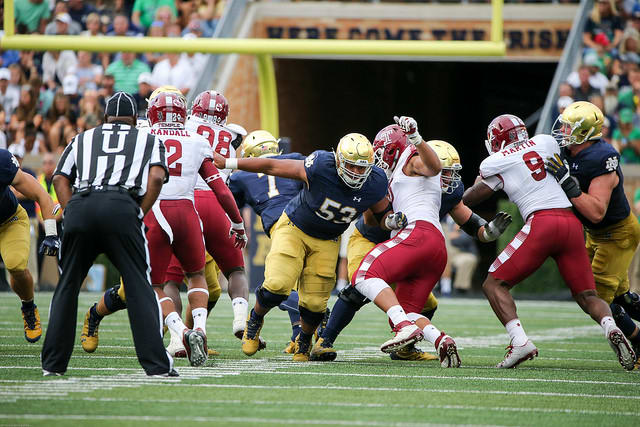 Don't miss out on any of our exclusive football, basketball and recruiting coverage. Click here to get your 60-day free trial!
2 Quarterback sacks recorded by Notre Dame's defensive line, both by sophomore drop ends Daelin Hayes and Julian Okwara. That is now just one short of the three total the Fighting Irish had in 12 games last year to rank last among the 65 Power 5 Conference teams in the Football Bowl Subdivision.
3 Players for Notre Dame — junior running backs Josh Adams and Dexter Williams plus junior quarterback Brandon Wimbush — who rushed for more than 100 yards apiece and 391 total among them during the 49-16 victory against Temple. That is believed to be a first in school history.
Our research found two that came the closest to match the "triple play. One was the 34-23 victory at Penn State in 1989 when the Irish accumulated 425 yards rushing, the most ever against the Nittany Lions, with quarterback Tony Rice at 141, running back Ricky Watters 128 and flanker Raghib "Rocket" Ismail 84 (353 among them).
The other was in 2015 during the 62-27 win over UMass when C.J. Prosise gained 149 yards rushing, and the then freshmen Adams and Wimbush 133 and 92, respectively (374 among the trio).
7 Junior Brandon Wimbush became the seventh straight different starter at quarterback for an opener at Notre Dame, all coming during head coach Brian Kelly's tenure: Dayne Crist (2011), Everett Golson (2012), Tommy Rees (2013) — the current Irish QBs coach — Golson again (2014), Zaire (2015) and Kizer (2016) — which is believed to be a Notre Dame record since the advent of the T-formation in 1942.
The previous mark was six from 1976-81 with Rick Slager (1976), Rusty Lisch (1977), Joe Montana (1978), Lisch again (1979), Mike Courey (1980) and Blair Kiel (1981).
Wimbush was the 24th different starting quarterback at Notre Dame since 1985. The Irish are 18-6 (.750) in those games but has won six straight, all under Kelly.
9.6 Yards per carry averaged by Notre Dame while garnering 422 on the ground. That is the most in one game in the "modern era" since the 10.0 average (250 yards on 25 carries) in the 1942 season finale versus Great Lakes Naval Station, a 13-13 tie.
10 Career touchdowns rushing by Adams after tallying twice against Temple, highlighted by his 37-yard jaunt to open the scoring in the first minute of the game. Six of his 10 rushing scores have covered at least 35 yards, with his 98-yard score against Wake Forest in 2015 the longest run in school history.
25-6 Record by Notre Dame in its last 31 season openers after losing a school record three in a row from 1984-86. The Irish are now also 70-16-2 (.806) in home openers at Notre Dame Stadium, which opened in 1930, Knute Rockne's final season as head coach.
33 Seconds it took for Notre Dame to score on a 37-yard touchdown run by Adams. It was the fastest score by Notre Dame to open a new season since 1993, when linebacker Pete Bercich returned an interception against Northwestern for a 21-yard touchdown on the first play from scrimmage while only eight seconds elapsed.
49 Points tallied by the Fighting Irish, the most in a home opener since scoring the same amount in a 49-27 victory versus Indiana in 1991. Notre Dame defeated Navy 50-10 in the 2012 opener, but that was in Ireland, not on its home field.
Since 1945, the only three openers overall in which Notre Dame tallied more points were 1971 versus Northwestern (50-7), 1983 at Purdue (52-6) and the aforementioned Navy game in 2012.
290 Total yards offense by Wimbush in his first start — 184 passing and 106 rushing. He is the first Notre Dame quarterback to eclipse the century mark in both passing and rushing in a game since DeShone Kizer achieved it at Stanford in a 38-36 loss in the 2015 regular season finale. Kizer passed for 234 yards and rushed for 128 in that contest.
77,622 The new official Notre Dame Stadium capacity, which was announced against Temple as the 256th consecutive sellout since the start of the 1974 season. Last year the seating capacity was 80,795, or 3,173 more than after the completion of the Campus Crossroads Project.
The last official non-sellout was the Thanksgiving Day game versus Air Force on Nov. 22, 1973, when the Notre Dame Stadium capacity was 59,075. There were officially 57,236 in that game in the midst of a national title campaign.
Turning Point
After falling behind 28-3 in the game's first 19 minutes, Temple had
one sequence when it could have made the game interesting. That was when cornerback Mike Jones intercepted a Wimbush pass and returned it 43 yards to the Notre Dame 14 with 6:47 left in the third quarter and the Irish up 28-10. A touchdown there and the momentum shifts — and the Fighting Irish were notorious for late-game collapses in 2016.
Instead, the defense responded with a third straight three-and-out, highlighted by a 10-yard sack by junior linebacker Te'von Coney when the Owls had third-and-five at the nine-yard line. Temple then missed a 36-yard field goal, and Notre Dame responded with an 80-yard touchdown drive — aided by an overturned fumble call on Tony Jones Jr. in Temple territory — to salt away the game.
Stat(s) Of The Game
It's difficult to choose only one. The 422 yards rushing were the second most in the Kelly era, the 9.6 yards per carry was the highest single-game average since 1942, and three Notre Dame running backs surpassed 100 yards rushing, which is believed to be a first in school history.
However, given that one of the most consistent criticisms throughout Kelly's eight seasons has been red-zone inefficiency on offense, the fact that Notre Dame scored touchdowns on all six of its opportunities — three in the first half and three in the second half — inside Temple's 20-yard line, that was vital to helping assert dominance early and then keep the Owls at bay the rest of the game. The tight ends were especially utilized well near the goal line as blockers and receivers, including a Nic Weishar touchdown in tight coverage on the 12-yard tally.