Notre Dame Takes Down UConn Again, 81-76; Advances To Title Game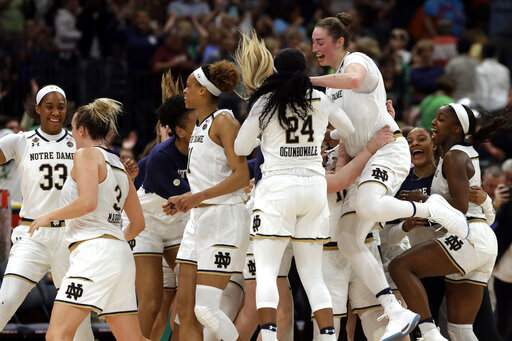 Connecticut led Notre Dame after the first (16-12), second (30-29) and third quarters (54-52), and built a 64-55 lead with 7:55 remaining in the contest … but once again the Fighting Irish (35-3) prevailed with amazing poise, skill and the ubiquitous grit to defeat the Huskies (35-3), 81-76, in Friday night's Final Four in Tampa, Fla.

Notre Dame will play No. 1 Baylor (36-1), a 72-67 victor versus Oregon, Sunday evening at 6 p.m. (ESPN) in their attempt to repeat as national champions.
Once again, a second-half detonation propelled by senior Arike Ogunbowale's "Mamba Mentality" led the charge, while an extraordinary interior presence inside by graduate student Brianna Turner on both ends of the floor provided the finishing touches.
• On Monday, Notre Dame trailed Stanford 33-26 at halftime but exploded for 58 second-half points in its 84-68 conquest. Versus Connecticut, the Fighting Irish were down 30-29 at the intermission and this time tallied 52 points after the break, 29 in the fourth quarter alone (the same amount as the entire first half).
• Ogunbowale was 1 of 7 shooting in the first half while scoring two points, and then in the second half responded with 21 points on 6 of 11 shooting — notably 3 of 5 from three-point range — and converting all six of her free throws.
• Meanwhile, Turner, who sat the final 5:59 of the first half because of her second foul, tallied 15 points, grabbed 15 rebounds and blocked five shots to give her the Notre Dame record of 371 in her career, surpassing the legendary Ruth Riley's 370.
Turner also had the most important of her career — and maybe in the program's history
After a Jessica Shepard jumper provided Notre Dame a 74-73 lead — an amazing 26th lead change in the game to go with nine ties — with 1:30 remaining, Ogunbowale grabbed a UConn miss and converted two free throws. The Huskies then got the ball inside to first-team All-American Napheesa Collier for what looked like an easy score before Turner blocked the shot, and grabbed the rebound. Two more Ogunbowale free throws with 40 seconds remaining provided a 78-73 cushion, and Turner fittingly clinched the contest in the closing seconds by converting three more foul shots.
"My only mind-set was UConn's season was going to end tonight, no matter what it took," Turner told ESPN right after the contest. "Rebounds, scoring, boxing out, playing hard D, we were going to get the win … I have one game left in my college career, so I'm going to leave it all out on the court."
Lost somewhat in Turner and Ogunbowale's late game heroics were two other double-doubles by the senior Shepard (20 points, 13 rebounds, plus seven assists) and classmate Marina Mabrey (12 points and a career 12 assists — an NCAA Tournament semifinal record).
Mabrey's point total matched what she accumulated in the first four tournament games while shaking off a hyperextended knee injury, and the program's all-time three-point leader also bombed home three treys after converting only 2 of 15 in the first four contests.
Mabrey assisted Young on a three to begin Notre Dame's comeback from the 64-55 deficit. She also set up an Ogunbowale three to cut the score to 66-63 — and then converted one of her own to knot the score at 66.
Notre Dame had a fairly typical slow start with nine straight missed field-goal attempts while falling behind 13-4, but managed to close within 16-12 at the end of the first quarter.
Eight straight points from Shepard during a 10-0 run gave Notre Dame its largest lead of the first half (20-16). When Turner picked up her second foul with the Fighting Irish ahead 22-20, leading her to sit the remainder of the half, Notre Dame was mainly treading water. A running jumper by UConn freshman Christyn Williams at the horn provided the Huskies with a 30-29 halftime advantage.
Like Ogunbowale, third-team AP All-American Katie Lou Samuelson also exploded in the second half after finishing scoreless in the first on 0 of 5 shooting. She tallied 15 points in the third quarter and finished with 20 overall while converting 7 of 12 from the field after the intermission, knocking down three threes.
Three-Point Play
1. Familiar Script For Late Bloomer
In last year's Final Four, Ogunbowale scored five points in the first half against UConn on 2 of 8 shooting — and then in the second half she scored 22 points while converting 7 of 15, highlighted by the game winner in overtime with one second left. This time it was 1 of 7 for two points in the first half, and 6 of 11 in the second half while racking up 21 points in the final 20 minutes (14 in the fourth quarter).
Wait, there's more. In the championship game versus Mississippi State, Ogunbowale scored two points in the first half on 1 of 10 shooting. In the second half she accrued 16 points, notably the epic three-pointer at the horn for the 61-58 victory. The clutch gene has a way of emerging late, just as it did for quarterback Joe Montana in the fourth quarter.
2. Not An All-American This Time, But Better Than Ever
Not only did Turner surpass Riley in career blocks after earlier this year eclipsing her as the school's all-time rebounding leader, but her 15 points now give her 2,005 in her career. She and Riley, the national player of the year in 2001 while leading the Fighting Irish to their first national title, are the only two players who in four seasons at Notre Dame topped 2,000 points and 1,000 rebounds.
What's been a little overshadowed is Turner's new-found proficiency at the free throw line. Through her first three seasons her 428 free throws were converted at a pedestrian .612 clip, and it wasn't significantly better most of this year. In the eight games since the ACC Tournament, though, she is 26 of 30 from the charity stripe (86.7 percent). That is another reflection of her marvelous improvement and rehab from her ACL tear that sidelined her all of last season.
How ironic it is that after earning AP honorable mention honors as a freshman and then second-team AP All-American notice (among others) in both 2016 and 2017, she was not even AP honorable mention this year — while playing the greatest basketball of her career.
It's akin to 2010-13 Notre Dame offensive tackle Zack Martin, a perennial All-Pro player, receiving no All-American notice as a fifth-year senior in 2013, and barely any in 2012. It's also a case of accepting a team role among so many other stars and maximizing it.
3. Five-Point Shift
While Turner's blocked shot of Collier was a show-stopping play, a critical five-point swing in the final quarter became overshadowed. Samuelson had been taking over the game and had a wide-open lay-in with UConn up 66-63 — but found a rare case of the yips and missed it. Mabrey then answered with a three to tie the game at 66-66, and it became a see-saw affair the next several minutes.
Notre Dame might have still won it at the end, but that sequence continued a momentum shift. And like her roommate Ogunbowale, Mabrey has had a habit of drilling threes in pivotal moments. Her shots just tend to get lost in the shuffle of breathtaking wins.