Notre Dame-Stanford: Close Encounters The Norm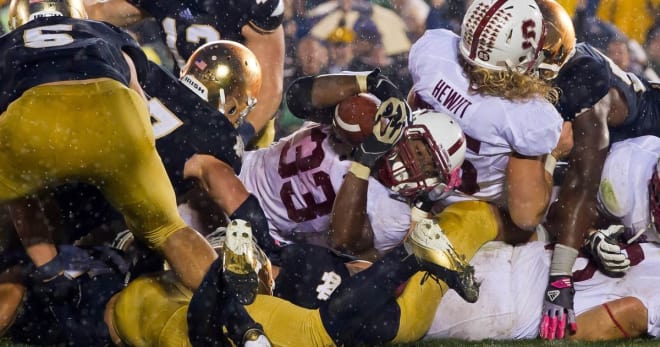 In six-and-a-half seasons, Notre Dame head coach Brian Kelly has coached 84 games, recording a 57-27 (.679 winning percentage) ledger. A little less than half of those contests — 37 of them, or 44 percent — have been decided by seven of fewer points.
"It's the nature of the games that we play here at Notre Dame," Kelly said. "They're going to be close games. We've won those games historically — and for this year we have not won those games."
Kelly is 21-16 at Notre Dame in games decided by seven or less points, but he is 0-3 this season, falling in the opener at Texas, 50-47, in double overtime, a 38-35 setback to Duke on Sept. 24, and last week a 10-3 defeat at North Carolina State.
These "seven-and-under" games don't even include several other white-knucklers, a la the 41-31 victory at home versus USC last year in which the Irish trailed in the fourth quarter, or the 36-28 loss at home this year to Michigan State in which Notre Dame had a chance to send the game into overtime on its final possession.
"We had an opportunity to discuss the things that we have to do to win those close games, and we're working hard on that and we expect to win some of the close games that we're going to be playing in over the next six weeks," Kelly said.
At one point from 2012-13, the Irish won a remarkable 10 straight games decided by seven points or less before getting upset 28-21 at Pitt.
Notre Dame is now on a four-game losing streak in such contests.
"I've won those games [too]," Kelly said. "It's not just by luck. So it's important to drill down deeper and to find out why we win those games. I think I have a pretty good understanding of why we won those games, and I think it goes to our preparation and what we have to do and how we prepare our football team. And self-disclosure, too, to realize that when you get to the fourth quarter you're going to have to find a way to win.
"…There has to be, in practice, the players have to be tuned into, 'All right, it's late in the game, I need your best in these moments.' So that's coaching. That's making your team aware of that, because we're going to play in a lot of close games and we're going to play in more of them."
This Saturday the Irish host the opponent that has been the most consistent at taking the game down to the final series, if not the final play — and the one that began the current slide. Not since 2000‑06 when Notre Dame and Michigan State had seven straight contests that were decided by seven or less points has a Fighting Irish rivalry had more end-of-game tension/drama than the past four meetings with Stanford:

• In 2012, No. 7 Notre Dame's dramatic goal-line stand in overtime after No. 17 Stanford had first-and-goal at the four preserved a 20‑13 victory, but only after waiting several minutes for confirmation from the replay booth. The Irish sent the game into overtime on a 22-yard field goal by Kyle Brindza with 20 seconds left, after a 79-yard drive that took 5:22.
• In 2013, the Irish had two chances in the final 6:23 of play to at least tie the score after trailing 27‑20, but interceptions by Wayne Lyons on both, the latter with 2:24 remaining, helped the Pac-12 champs preserve the victory.
• In 2014, with No. 9 Notre Dame trailing No. 14 Stanford 14‑10 and facing fourth-and-11 from the Cardinal 23, Irish quarterback Everett Golson evaded pressure and rifled a go-for-broke bullet to tight end Ben Koyack in the end zone, who managed to stay barely in bounds for the game-winner with 1:01 left. Notre Dame hung on for the 17‑14 triumph.
• Last season, Irish quarterback DeShone Kizer appeared to break Stanford hearts again when he scored from two yards and Justin Yoon kicked the extra point for a 36‑35 lead with only 30 seconds remaining. Alas, Stanford QB Kevin Hogan marched the Cardinal 45 yards in five plays to set up Conrad Ukropina's 45-yard field goal as time expired.
"There is some inexperience," said Kelly of this year's team losing four games by a total of 21 points. "Not a lot of these guys have experienced some of the things that we're talking about, the late-game wins and understanding that, and the history of playing close games.
"On the offensive line, three of those guys are effectively new starters, six games under their belt. Wide receivers are all new players within the offense. I'm not making any excuses for it … I probably should have done a better job of preparing them for the eventuality of close games.
"But on the level of what we were trying to do, I think that kind of fell lower on the list of priorities. I think priority one was getting them lined up and getting them to play at a high level against Texas right out of the gates. And then, we had some issues on defense. So I think we're at a point where I really like the way we're preparing. I like the attitude of the team. I like the action that they're taking on Saturday.
"Now it's more awareness of the game situation and how games are going to be close and now you gotta find a way to win."
Five meetings in a row with Stanford down to the final series?
Quite possible.
----
• Talk about it inside Rockne's Roundtable
• Subscribe to our podcast on iTunes
• Learn more about our print and digital publication, Blue & Gold Illustrated.
• Follow us on Twitter: @BGINews, @BGI_LouSomogyi, @BGI_CoachD,
@BGI_MattJones, @BGI_DMcKinney and @BGI_CoreyBodden.
• Like us on Facebook